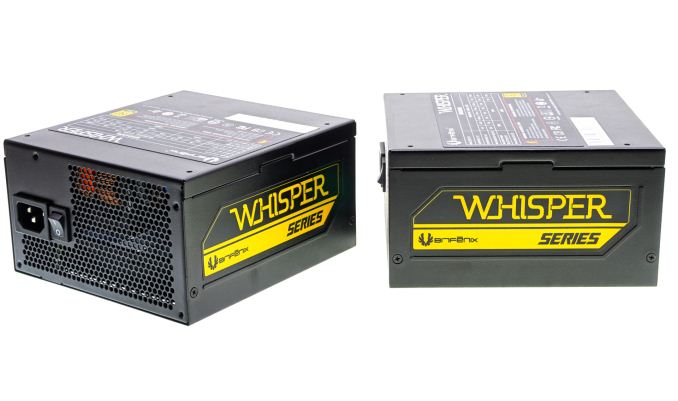 BitFenix is a comparatively new company that quickly became an established brand name via their PC case designs. Today BitFenix is still focused primarily on cases but the company is slowly diversifying, offering supplies for case mods, audio products, and power supply units (PSUs). Ever since the company's founding in 2010, we reviewed several of their case designs, but not any of their other products. Today we are having a look at their recently released ATX PSU series, the Whisper M.
The Whisper M is not BitFenix's first attempt to diversify towards the PSU market. Their first attempt was about three years ago with the Fury series, a PSU series that heavily weighted towards aesthetics and with a relatively hefty price tag at the time of its release. This time around BitFenix is taking a somewhat different approach, trying to balance performance with aesthetics, all while maintaining a competitive price tag, especially in a very competitive market.
BitFenix Whisper M series - MSRP Prices
BWG850M
BP-WG850UMAG-7FM
$119
BWG750M
BP-WG750UMAG-7FM
$109
BWG650M
BP-WG650UMAG-7FM
$89
BWG550M
BP-WG550UMAG-7FM
$79
BWG450M
BP-WG450UMAG-7FM
$69
The Whisper M series consists of five units ranging from 450 to 850 Watts, in 100 Watt steps. In this review we are having a look at the top and tail of the series, the 450W and the 850W units. Both units are fully modular, they boast impressive on-the-box performance specifications, they are 80Plus Gold certified and get that rating at 50 °C, all while parading with a 7-year warranty. The Whisper M units also have a multi 12V rail design, which is something that we have not seen being implemented in quite some time. The MSRP pricing is $69 and $119 for the 450W and the 850W units respectively, which is be more than reasonable if the units prove to be good performers.
BitFenix Whisper M 450W ( Rated @ 50 °C )
AC INPUT
100 - 240 VAC, 50 - 60 Hz
RAIL
+3.3V
+5V
+12V
+12V2
+12V3
+5Vsb
-12V
MAX OUTPUT
20A
20A
25A
25A
25A
2.5A
0.3A
100W
450W
12.5W
3.6W
TOTAL
450W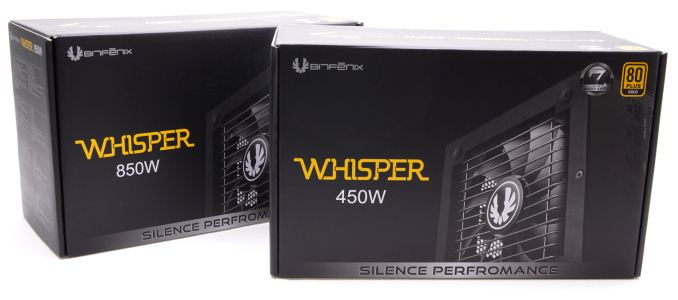 BitFenix Whisper M 850W ( Rated @ 50 °C )
AC INPUT
100 - 240 VAC, 50 - 60 Hz
RAIL
+3.3V
+5V
+12V
+12V
+12V
+12V
+5Vsb
-12V
MAX OUTPUT
22A
22A
25A
25A
40A
40A
2.5A
0.5A
120W
850W
12.5W
6W
TOTAL
850W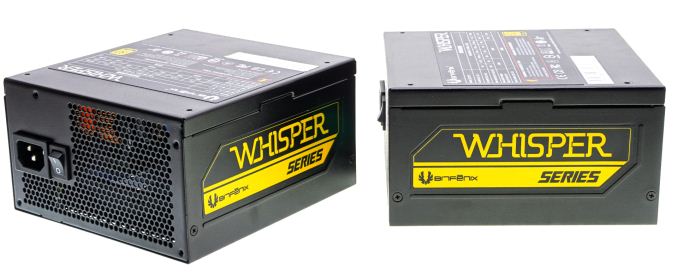 Packaging and Bundle
The company supplies the Whisper M series in an aesthetically simple but practical cardboard box. Although the artwork is limited to a partial picture of the unit itself, the rear and sides of the box are full of graphs and charts that depict all of the unit's core features. One could notice that the text could use some editing by just looking at the front of the box, where it reads "Silence Perfromance" (two nouns, one of them misspelled). The walls of the box are very strong and the unit is packed between thick polyethylene foam pieces that are offering ample shipping protection.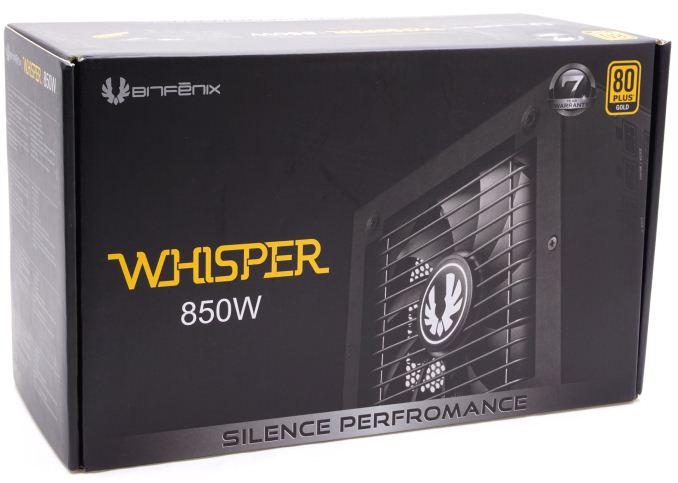 Most likely in an effort to keep the costs low, BitFenix supplies only the basics alongside with their Whisper M PSUs. Inside the box we only found the necessary AC power cable, a few cable straps, four black mounting screws and a basic user's manual (with the same spelling error). Both units share the exact same bundle, only the number of the supplied modular cables differs.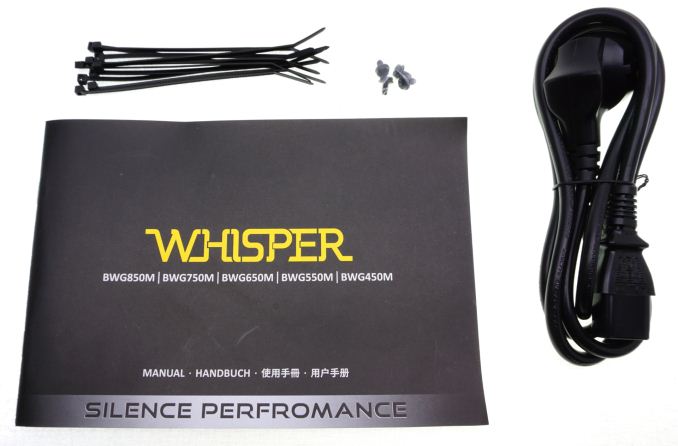 All of the Whisper M units are fully modular, with "flat" ribbon-like cables. The wires and the connectors are all entirely black. An interesting feature here is the bulky connector of the 24-pin ATX cable. The large plastic cover is not there solely for aesthetic purposes but it actually hides three solid-state capacitors that are being used for extra ripple suppression. This is the first time that we have seen the designer of a PSU employing capacitors outside of the unit's body.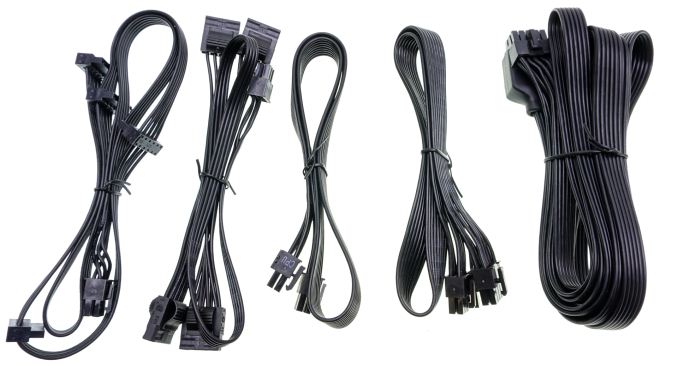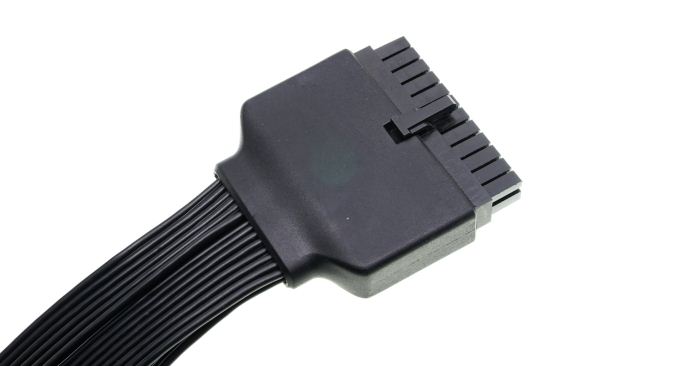 | | | |
| --- | --- | --- |
| Connector | Whisper M 450W | Whisper M 850W |
| ATX 24 Pin | 1 | 1 |
| EPS 4+4 Pin | 1 | 2 |
| EPS 8 Pin | - | - |
| PCI-E 6+2 Pin | 2 | 6 |
| PCI-E 8 Pin | - | - |
| SATA | 8 | 12 |
| Molex | 4 | 4 |
| Floppy | - | - |