The DEEPCOOL Captain EX 240 RGB Cooler
The DEEPCOOL Captain EX 240 RGB is a classic CPU-only AIO cooler design, with the CPU block assembly attached to the radiator via two hoses. The CPU block assembly includes the CPU contact plate, the pump, RGB LED lighting, and the speed control electronics. All of the parts are black. The tubing is thick and has a nylon braiding surrounding it. It is not very flexible but it certainly is very tough. DEEPCOOL has the tubing entering the CPU block assembly from the side, using 90° joints.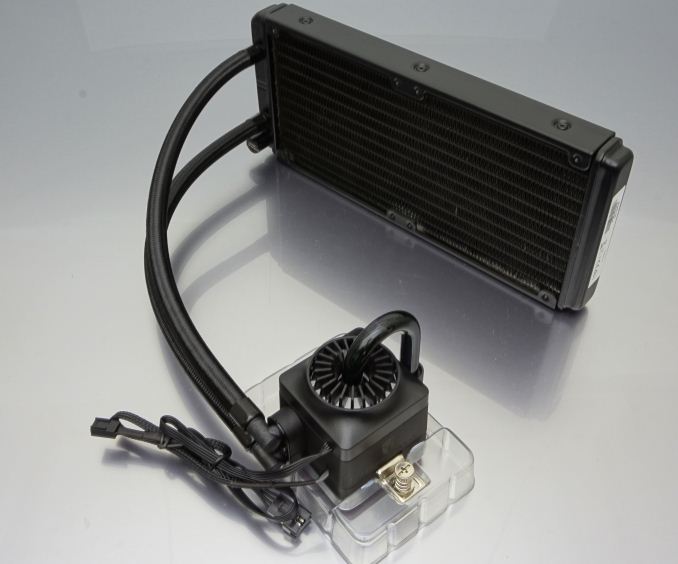 The radiator of the kit is a typical two-pass design, very similar to that used by almost every 2×120 mm fans AIO kit in the market. It is 275 mm long, 120 mm wide and 27 mm thick (10.83 × 4.73 × 1.1 inches). Its narrow dimensions suggest that a push-pull fan configuration will not provide reasonable performance benefits, as it has little airflow impedance to begin with. The design is common and that is not a bad thing, as it is proven to provide relatively good performance. Interestingly, it has a visible refill port but DEEPCOOL has sealed it.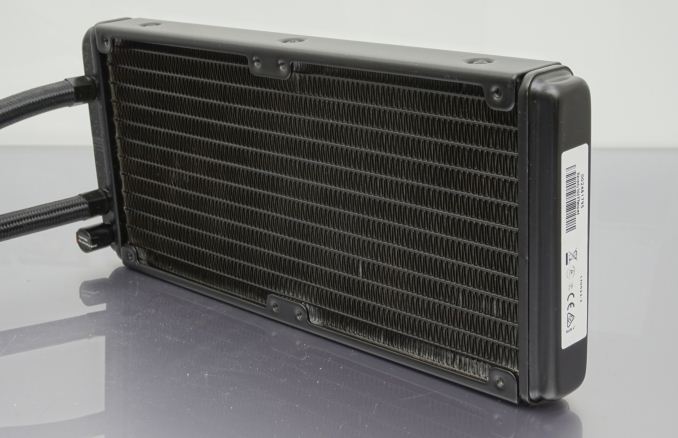 The highlight of this cooler is the CPU block. It is almost cubic in shape, with the company logo etched on the sides of the assembly and a decorative fin circular array on the top. DEEPCOOL has designed it so as to make the liquid flow visible to the user via a clear plastic tube that comes out of the assembly's center and goes back in from the side. The downside is that it has two wires, one power wire for the pump and one for the RGB LEDs. The wire for the RGB LEDs need to be connected to the bundled cable with the attached controller for the RGB LEDs to work, requiring a SATA power connector and skillful cable routing to hide everything.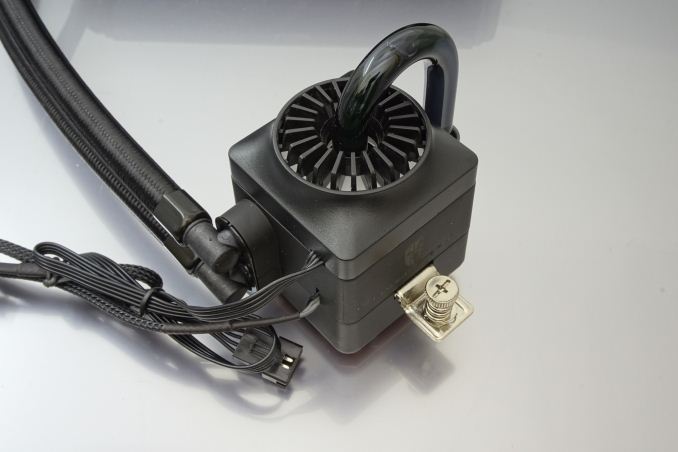 The RGB lighting of the Captain EX 240 RGB is somewhat limiting, as the user can only choose from seven solid colors (red, blue, green, magenta, cyan, orange, and white), or from a couple of basic pre-programmed visual effects. Unfortunately, the included controller is unable to generate any other configuration. However, it can be replaced by a more advanced aftermarket controller or be connected directly to a header of a motherboard that offers onboard RGB strip support, as both the included strip and the integrated LEDs are typical 4-pin RGB products.
The square copper contact base of the Captain EX 240 RGB is attached to the main body of the cooler via large and visible Allen bolts. It comes with the thermal compound pre-applied and is polished to a very smooth, yet not a mirror finish. The DEEPCOOL Captain EX 240 RGB supports AMD AM4 but not TR4 CPUs.