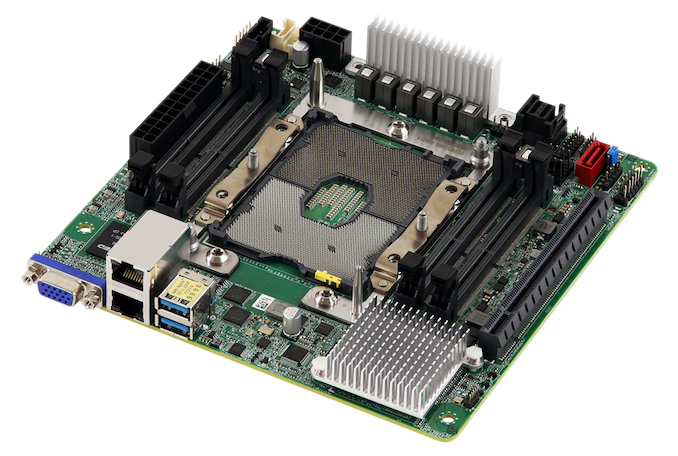 In an interesting release from the professional arm of the manufacturer ASRock, ASRock Rack has quietly come out with a mini-ITX LGA-3647 motherboard designed for Intel's Xeon Scalable platform. The EPC621D4I-2M has to make do with quad memory channel support, but offers a full PCIe 3.0 x16 with BMC in a very efficient package.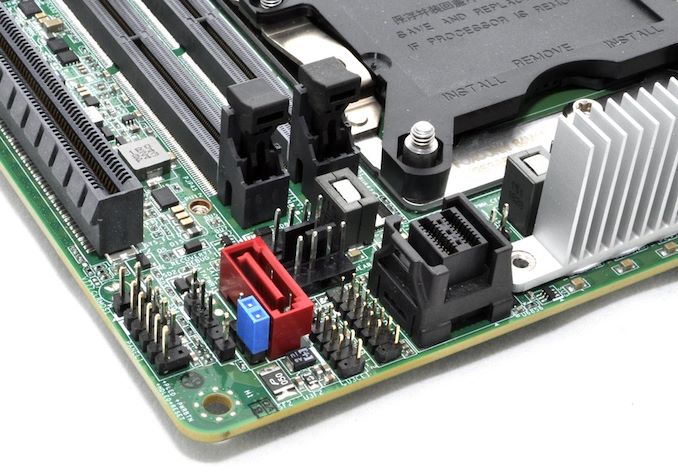 Going after high density servers is always a goal of some of these manufacturers. The 'build it small and pack them in' only goes so far, before you come up against limits of power delivery and heat dissipation. ASRock Rack thinks they have it cracked with this new motherboard.
It comes with four SATA ports via an SFF-8639 port, with another coming via a single SATA-DOM port. NVMe comes through two M.2 slots on the rear, which supports both PCIe 3.0 x4 and SATA drives. A single full-length PCIe 3.0 x16 slot sits just below two of the four RAM slots which support DDR4-2133, DDR4-2400, and DDR4-2666 SO-DIMMs, with the LGA-3647 socket located in the center of the board. Users looking for BMC capability will appreciate the inclusion of an ASpeed AST2500 chip, while the seemingly 6-phase power delivery with basic aluminium heatsinks is driven by the Renesas ISL69127 PWM controller.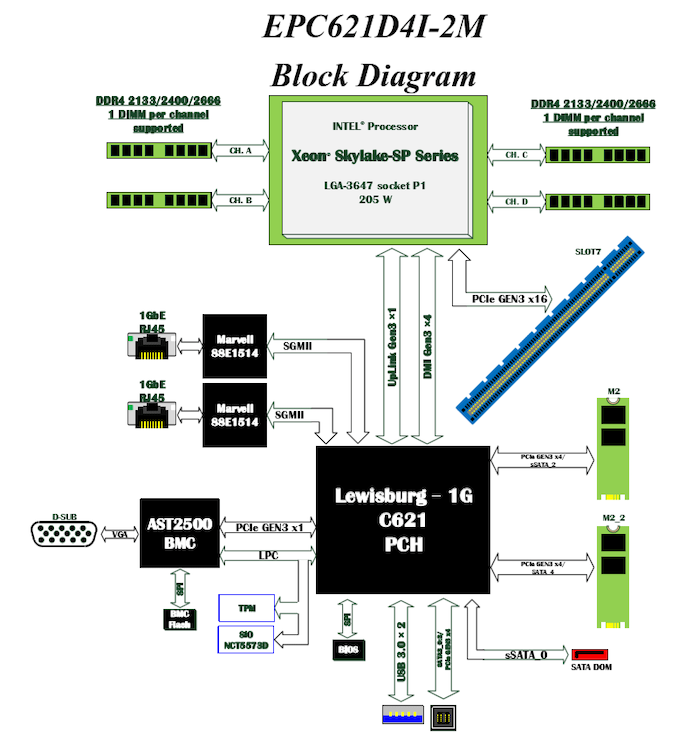 ASRock Rack EPC621D4I-2M Block Diagram
On the rear panel is a basic set of inputs including the two 1 Gigabit Ethernet ports each controlled by its own individual Marvel 88E1514-MNP2 networking controller (the top port operates the boards BMC capabilities). A D-Sub VGA manages the BMC video output. Located to the right of the dual 1 GbE LAN are two USB 3.0 Type-A ports.
With small form factor's popularity gaining momentum in the consumer sector, it's application onto Intel's Xeon Scalable platform seems interesting with ASRock Rack opting for four SO-DIMM slots due to the mini-ITX form factor. There aren't many ECC SO-DIMM RAM modules currently available and with support for just five SATA ports available in total, it asks more questions on the EPC621D4I-2M's application than it answers, with perhaps one use of this being placed inside of a server blade. There's also the question whether this six channel platform is still as effective with four SO-DIMM memory slots, which of course depends on the workload.
We've seen mini-ITX motherboards before with compromises, such as fewer memory channels and limited PCIe use. ASRock as a company has made a name for itself for doing them, and the company still produces these products, because for some users, density sells. These users have workloads that aren't PCIe dependent, or memory bandwidth dependent, and require density. As we move towards a '5G' world, most companies in that 5G space are looking at high-density compute deployments at the edge of the network, and how to provision enough compute and resources at that distance. It would appear that ASRock is aiming for this market.
The official documentation lists that the board supports Skylake and Cascade Lake Xeon Scalable parts, up to 205W TDP. The pricing and availability of the ASRock Rack EPC621D4I-2M aren't yet known, but it is expected that ASRock Rack will unveil the details in the near future.
Related Reading
Source: Sviko (Review)