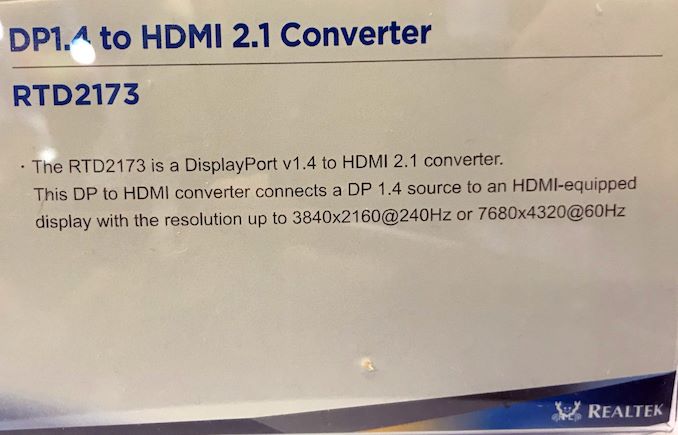 Realtek is working on a chip that will convert DisplayPort 1.4 signals to HDMI 2.1 signals. The RTD2173 converter will enable makers of notebooks, motherboards, docks, and other applications to build devices supporting next-gen HDMI output using current-generation graphics processors that only support DisplayPort 1.4 outputs. Meanwhile, such products will have certain peculiarities.
A number of modern high-end televisions featuring an 8K resolution are outfitted with HDMI ports that are technically ready to receive HDMI 2.1 signals, but are not marketed as HDMI 2.1 because they have not been certified by the HDMI Forum. Once the certification program for HDMI 2.1 is available, producers of Ultra-HD TVs can validate their devices and issue appropriate firmware updates to formally add HDMI 2.1 support. Makers of HDMI cables will release their Ultra High Speed HDMI (48G) cables around the same time.
Meanwhile, at present there are no GPUs that support HDMI 2.1 connection, and even Intel's 10th Gen Core processors codenamed Ice Lake never mention support for this standard. Therefore, to connect an 8K TV featuring an HDMI 2.1 interface to PCs (or other applications featuring a DP 1.4) special converters or adapters will be needed. This is where Realtek's RTD2173 chips comes into play.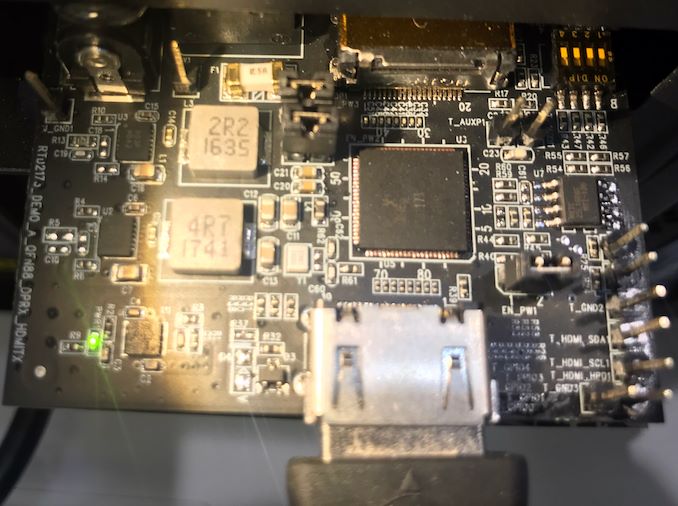 The RTD2173 chip converts DisplayPort 1.4 signals to HDMI 2.1 signals to enable up to 3840×2160@240 Hz or 7680×4320@60 Hz resolution using a single cable. Keep in mind that the maximum bandwidth supported by a DP1.4 interconnection using the HBR3 data rates is 32.4 Gbps, which is enough for 8Kp60 when Display Stream Compression 1.2 is used. Meanwhile, the maximum bandwidth of HDMI 2.1 is 48 Gbps and it does not need to use DSC 1.2 for 8Kp60.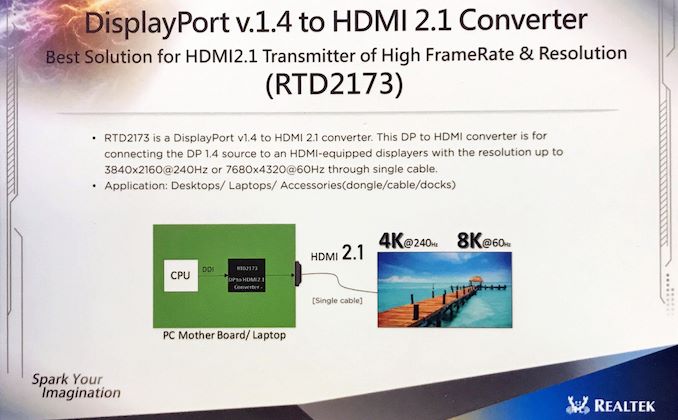 Realtek's RTD2173 converter has been implemented in silicon and once it receives certification from the HDMI Forum, it can be used by makers of PCs, dongles, docks, adapters, cables, and other products. Expects devices with HDMI 2.1 output to be available in the coming quarters.
Want to keep up to date with all of our Computex 2019 Coverage?

Laptops

Hardware

Chips
Follow AnandTech's breaking news here!