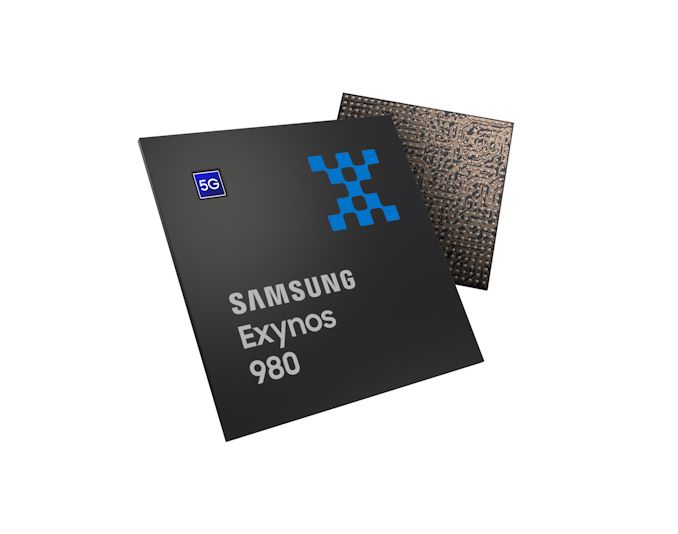 In a surprise announcement, Samsung today unveiled their very first SoC with integrated 5G connectivity. The new chipset isn't a flagship follow-up to the Exynos 9825 and 9820, but rather a new entry to the mid-range and seemingly a follow-up to the Exynos 9610 chipset. Nevertheless, the new chip brings a slew of new firsts to the market which should help the new Exynos 980 to be extremely competitive with upcoming offerings from Qualcomm and MediaTek.
Samsung Exynos SoCs Specifications
SoC
Exynos 980
Exynos 9610
CPU
2x Cortex-A77 @ 2.2GHz
+ 6x Cortex-A55 @ 1.8GHz
2x Cortex-A73 @ 2.3GHz
+ 4x Cortex-A53 @ 1.7GHz
GPU
Mali G76MP5
Mali G72MP3
NPU
Integrated
-
Memory
Controller
LPDDR4X
LPDDR4X
Media
10bit 4K120 encode & decode
H.265/HEVC, H.264, VP9
10bit 4K120 encode & decode
H.265/HEVC, H.264, VP9
Modem
Shannon Integrated

(LTE Category 16/18)
DL = 1000 Mbps
5x20MHz CA, 256-QAM
UL = 200 Mbps
2x20MHz CA, 256-QAM

(5G NR Sub-6)
DL = 2550 Mbps
UL = 1280 Mbps
Shannon Integrated

(LTE Category 13/13)
DL = 600 Mbps
3x20MHz CA, 256-QAM
UL = 150 Mbps
2x20MHz CA, 64-QAM
WiFi
Integrated 802.11ax (WiFi 6)
Integrated 802.11ac (WiFi 5)
ISP
Main: 108MP
Dual: 20MP+20MP
Rear: 24MP
Front: 24MP
Dual: 16MP+16MP
Mfc.
Process
Samsung
8nm LPP
Samsung
10nm LPP
The very odd thing about the Exynos 980 is its new naming scheme. This is the first time Samsung has opted for a three numeral scheme in its Exynos line-up which is certainly bound to be a bit confusing at the beginning, certainly also because of similarities in the naming to the Kirin 980. However it's quite evident that this new chip looks to be a follow-up to the Exynos 9610. I'm questioning Samsung's naming scheme here and how it'll play out for its follow-up chips both in the mid-range and next flagship iterations.
Nevertheless, the new Exynos 980 is the first chip to be announced to come with the new Cortex-A77 CPU from Arm. Whilst Samsung was able to jump the gun here in terms of announcement, we're still expecting HiSilicon to be the first to market with a SoC with the new CPU in the next few weeks. Samsung's integration of the new CPU within a mid-range SoC is quite aggressive, particularly seeing that the company lagged behind in this regard in previous generation Exynos SoCs such as the 9610. The A77 cores are clocked in at 2.2GHz which is naturally quite a bit less than what we expect of flagships, but the cores should be extremely efficient in this implementation. The two big cores are accompanied by 6 Cortex-A55's at 1.8GHz, making this a octa-core SoC.
The GPU on the Exynos 980 is the same as its last flagship SoCs, a Mali-G76, however this time it's only in an MP5 configuration which is less than half the cores of its flagship counterpart. I'm expecting the clock frequency of this GPU to be a lot more aggressive than its flagship counter-part, so performance should be more than half, which is actually quite a good performance target relative to Qualcomm's mid-range SoCs.
The new chip is also the first mid-range from Samsung to integrate their in-house NPU architecture which the company promotes as augmenting camera capture abilities of the SoC platform.
The biggest news however is the announcement that this is an SoC with integrated 5G modem. Although we still have to wait out the competition, it might be one of the first SoCs with such integrated connectivity. LTE connectivity corresponds to Category 16/18 with 1000/200Mbps download and upload speeds, enabled through 5CA/2CA connectivity. On top of the LTE connectivity, the chip also supports 5G NR Sub-6 with speeds of up to 2550/1280Mbps. Through E-UTRA-NR Dual Connecivity (EN-DC), the modem can bundle LTE and 5G NR together and achieve up to 3.55Gbps download speeds. This modem looks to lack mmWave capabilities, but given its mid-range positioning as well as global preference of Sub-6 5G connectivity, it looks to be a strategic decision based on cost-effectiveness.
Also a first, is the fact that the new chip now integrates WiFi 6 (802.11ax). Samsung had started with its own WiFi connectivity solutions last year, integrating them into the SoCs, something we've yet to see implemented by vendors in the higher-end flagship SoCs which rely on external combo-chips.
Finally, the SoC promises ISP camera ability to support up to 108MP sensors, which falls in line with S.LSI's own 108MP Isocell camera sensor.
The Exynos 980 is to start mass production by the end of the year and we're likely to see devices shortly after. Overall, the chip seems unusually competitive for Samsung, showcasing quite a lot of firsts. Along with the new naming scheme, it feels a bit of a strategy shift compared to previous generation mid-range Exynos chips. Hopefully the new design enables Samsung to better compete for design wins outside of Samsung's own Mobile division.
Related Reading: