G.Skill Trident Z5 Memory (F5-6000U3636E16G)
2x16GB of DDR5-6000 CL36
For the purposes of this article and to investigate scaling performance on Alder Lake, G.Skill supplied us with a kit of its latest Trident Z5 DDR5-6000 CL36 memory. The G.Skill Trident Z series has been its flagship model for many years, focusing on performance but blending in a premium and clean-cut aesthetic. G.Skill offers two types of its Trident Z5 memory, some without RGB LEDs such as the kit we are taking a look at today (Z5), and the Trident Z5 RGB, which includes an RGB LED light bar along the top of each memory stick.
Focusing on the non-RGB variants, the G.Skill Trident Z D5 is available in various 32 GB (2x16) configurations starting at DDR5-5600 CL36 and ranging up to DDR5-6000 CL36. G.Skill unveiled a kit of Trident Z D5 RGB DDR5-7000 CL40 kit, which is extremely fast, and when it is released, it will ultimately be one of the most, if not the most, expensive DDR5 memory kit on the market.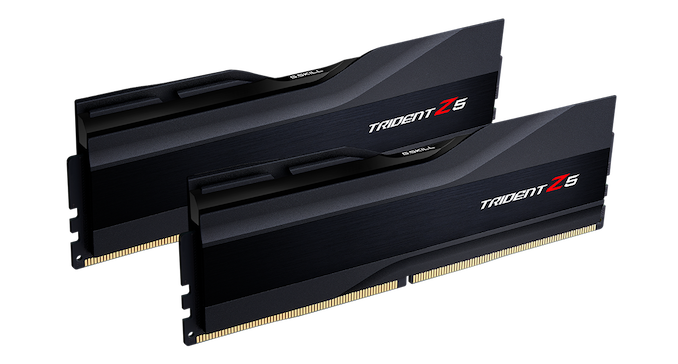 Looking at the design, the G.Skill Trident Z5 DDR5 memory uses a 42 mm tall (at the highest point) heatsink, with G.Skill offering a two-tone contrasting matte black kit, as well as a black and metallic silver kit. The kit supplied to us by G.Skill uses two-tone matte black heatsinks. The heatsinks are constructed from aluminum, and G.Skill states that it uses a newer and more 'streamlined' design. There are quite pointy, which given previous G.Skill memory kits might have the tendency to feel too sharp when installing them.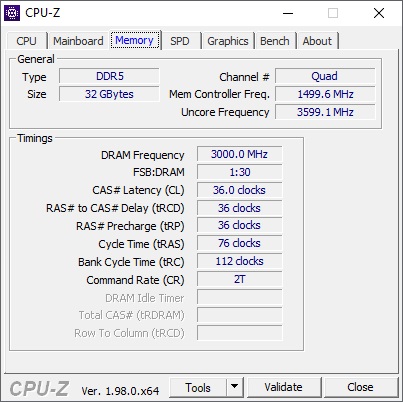 Looking at what CPU-Z is reporting, we can see that the X.M.P 3.0 profile matches up with the advertised specifications, with this particular kit using DDR5-6000 with latency timings of 36-36-36-76. The operating voltage for the kit is 1.3 V, which is a 0.2 V bump from the JEDEC SPD rating of this kit, which is DDR5-4800 at 1.1 V.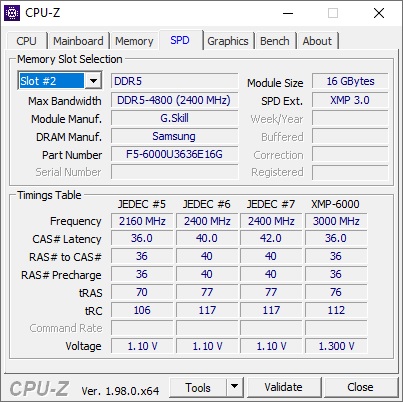 Checking the more intricate details of the G.Skill Trident Z5 DDR5-6000 memory, CPU-Z reports that the kit is using Samsung IC's, with a 1Rx8 array of 16 Gb ICs employed on each module. While CPU-Z doesn't actually report this, we reached out to G.Skill who informed us that this kit uses a single rank design.