In general, we see a trend in the market preference for quieter, smaller, cheaper, and more powerful GPUs. In reality, we might see two or three of these features in a product, at the expense of the other(s). I took the opportunity to visit as many vendors as my time allowed in Computex to find GPUs which could potentially fit into these categories.
On the NVIDIA side of things, Zotac where showing two silent models. The first is actually a PCI card, rather than PCIe – a GT 430 with 512 MB DDR3 memory on a 128-bit bus, running at 700 MHz core speed and1600 MHz memory. A purely silent card, it has a single slot design and supports DVI-I, HDMI, and VGA. It's interesting to see a PCI card on sale – they have their uses mainly in industrial applications, but due to the PCI specifications there's a bandwidth limitation which may hinder any significantly faster GPU.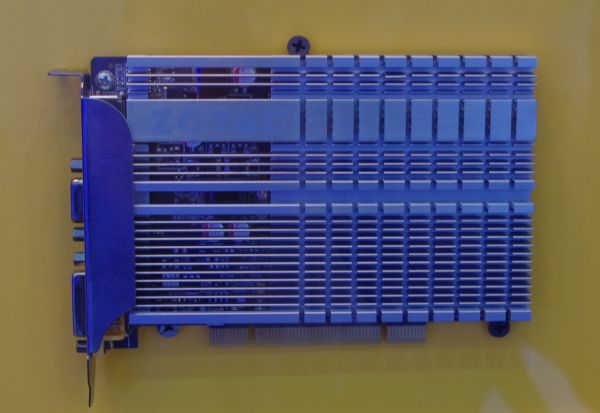 The Zotac 520 ZONE Edition, with 48 CUDA cores and 1 GB DDR3 memory on a 64-bit bus, runs at 810 MHz with 1600 MHz memory. Again, this is a silent card, but a dual slot solution, supporting DVI-I and mini-HDMI.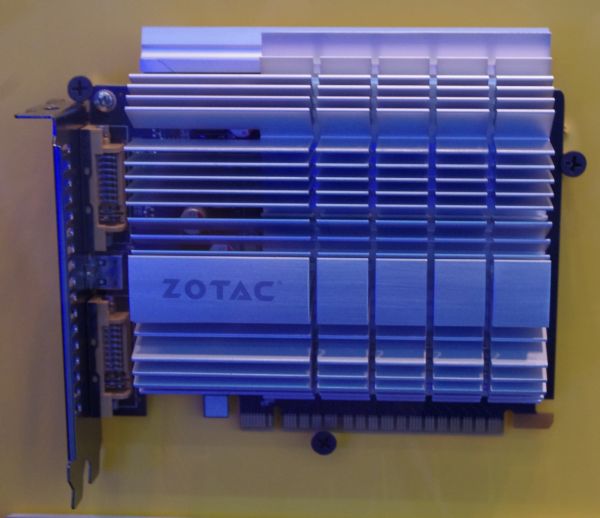 Sparkle, apart from competing with Gigabyte and ASUS on SKU naming complexity, had three silent cards on display – a GTS 450 (SXS4501024DSSNMP), a GT 440 (SXT4401024S3LNMP) and a GT 520 (SXT5201024S3LNMP). The GTS 450 version supports two DVI ports and a mini-HDMI, whereas the other two give the standard VGA, HDMI, and DVI connectors. The GT 440 is a single slot solution, and all three have 1GB memory.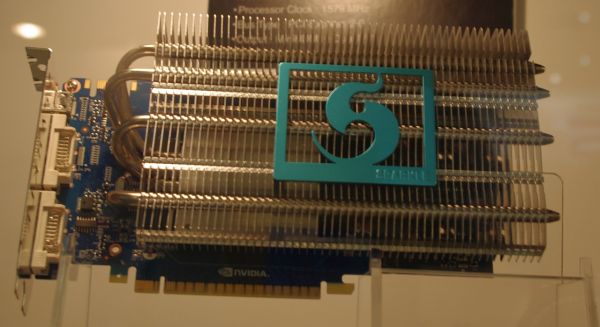 In terms of raw power in the veil of silence, we have to look at the AMD side of things and Powercolor, who have wrapped a HD6850 (yes, you read that right) in a passive heatsink using 5 heatpipes – this thing is massive: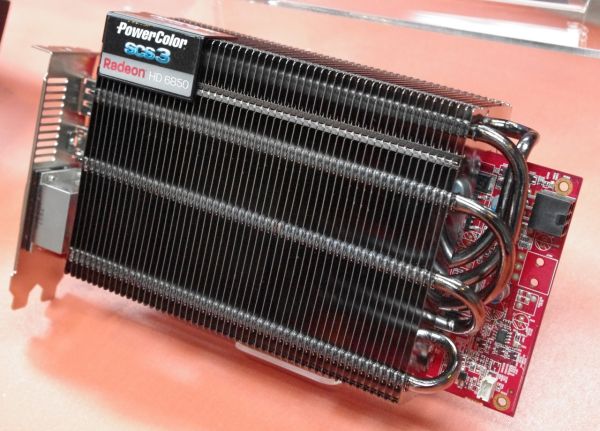 The issue that probably bugs me the most about this card is I can see people using two in Crossfire. In order to shift that much heat, the case will require sufficient cooling – i.e. fans, and thus defeat the point of silent running.
Powercolor also had two more sensible passive solutions on show: a HD6670 and HD6570.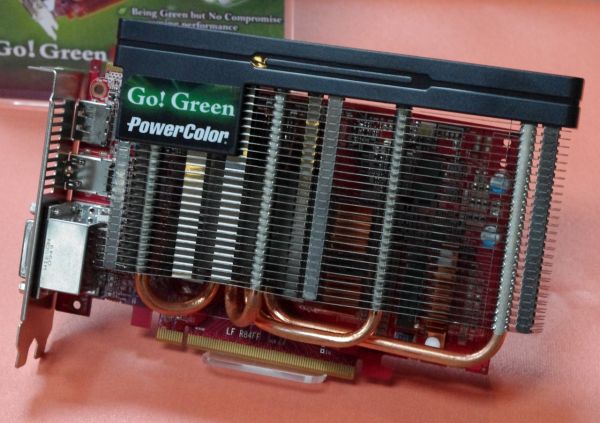 In a similar vein, over at the AMD booth, they had selected passive cards from various manufacturers – an ASUS EAH6670, a Gigabyte HD6770 (GV-R677SL-1GD), a HIS 6570 Silence and an XFX HD5670 (HD-567X-ZNH).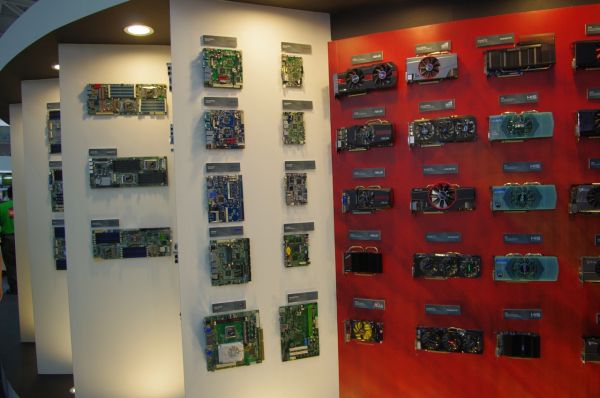 Even though there is a distinct trend to produce graphics cards with dual slot coolers, it does pique my interest when a manufacturer has a single slot solution to what is typically a dual slot answer. This is often at the expense of length, fan noise, and cost of heatsink materials, but in terms of performance per unit volume, a good single slot GPU can sometimes be the answer.
So enter the Powercolor HD6850 Single Slot Edition. Again, you read that right – a single slot 6850. This card isn't significantly longer than the standard 6850 from looks, put I'd wager that the fan must work hard to push air through when the card is working at a full load.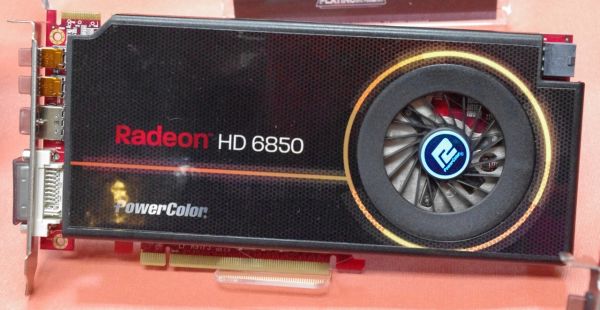 On the professional side of things, Sapphire had a FirePro V7900 on display as a single slot solution. The V7900 is the 1280 streaming processor variant with 160 GB/s memory bandwidth, and differs from the commercial equivalent by utilizing features most people don't need but professionals do. My usual perception in terms of a environment using professional GPUs (i.e. clusters for simulation) is that more per machine is usually better, so I could see up to 7+ of these in one motherboard – perhaps.