Introducing the BitFenix Shinobi (Window)
Compared to some of the vendors we've reviewed cases from thus far, BitFenix seems like a young pup. Antec and In-Win have been around for a long time, and Silverstone has established itself as a go-to for quality enclosures. But BitFenix has been making a lot of waves in a short period of time, producing attractive cases designed to appeal to consumers who are less about bling, be they a gamer or not. Today we're taking a look at BitFenix's Shinobi ATX enclosure (windowed version). With an MSRP of just $69.99, is it the budget ninja we've been looking for?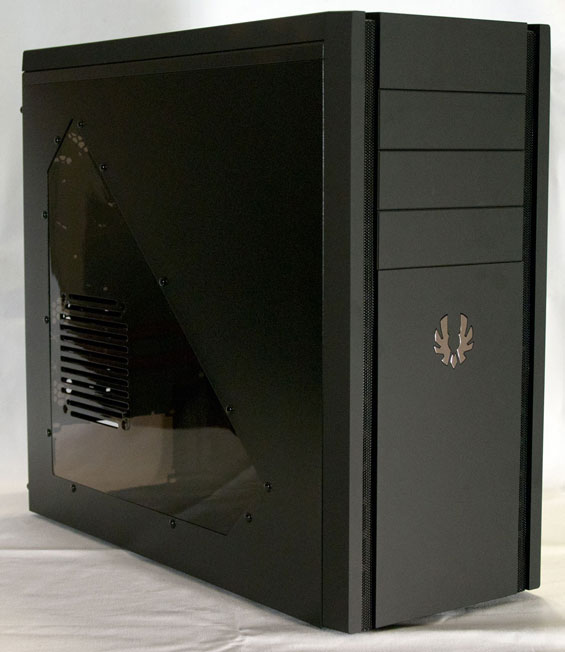 First impressions when I opened the box for the BitFenix Shinobi were extremely positive. When an enclosure comes out with the price that BitFenix is shipping the Shinobi at, it tends to wear that low price tag on its sleeve. The competition is often gaudy, making heavy use of cheap looking plastic, and such cases frequently aren't particularly user-friendly. The Shinobi on the other hand is actually quite mild by comparison, maybe even austere. It's worth noting that BitFenix offers two different models of Shinobi, one with a window (dubbed the "Shinobi Window") and one without. The windowed version costs an extra $10 and includes tool-less installation for the hard drives. That's what we're looking at today.
BitFenix Shinobi Window Specifications
Motherboard Form Factor
ATX, Micro ATX, Mini ITX
Drive Bays
External
3x 5.25" (includes 5.25"-to-3.5" external or 2.5" internal bay adapter)
Internal
8x 3.5"
Cooling
Front
1x 120mm intake fan (3-pin header), one open 120mm fan mount
Rear
1x 120mm exhaust fan (3-pin header)
Top
2x 120mm/140mm fan mounts
Side
1x 120mm fan mount
Bottom
1x 120mm fan mount
Expansion Slots
7
Front I/O Port
-
Top I/O Port
4x USB 2.0, headphone and mic jacks
Power Supply Size
ATX
Clearance
13" without hard drive/10" with hard drive (Expansion Cards), 170mm (CPU HSF), 300mm without bottom fan/180mm with bottom fan (PSU)
Weight
15.5 lbs.
Dimensions
18.1" x 8.1" x 19.3"
Price
$69 MSRP
The Shinobi doesn't include a native 3.5" external bay or 2.5" drive mount for SSDs, but BitFenix does happily include an adapter that can be used for either of these which I'll show you during the assembly. My only complaints regarding the adapter are that there isn't more than one, and that it does take up one of the 5.25" bays. Other than those points, it's a fairly elegant solution.
One other issue you may run into is clearance: while our Zalman CNPS9900 was able to fit with some headroom, you may have a little trouble with larger tower coolers. Likewise, you're not going to be able to fit a 240mm radiator inside the case, since the radiator and fans are liable to butt up against the motherboard. That's not a huge complaint since if you're going to use a 240mm radiator and liquid cooling system, you're probably going to spend more than $69 on your case. Finally, our GeForce GTX 580 did have some clearance issues with hard drives installed behind it, so be forewarned: when using a longer card you'll wind up losing one or two of the copious eight 3.5" bays.