Introducing the BitFenix Outlaw
A lot of our case reviews lately have been for enclosures that hover around the $99 price point and then range below. The big, expensive ones are exciting and ultimately many of them are definitely worth your hard earned money, but what about the friend who's on an extreme budget? What if you're on an extreme budget? The case is often one of the easiest and safest places to cut money out of the cost of a custom build, and BitFenix has been diligently serving the cash-strapped for a while now. Today we have on hand the new Outlaw, and we'll show you just how much case you can get for fifty bucks.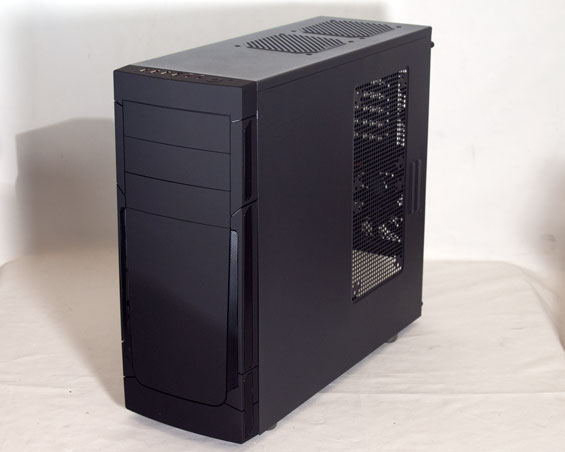 From the moment the BitFenix rep showed me the Outlaw right up until I finished assembling it, all I could think was "I can't believe this thing is so cheap." Of course, when I say "cheap" I do mean "inexpensive," a distinction I made a few times during my recent review of the Rosewill Ranger. The Outlaw has a lot in common with my favorite Micro-ATX case, SilverStone's Temjin TJ08-E. The Temjin is a royal hassle to put together, but it does pay dividends: it runs cool and it runs quiet. BitFenix had to be a little more flexible in designing the Outlaw (and hitting a price point that's half the Temjin), but there's a lot to like here.
BitFenix Outlaw Specifications
Motherboard Form Factor
ATX, Micro-ATX, Mini-ITX
Drive Bays
External
3x 5.25"
Internal
4x 3.5", 1x 2.5"
Cooling
Front
2x 120mm fan mount
Rear
1x 120mm exhaust fan
Top
2x 120mm fan mount
Side
2x 120mm/140mm fan mount
Bottom
1x 120mm fan mount
Expansion Slots
7
Front I/O Port
-
Top I/O Port
4x USB 2.0, mic and headphone jacks, power and reset buttons
Power Supply Size
ATX
Clearance
10.5" (Expansion Cards), 170mm (CPU HSF), 180mm (PSU)
Weight
14.33 lbs.
Dimensions
7.09" x 18.82" x 17.24" (180mm x 478mm x 438mm)
Price
MSRP $49
As a $49 case you're stuck largely with the basics when it comes to the Outlaw; about enough room for garden variety configurations, a bunch of fan mounts with no fans installed, and strictly USB 2.0 connectivity in the enclosure itself. But there's a lot more going on with BitFenix's design than appears at first glance.