Introducing the BitFenix Shinobi XL
We've had a remarkably heavy backlog of cases in house in desperate need of review over the past couple of months, and one of the standouts has been BitFenix's Shinobi XL. We were generally pretty pleased with the original Shinobi when we first reviewed it. Seventy bucks for a solid budget enclosure with great styling was a killer deal, and the enclosure itself has a lot of room to grow for the budding enthusiast. As it turns out, the Shinobi has been a pretty big hit for BitFenix. Big enough, in fact, that they decided it needed to go...bigger.
And so it did. BitFenix released the Shinobi XL earlier this year, but reviews for it have been fairly scarce and even a little bit dismissive in some cases. We have an opportunity here to rectify that and determine if the newer, larger Shinobi lives up to the legacy of its little brother, or if BitFenix has lost some of the magic in enlarging their budget design.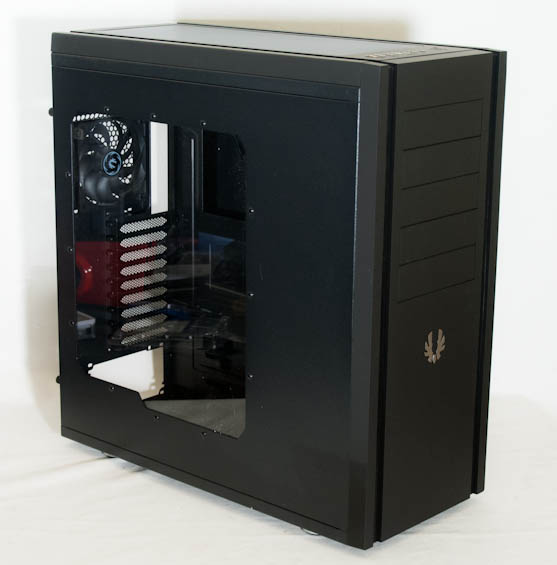 It's most definitely bigger. While the Shinobi was a standard ATX case (and a fairly small one at that), the Shinobi XL is all-in, with nine expansion slots and able to support XL-ATX motherboards. While it shares a lot of the design language of its predecessor, the larger scale allows two of the fans to be upgraded to 200mm parts. I'm not sure bigger is necessarily better, though.
BitFenix Shinobi XL Specifications
Motherboard Form Factor
Mini-ITX, Micro ATX, ATX, XL-ATX
Drive Bays
External
5x 5.25" (incl. one 5.25"-to-3.5" adapter bay)
Internal
7x 2.5"/3.5"
Cooling
Front
1x 230mm intake fan (supports 3x 120mm)
Rear
1x 120mm exhaust fan (supports 140mm)
Top
1x 230mm exhaust fan (supports 2x 230mm or 3x 120mm)
Side
-
Bottom
1x 140mm intake fan
Expansion Slots
9
I/O Port
4x USB 3.0, 1x USB (power only), 1x Headphone, 1x Mic
Power Supply Size
Standard ATX
Clearances
HSF
181 mm
PSU
200 mm
GPU
13.1" / 334mm
Dimensions
22.44" x 9.65" x 21.93"
570mm x 245mm x 557mm
Special Features
USB 3.0 connectivity via internal headers (included USB 2.0 adaptor cables)
Support for dual 360mm radiators and one 240mm radiator
Price
$159
Unfortunately I don't have a weight statistic for the BitFenix Shinobi XL other than "it's heavy." The chassis really is in many ways just a giant Shinobi, with a steel frame and then the soft-touch plastic finish. What's also a bit alarming is the price tag: at $159, the Shinobi XL is more than twice as expensive as its predecessor, making it an unusual heir to the Shinobi throne.
As a bit of good news, though, BitFenix cases are now finally available on NewEgg. I'm actually personally really happy to see this, as it both raises the profile of BitFenix and also makes more widely available what I consider some of the best budget cases available.