Introducing the Toshiba Excite 7.7
While Toshiba's tablets so far haven't been necessarily bad, like most Android tablets they just haven't really set the world on fire. The only breakthroughs in this market seem to have been ASUS with their Transformers and Amazon's Kindle Fire with its hyper-aggressive pricetag; frankly, the iPad's market stranglehold is a tough nut to crack. That's why I like seeing what Toshiba's up to; most people don't notice when they experiment, but with their Excite line they definitely seem to be doing just that.
Toshiba produced the only 13.3" tablet at the top of the Excite line, but in the smallest form factor, the 7.7", they've gone a different route. The Excite 7.7 eschews the IPS panels most commonly found on tablets in favor of a 1280x800 AMOLED display. The result is a visual experience that's definitely eyecatching compared to other tablets on the market, but can it really justify the $499 starting price?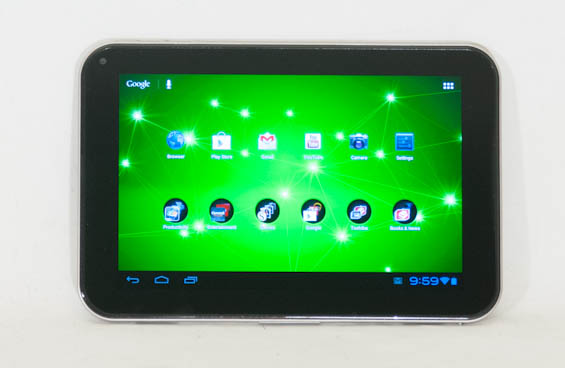 So here's an interesting question for you: why is the desktop/notebook/case guy handling a tablet review instead of someone like Jason, Anand, Brian, or Vivek? The simple answer is that as someone who doesn't use tablets with any great frequency, I get a slightly different perspective much as Jarred did when he helped review the Acer Iconia A500. This is a big, fresh market that's only going to get bigger with the release of Windows 8; my experience just seeing what HP and Toshiba had in store for that launch is proof enough of that. Just like smartphones have gradually eroded the market for dedicated portable gaming consoles, tablets (and ultrabooks to an extent) have been eating away the market for netbooks. Whether you like it or not, this is the new boss.
With the Excite 7.7, Toshiba is taking the basic foundations of Android tablets and banking on a crucial difference: the AMOLED display. AMOLED is an interesting display technology choice for a tablet; thus far it's been found essentially almost entirely on smartphones, but it has a lot to offer in a bigger size. So while the Excite's 1280x800 resolution isn't necessarily competitive with the substantially higher resolutions of bigger tablets, it makes up for it by having an essentially unmeasurable contrast ratio. When a pixel on an AMOLED display is off, it's off, so there's no calculating a contrast ratio when you have to divide by zero.
Tablet Specification Comparison
Toshiba Excite 7.7
Apple iPad (2012)
Amazon Kindle Fire
Samsung Galaxy Tab 8.9
Dimensions
205.7 x 134.6 x 7.6mm
241.2 x 185.7 x 9.4mm
190 x 120 x 11.4mm
230.9 x 157.8 x 8.6mm
Display
7.7-inch 1280x800 AMOLED
9.7-inch 2048 x 1536 IPS
7-inch 1024 x 600 IPS
8.9-inch 1280 x 800 PLS
Weight
349g
652g
413g
447g
Processor
NVIDIA Tegra 3 1.3GHz (4 x Cortex A9 + 1 x LP Cortex A9)
Apple A5X (2 x Cortex A9, PowerVR SGX 543MP4)
1GHz TI OMAP 4430 (2 x Cortex A9)
1GHz NVIDIA Tegra 2 (2 x Cortex A9)
Memory
1GB
1GB
512MB
1GB
Storage
16GB
16GB
8GB
16GB
Pricing
$499
$499
$199
$469
The Excite 7.7's biggest problem from the get go is that price tag, but note that it's among the thinnest and lightest tablets available, easily besting the Amazon Kindle Fire. Thankfully the $499 MSRP isn't what's materializing in retail; a visit to NewEgg reveals the 32GB model available for $509 while the 16GB model is just $429. That's still a chunk of change, but at least it takes it out of striking distance of the incumbent iPad. Weighing about half as much probably doesn't hurt either.
Specifications on the Excite 7.7 are fairly modest; it's Tegra 3 as we're accustomed to for Ice Cream Sandwich-powered Android tablets and features a 5-megapixel rear camera and a 2-megapixel front-facing camera. Wired connectivity is handled by a micro-USB port, micro-SD slot, and headphone/mic combo jack; wireless is bog standard 802.11b/g/n and Bluetooth 3.0, with no mobile broadband options. The shell itself is attractive, though, with a black finish around the front display, two speakers on the bottom surrounding the charging port, and an etched aluminum backing.