Evolution of the Small Form Factor
The first small form factor systems I built used Shuttle Computer barebones, back in 2006. One had an AMD Athlon 64 X2 CPU installed, and the other used an Intel Pentium D (Pentium 4 dual-core) CPU in it. If you remember these processors, you might already raise your eyebrows at the wisdom of putting these chips in a small form factor system. Compared to today's processors, the AMD dual-core put out a lot of heat, and the Intel dual-core could practically be used as a space heater. Combined with 80mm case fans, non-80+ power supplies, and 2.5V DDR memory, these systems ran hot and ran loud. I ended up having to extensively modify the AMD-based Shuttle to get it to operate to my satisfaction, and I never got the Intel-based system running as well as I wanted it to—and that's putting it diplomatically. [Ed: I reviewed many a Shuttle system back in the day; I would say only about a third of the units ran without trouble past the two year mark! Other brands were similarly unreliable.]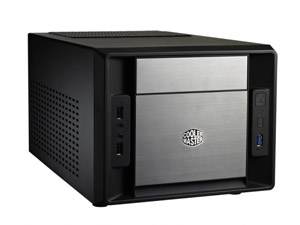 Nevertheless, the potential benefits of the small form factor were apparent, despite technology that wasn't quite there. Small form factor systems take up very little space, which is especially appealing in cramped conditions, like cubicles, dorm rooms, and when you want more room on your desk for a bigger monitor. They're easy to transport because you can fit it under one arm and they don't weigh much. There's also an aesthetic appeal to minimalists like me who like the efficiency of having no more computer than necessary to accomplish computing purposes.
Early last year I wrote a guide featuring nettops, small form factor computers that were useful for the most basic computing tasks. These computers are now all but dead, having been replaced by the explosion of tablets. However, more powerful small form factor systems remain a viable option for a desktop computing solution. Intel's current Ivy Bridge-based CPUs have very low TDPs—even some quad-core SKUs have TDPs of 55W or less under full, sustained load. And AMD's current Trinity APUs pack a quad-core CPU and discrete-level GPU into a 100W thermal envelope. Both Intel and AMD solutions will typically produce far less heat than that, too, considering most people do not put their computers under 100% load for extended periods of time, and these chips idle at low power consumption levels. Furthermore, any PSU worth its salt features 80% efficiency or better, and DDR3 memory pulls 1.5V or less. We've come a long way since 2006!
In this guide we've outlined small form factor gaming desktops, a file server, and on the next page, a diminutive desktop that won't break the bank.