Introducing the BitFenix Raider
BitFenix has historically been fairly reliable at producing reasonably priced cases that have their own aesthetic flair and solid performance. They've been exactly daring enough with designs like the extremely popular Prodigy, and been able to produce great value with less expensive builds like the Merc series. For the most part their midrange has been fairly well-covered by the Shinobi, but for users looking for something with a little more pep and a little different design, today we have on hand the Raider.
The Raider seems like a fairly basic ATX mid-tower, but there's some secret sauce at work here. BitFenix includes a pseudo-removable drive cage and, almost surprisingly, no side ventilation. No window, no side fan, nothing but two solid side panels. There's also a trio of BitFenix's silent Spectre fans, and that signature attractive soft-touch plastic finish. It sounds like the Raider has a lot going for it, but does it hold up?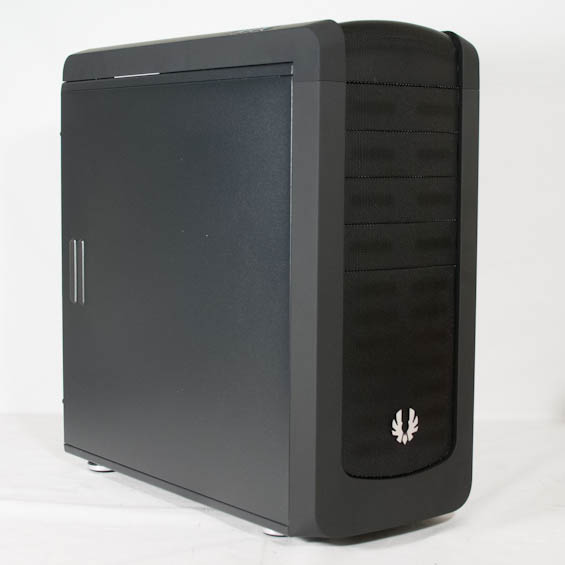 If you've been keeping track of the case reviews here, the Raider will in many ways seem like it's keeping up with the state of the art of case design. BitFenix has a mostly removable drive cage (more on this later), a recessed cabling channel in the motherboard tray, four USB 3.0 ports, and healthy headroom for radiators in the top of the enclosure. There's even my much beloved fan controller standard, though I'll admit a fan controller is much less exciting when it's paired with low noise fans in the first place (as is also true of Nanoxia's Deep Silence cases.) The ideal circumstance for one is to fine tune high performance fans.
Despite being a very feature rich case, though, testing of the BitFenix Raider revealed a design that feels strangely half-baked. This is by no means a bad enclosure and it can almost justify itself entirely on its fairly attractive aesthetic (at least I think so), but as they say, the devil is in the details, and there are a lot of details that it seems like BitFenix's designers may have missed.
BitFenix Raider Specifications
Motherboard Form Factor
Mini-ITX, Micro-ATX, ATX
Drive Bays
External
4x 5.25"
Internal
6x 2.5"/3.5", 1x 2.5"
Cooling
Front
2x 120mm intake fan (supports 1x 200mm)
Rear
1x 120mm exhaust fan
Top
1x 200mm fan mount
Side
-
Bottom
1x 120mm fan mount
Expansion Slots
7
I/O Port
4x USB 3.0, 1x Headphone, 1x Mic
Power Supply Size
ATX
Clearances
HSF
160mm
PSU
160mm with bottom fan / 240mm without
GPU
280mm with drive cage / 370mm without
Dimensions
8.27" x 19.69" x 19.41"
210mm x 500mm x 493mm
Weight
~18 lbs. / ~8 kg
Special Features
USB 3.0 via internal header (each header includes 2.0 header)
Fan controller
Removable drive cage panel
Price
$99
My first experience with the Raider, just opening the box, was like a trip into bizarro world. I can't remember the last time I had to install feet on an enclosure, let alone a hundred dollar one, but the fact that adhesive feet weren't already on the case (despite the bottom fan filters) wound up being something of a red flag. It's not a huge deal in and of itself, but if BitFenix wasn't thinking to ship this case with the feel installed, what else might they have missed?