My last few building experiences with NZXT cases have for the most part been fairly pleasant, and I was expecting a pretty breezy experience with the H230 as well. I got...most of that breezy experience, but this definitely could've been easier.
I'm assuming in a bid to get the production cost down, the H230 doesn't come with any standoffs or guides installed in the motherboard tray. That's not a tremendous sacrifice given the price segment we're competing in, but it's a small nuisance. Installing the test motherboard was easy enough, but where things went a little bit south was when it came to installing the drives.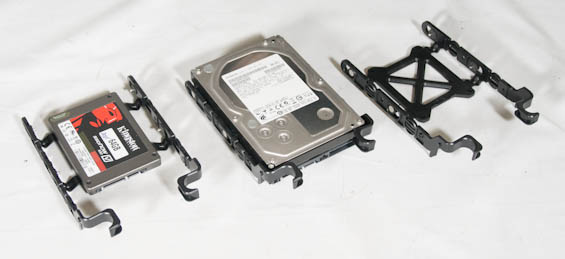 The toolless mechanism NZXT uses for the 5.25" drive bays is actually pretty excellent and one of the better ones I've tested, but the 2.5"/3.5" drive trays are pretty terrible. They're incredibly flexible and they don't lock into the drive cages very well. If you install a 3.5" mechanical drive into one, that will stabilize it a little bit, but I found it was easy to make the tray with the 2.5" drive installed in it fall out of the case. This won't be a major problem for a case that's going to spend its life stationary with very little modification, but it's just so...shoddy.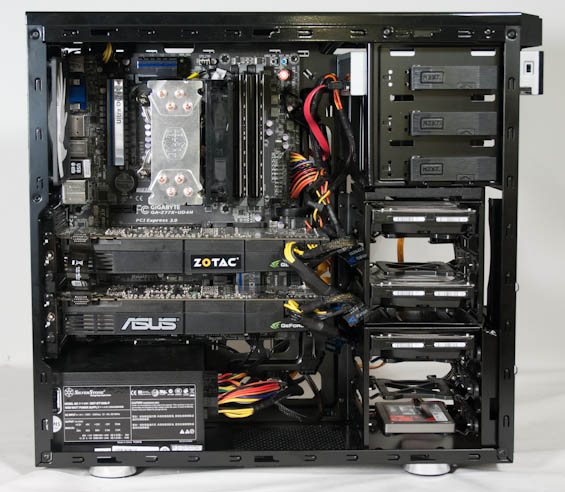 Installing expansion cards and the power supply was very easy, but this is not a case designed for a tremendous amount of hardware. For some time I've felt like that was really the paradox of the ATX case; built to house the ATX board, but not really designed to handle a fully fleshed out system that takes advantage of the ATX spec. The result is that cabling proved to be a nightmare exacerbated heavily by the notched side panels; getting the rear panel back on is an exercise in frustration, as the spacing offered by NZXT isn't particularly generous. Also keep in mind that because the drive sleds enter from the back of the motherboard tray instead of the front, the handles on them can actually impede drive cabling.
I want to cut NZXT some slack for the H230's assembly, but these are issues that BitFenix already resolved a long time ago. The H230's internal design just isn't as progressive as competing cases; space could've been better utilized by bevelling the motherboard tray to allow for better cable channelling, and the drive sleds desperately need to be rethought. I'm also not sure we even needed the center drive cage, which undoubtedly takes away from NZXT's budget for the case design but doesn't seem to offer enough in exchange. If we're talking about a stripped down $69 case, what do we need more than three drive sleds for? If anything, bump the bottom cage up to four and call it a day.