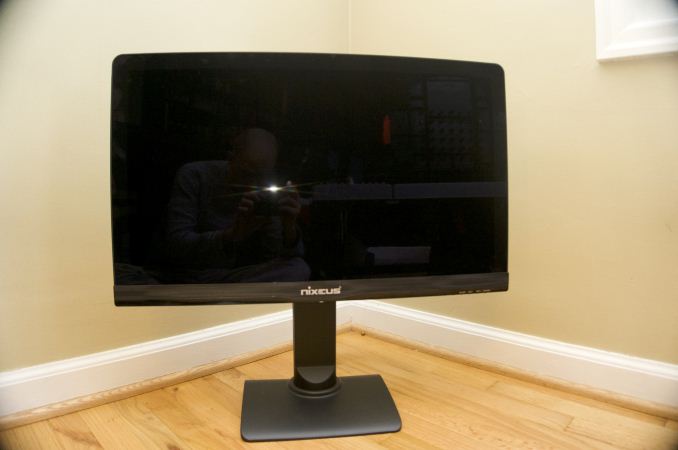 After the wave of cheap 27" monitors from South Korea hit Ebay, a number of vendors started to offer their own inexpensive models. One of the first models to hit the US, and one that I reviewed here, was the VUE27 from Nixeus. Now they have released their newest version, the VUE27D. Stripping the input selection down to a single DisplayPort input, the VUE27D reaches for an even lower price point than before. With all the changes in the display marketplace over the past year, how will the VUE27D fare today?
The display that the VUE27D resembles most is the HP zr2740w. Like that model the VUE27D offers no on-screen display at all, only controls for brightness with no indicator for level. Combined with a single DisplayPort input there really is nothing at all to adjust on the VUE27D. There is a reset button to take the brightness level back to the original setting, but that is it. There are extra buttons that do nothing as well, as it appears Nixeus uses generic off-the-shelf parts.
Compared to the other VUE monitors from Nixeus, the VUE27D is very thin. Most of the screen is very narrow except for the center where the inputs and stand are located. Part of this is managed by using an external power supply to cut down on internal bulk. I'm still not a fan of external power supplies, but it helps keep a display cooler and makes it easier to sell around the world.
The back of the VUE27D is a fine diamond texture as opposed to the flat plastic we usually see. Almost no one will see it because it's on the back of the display, but it is a nice look.
The stand offers height adjustment along with swivel, and you can rotate the display to use it in portrait mode. This is more flexibility than any of the other affordable displays to come my way and makes setup much easier. The specifications indicate there is tilt available, but the model that I have does not tilt at all. The joint might just be adjusted too tight, as I've seen this on other review samples, but in my case it doesn't work.
The anti-glare coating works fine and doesn't cause the degradation in image quality that people often worry about. Beyond this there isn't much to comment on for the design of the VUE27D. It drops anything non-essential and only keeps what you need.
Nixeus VUE27D
Video Inputs
DisplayPort
Panel Type
IPS
Pixel Pitch
0.231mm
Colors
16.7 Million
Brightness
380 cd/m2 maximum
Contrast Ratio
1000:1
Response Time
6ms GtG
Viewable Size
27"
Resolution
2560x1440
Viewing Angle (H/V)
178/178
Backlight
White LED
Power Consumption (operation)
72 Watts
Power Consumption (standby)
< 1 Watt
Screen Treatment
Anti-Glare
Height-Adjustable
Yes
Tilt
No
Pivot
Yes
Swivel
Yes
VESA Wall Mounting
100mm x 100mm
Dimensions w/ Base (WxHxD)
25 5/8" x 24 3/8" x 8 3/8"
Weight
16.6 lbs.
Additional Features
NA
Limited Warranty
2 Years
Accessories
MiniDP to DP cable, DP to DP cable
Price
$430 MSRP ($450 online)