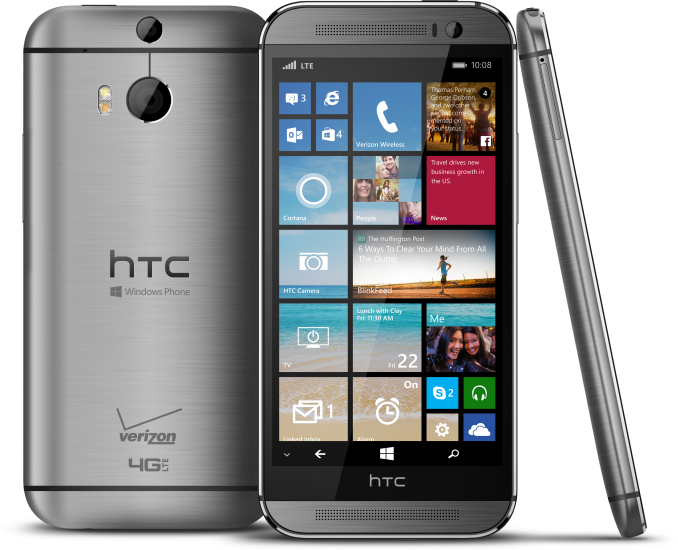 It's been a while since we've seen a high-end device running Windows Phone 8 launch from a company other than Nokia. Despite Nokia's dominance, HTC has certainly not given up on the platform and today they're demonstrating that with the launch of a new flagship Windows Phone 8 device that you may already know very well. This new device is named the HTC One (M8) for Windows, and both its design and its hardware are essentially the same as the Android powered HTC One M8 that HTC launched earlier this year. We've laid out the specifications of the One (M8) for Windows below.
HTC One (M8) for Windows
SoC
Qualcomm Snapdragon 801 (MSM8974ABv3) 4 x Krait 400 at 2.26GHz
Adreno 330 at 578 MHz
Memory and Storage
2GB LPDDR3, 16/32GB NAND + microSDXC
Display
5" 1920x1080 Super LCD3 at 441 ppi
Cellular Connectivity
2G / 3G / 4G LTE (Qualcomm MDM9x25 UE Category 4 LTE)
Dimensions
146.36 x 70.6 x 9.35mm max, 160 grams
Camera
4.0 MP (2688 × 1520) Rear Facing with 2.0 µm pixels, 1/3" CMOS size, F/2.0, 28mm (35mm effective) and 2.0MP rear DOF camera, 5MP F/2.0 FFC
Battery
2600 mAh (9.88 Whr)
Other Connectivity
802.11a/b/g/n/ac + BT 4.0, USB2.0, GPS/GNSS, MHL, DLNA, NFC
SIM Size
Nano-SIM
Operating System
Windows Phone 8.1
With regards to the hardware there's not a whole lot to be said. This really is the HTC One (M8) running Windows Phone 8 instead of Android. For an in depth look at the experience on Windows Phone 8.1 you can take a look at Anand's review of it from earlier this year. HTC has worked to also bring over some of the features they include with HTC Sense on the One (M8), which include BlinkFeed, Duo Cam, and Sense TV.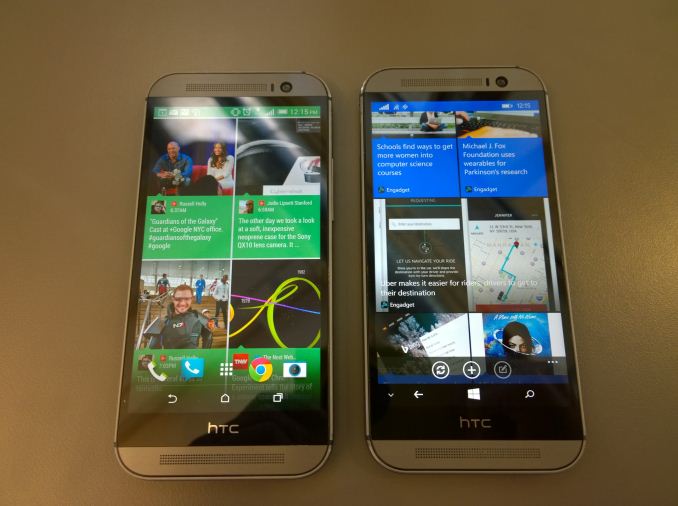 BlinkFeed makes its way over to Windows Phone 8 with the One (M8) for Windows. For those who arent familiar with it, BlinkFeed is a feature that comes on some of HTC's Android devices which aggregates Facebook and Twitter posts, news, sports information, and more into a vertically scrolling list on HTC's launcher. On Windows Phone 8 HTC doesn't have the luxury of being able to drastically alter the launcher and so BlinkFeed is included as an application which functions in the same manner as the launcher widget on Android.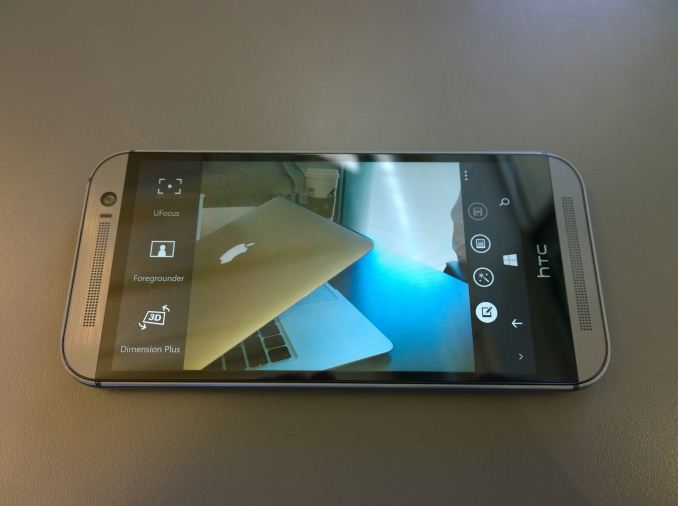 Because the One (M8) for Windows shares the same hardware as the M8, HTC has brought over their post processing effects enabled by the secondary sensor in their Duo Cam camera system. In addition, we see that Video Highlights is present in the stock OS. Unfortunately, the camera app doesn't also inherit the manual controls from the M8 and so users wanting more control over the exposure of their photos will have to look to Nokia's Windows Phone devices or buy an application like ProShot which has such controls.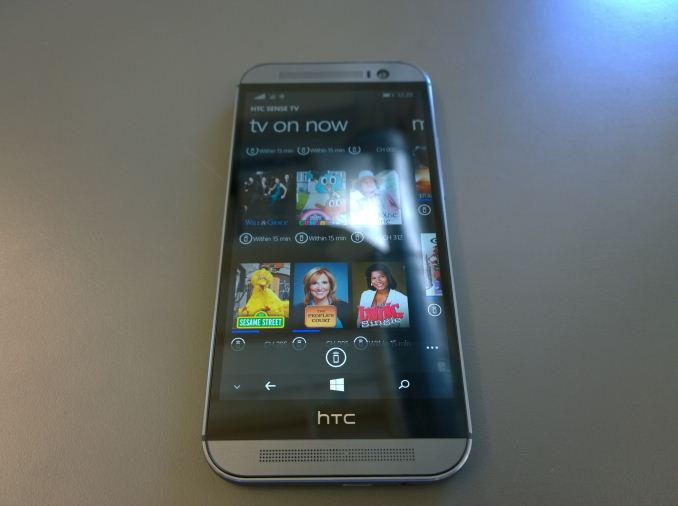 The One (M8) for Windows also brings along HTC Sense TV which acts as a TV guide and a universal remote that displays when your favorite shows are playing as well as recommendations for shows you may like based on what you already watch. HTC emphasized the difficulty of bringing this functionality to Windows Phone, as it required close cooperation with Microsoft to properly implement IR remote functionality.
For some users the most exciting prospect of the HTC One (M8) for Windows may come from the fact that it shares the same hardware as the One (M8). It's possible that the developer community will be able to load the firmware from the HTC One (M8) onto the device in a dual boot configuration with Windows Phone 8 so users can switch between the operating systems as they please.
Overall, this seems to be a smart move for HTC. Instead of assuming additional risk in the form of new hardware, the only resources needed are for software development. There's no need for a new production line, hardware certification is easier because the hardware should be unchanged from other variants, and cost across the board is driven down due to increased economies of scale.
The HTC One (M8) for Windows will go on sale on August 19th at 12:00PM Eastern Time through Verizon's online store, and will be available for $99 on a two year contract.