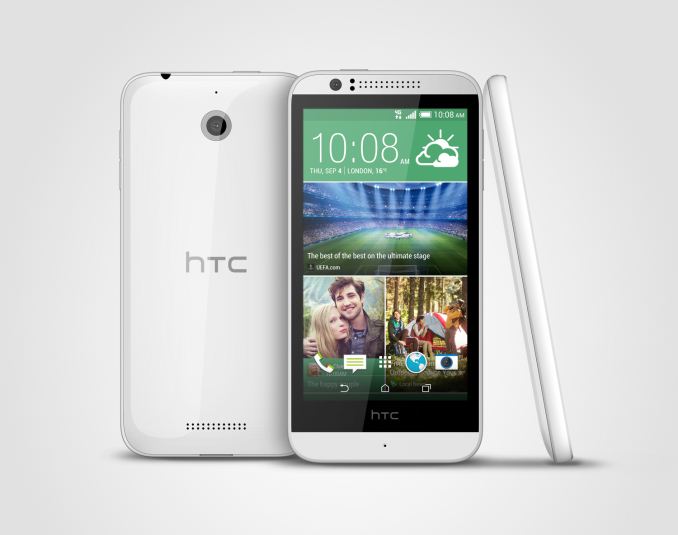 While normally one might expect high end phones to get the latest and greatest features first, this time we see a bit of a surprising reversal. The Desire 510 is HTC's first 64-bit phone, and the first announced device with Snapdragon 410. For those that aren't familiar with Snapdragon 410, it has four Cortex A53 CPU cores running at 1.2 GHz, along with an Adreno 306 GPU which suggests that it is a mild modification of the current Adreno 305 GPU that we see in the Snapdragon 400. Overall, this should make for a quite fast SoC compared to Snapdragon 400, as Anand has covered in the Snapdragon 410 launch announcement.
While it may seem strange that ARMv8 on Android phones is first to appear on a budget smartphone, it's quite easy to understand how this happened. Looking at Qualcomm's roadmap, the Snapdragon 810/MSM8994 is the first high-end SoC that will ship with ARMv8, and is built on a 20nm process. As 20nm from both Samsung and TSMC have just begun appearing in shipping chips, the process yield and production capacity isn't nearly as mature as 28nm LP, which is old news by now.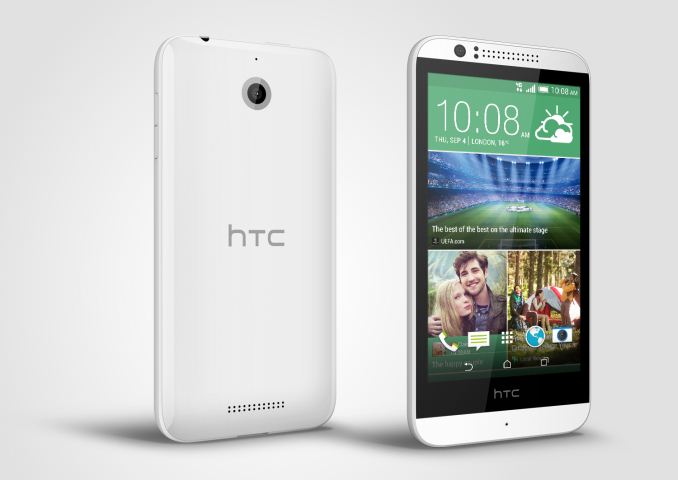 At any rate, outside of the SoC the Desire 510 is a relatively standard budget phone. As this phone ships with Android 4.4 it's likely that it is running in AArch32 mode only, with AArch64 coming with Android L. The display is a 4.7" size, with FWVGA resolution (854x480) which makes for a rather low 208 DPI. This will be the cheapest LTE phone in HTC's product line, and also has support for a Dot View case. I've included the rest of the specs below, but for the most part the key point of interest is the SoC.
| | |
| --- | --- |
| | HTC Desire 510 |
| SoC | MSM8916 1.2 GHz Snapdragon 410 |
| RAM/NAND | 1 GB RAM, 8GB NAND + microSD |
| Display | 4.7" FWVGA (854x480) |
| Network | 2G / 3G / 4G LTE (Qualcomm MDM9x25 UE Category 4 LTE) |
| Dimensions | 139.9 x 69.8 x 9.99mm, 158 grams |
| Camera | 5MP rear camera, .3MP/VGA FFC |
| Battery | 2100 mAh (7.98 Whr) |
| OS | Android 4.4 with Sense 6 |
| Connectivity | 802.11b/g/n + BT 4.0, USB2.0, GPS/GNSS, DLNA |
| SIM Size | MicroSIM |
The only additional comment I have to make is that there is no 5 GHz WiFi. This is probably a WCN3620 part like the Moto G. While there's no word on pricing, HTC will have to price this near the price of the Moto G for it to be reasonably competitive. The Desire 510 should find its way to Europe, Asia, and the United States.