Today at Computex in Taiwan, Rockchip announced a ultra-low-power WiFi SoC for IoT devices. The RKi6000 promises huge jumps in power efficiency, and the ability to provide WiFi connectivity at the levels of Bluetooth Low-Energy. The RKi6000 is a 802.11b WiFi combo-chip with up to 11Mbps data transfer rates. Rockchip explains that it achieves such drastic improvements in low power in the following ways:
- Improvements in wireless communication and radio-frequency architecture: Rockchip's patented technology greatly reduces an IoT smart device's power consumption by receiving and transmitting data continuously, enabling devices to achieve ultra-low power consumption while in standby and in use.
- Adaptive Dynamic Power Control Technology: improves power efficiency in different working modes, greatly reducing all-over power consumption in different application scenarios and adjusting the chip's power configuration according to data transmission requirements and actual transmission quality, achieving the best energy efficiency ratio.
- Technological innovation - connects to Wi-Fi without waking up the main-control processor: for IoT applications requiring long standby times while remaining online, the Rockchip RKi6000 maintains its Wi-FI connection without waking up the main-control processor, simplifying the power consumption system's design and extending battery life.
Comparing the RXi6000 to other competing solutions from Broadcom, Qualcomm, Texas Instruments or Gainspan shows significant reduction in Rx power, with up to 3 times less power than the next-best WiFi solution.

While Rockchip has a clear advantage in power over other LP WiFi chipsets, it's the comparison with other low-power transmission technologies that Rockchip is able to show its true strength: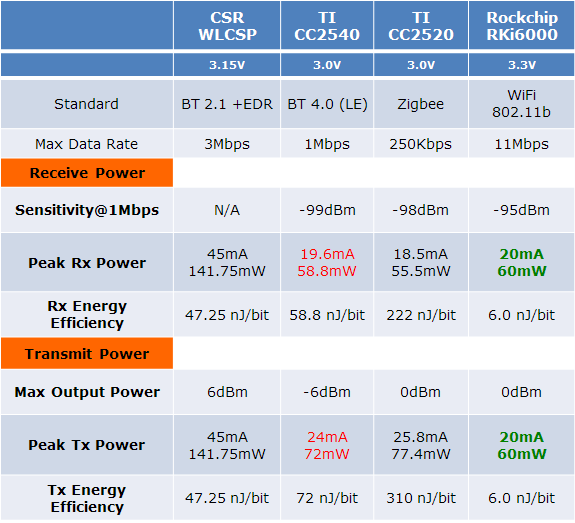 When comparing the RKi6000 running WiFi 802.11b at 11Mbps, the chipset is able to present an order of magnitude of improvement over other technologies such as Bluetooth with Enhanced Data Rate, Bluetooth LE or Zigbee. The fact that this is a WiFi technology simplifies deployment and development of IoT application as it is able to use connections provided by standard infrastructures. Applicable product categories include wearables, home appliances, home automation and safety. The RKi6000 starts availability in Q3 2015.