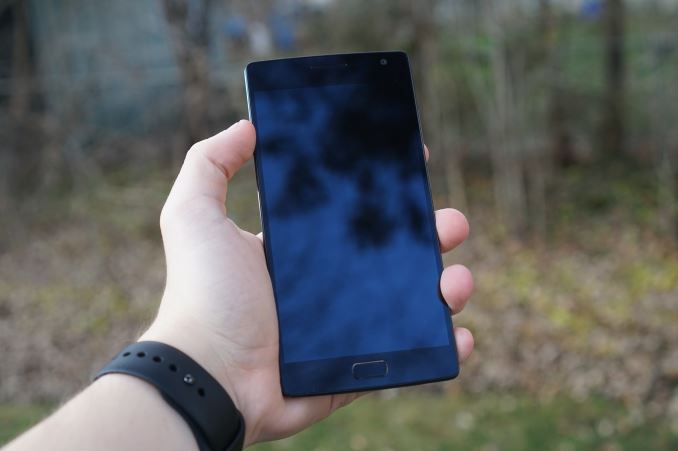 In early 2014, there was a lot of excitement among Android enthusiasts for an upcoming smartphone called the OnePlus One. The company producing it was a Chinese manufacturer, and they were a new entrant to the smartphone space. OnePlus's marketing campaign was structured to generate excitement over the prospect of receiving similar specifications to a high end smartphone in a device that was priced substantially lower. Once the device launched, it was clear that OnePlus had delivered on that promise in many respects. The performance and display quality were superb for a $300-350 device, but parts of the software and the camera processing were somewhat lacking.
While the OnePlus One wasn't perfect, there really aren't any smartphones that are. For $300-350, it certainly offered users shopping on a budget a lot of power for their money. With many aspects of the phone already being executed well, one would expect that OnePlus's next phone would serve to iron out the issues and improve on some of the original's failings. That brings us to 2015, with the OnePlus 2 serving as the next flagship smartphone from OnePlus. In many ways it's similar to its predecessor, but with over a year between releases, and a change from CyanogenMod to OnePlus's Oxygen OS, there are certainly a number of changes as well. You can view a comparison of the OnePlus One and OnePlus 2 in the chart below.
OnePlus One
OnePlus 2
SoC
Snapdragon 801 2.5 GHz Krait
Snapdragon 810 1.8 GHz A57/A53
RAM
3GB LPDDR3
3/4GB LPDDR4-1555
NAND
16/64GB NAND
16/64GB NAND
Display
5.5" 1080p
IPS
5.5" 1080p
IPS
Network
2G / 3G / 4G LTE (Category 4 LTE)
2G / 3G / 4G LTE (Category 6/9 LTE)
Dimensions
152.9 x 75.9 x 8.9mm, 162g
151.8 x 74.9 x 9.85mm, 175g
Camera
13MP Rear Facing (Sony IMX214) f/2.0, 1.1 micron 1/3.06" sensor
13MP Rear Facing w/ OIS and laser AF, f/2.0, 1.3 micron 1/2.6" sensor
5MP Front Facing
5MP Front Facing
Battery
3200 mAh (12.16 Whr)
3300 mAh (12.54 Whr)
OS
Android 4.4 w/ CM11S (At Launch)
Android 5.1 w/ OxygenOS (At Launch)
Connectivity
1x1 802.11a/b/g/n/ac +
BT 4.0 (WCN3680),
USB2.0, GPS/GNSS, NFC
802.11a/b/g/n/ac +
BT 4.1, (QCA6164A)
USB-C, GPS/GNSS
Fingerprint Sensor
N/A
Touch
SIM
1x MicroSIM
DSDS NanoSIM
LTE Bands
Global: 1/3/4/7/17/38/40
US: 1/2/4/5/7/8/12/17
EU: 1/3/5/7/8/20
Launch Price
$299 (3GB/16GB)
$349 (3GB/64GB)
$329 (3GB/16GB)
$389 (4GB/64GB)
When looking at the specs of the OnePlus 2 one can definitely see a similarity between it and the OnePlus One. Both devices have 5.5" 1080p IPS displays, come with either 16 or 64GB of NAND, have a 13MP rear-facing camera with OIS, and ship with Qualcomm's latest SoC. In the case of the OnePlus 2, the SoC moves from Snapdragon 801 to 810, and with that we see a move to LPDDR4 DRAM along with an additional gigabyte of RAM in tow on the 64GB model. The battery capacity receives a slight bump as well, but this is also accompanied by an increase in mass and thickness. The camera sensor has been increased in size, from a 1/3.06" format to a 1/2.6" format. As for the other changes, there's improvement to both cellular and WiFi networking, the inclusion of a fingerprint scanner, and of course, a $30/40 increase in starting price for the 16/64GB models respectively.
Design
The OnePlus One had some unique design attributes that allowed it to stand out from the other devices on the market. Probably the most significant was the back cover, which sported a highly textured feel which one could describe as being like a very fine type of sandpaper. The OnePlus 2 retains many of these traits, but also adds to the design in other ways such as the use of metal for the frame around the device instead of plastic.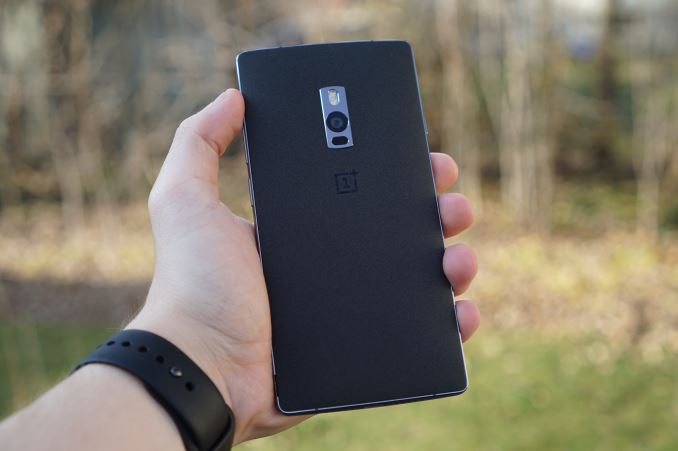 Starting with the back cover, you get the same sandpaper-like finish as the OnePlus One. The back cover is actually removable, but it's fit extremely well to the back of the device so you don't get highly visible seams. This means that it is a bit difficult to remove, and I had to slide a sim ejector between the one visible gap in order to start prying it off. While it is connected very tightly, the use of little plastic tabs to hold it on makes me a bit concerned about longevity if you remove the back cover too many times. The Galaxy Nexus used a similar mounting system and I recall seeing phones where one or two of the tabs had broken off which prevented it from attaching properly.
One you remove the back cover you'll see that you don't actually get a removable battery. This isn't any different from the OnePlus One, but I've never really understood the point of having a removable back that only serves to access the SIM tray, when you could just make the sim tray accessible from one of the edges of the device. Since the OnePlus 2 is a dual-SIM phone you also get an interesting little SIM tray which holds both SIM cards. I personally don't have much use for the dual-SIM feature, but I know there are certain (and major) markets where it's absolutely essential so it makes a great deal of sense for OnePlus to include it.
As for the appearance and feel of the back of the phone, I'm honestly not a huge fan. For me the textured back is interesting, but it's not really very pleasing to hold in the hand, and there's just something about how my palm rubs against it that gives me shivers. The little island for the camera, flash, and IR sensor also hasn't been designed with much thought. Considering the flash and IR sensor are almost the same size, I don't understand why OnePlus decided to put them in different orientations instead of making the entire arrangement symmetrical in its appearance. Something about the lack of edge space on the sides of the camera lens looks a bit off as well, although I find it difficult to articulate exactly why it seems that way.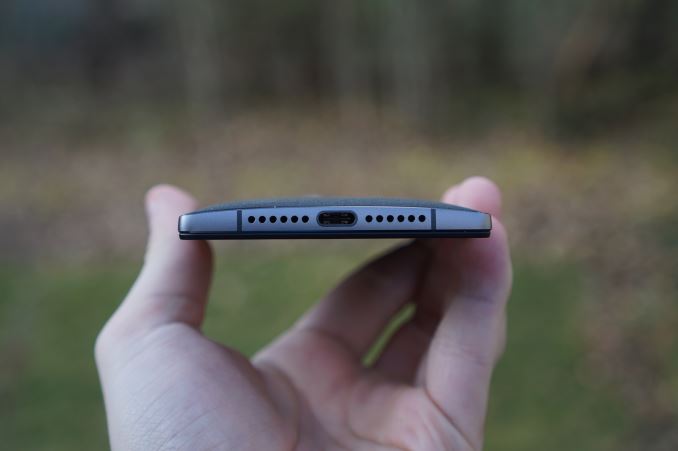 On the bottom of the phone you'll find a set of drilled holes with a USB Type-C port sitting between them. I've said this in all of my other reviews of devices that use USB Type-C, but the transition has to happen eventually and while it's unfortunate that you won't be able to use existing Micro-B cables, it's worth it in the end.
Looking at the other sides of the phone one will see that the right side is home to the sleep/wake button and the volume rocker, while the left has a 3 stage mute switch. The three positions correspond to the three settings for Android notifications, and it's interesting that only OnePlus and Apple include a hardware switch to switch the mute status on their phones. The top of the phone is fairly featureless, aside from a 3.5mm audio jack.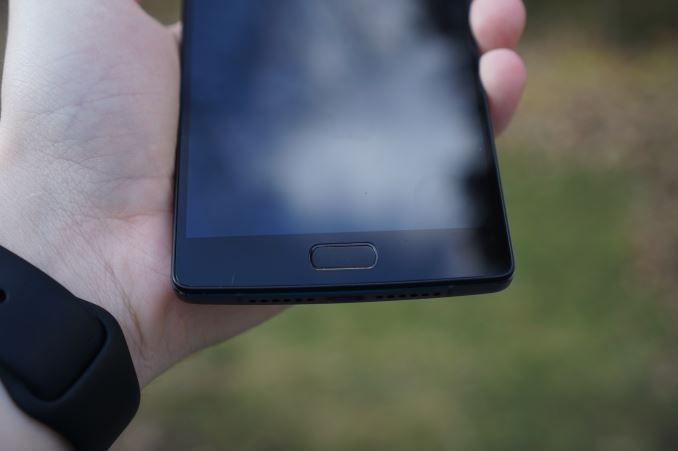 Moving on to the front of the phone we find that it's dominated by the display, with minimal bezel on the top and bottom. Despite this, OnePlus has managed to implement capacitive buttons, a fingerprint scanner, and all without having to move the USB port such that it would be misaligned. The capacitive keys don't have any icons apart from an illuminated horizontal line, but by default they follow the same layout as the standard on screen keys that you'd find on other phones. On the top you have the earpiece and the front facing camera.
In the end, I think from a fit and finish standpoint the OnePlus 2 is actually a pretty good device. It does feel solid in the hand, there's no gaps or flex between the back cover and the rest of the phone due to how it attaches within the edges of the frame instead of onto them, and overall it just feels like a sturdy and substantial phone. As for the design, there are definitely some questionable choices that have been made such as the camera island on the back, and I am definitely not a fan of the back cover material. It's certainly unique though, and if you don't mind the back cover material you'll be getting a pretty solidly built device with the OnePlus 2.