#2 The HP Elitebook 745 G3 (Carrizo, PRO A12-8800B)
The Carrizo Elitebook 745 G3 looks practically identical to the Kaveri based 745 G2, so there's no need to cover the visuals again, but the internals here cause a lot of talking points.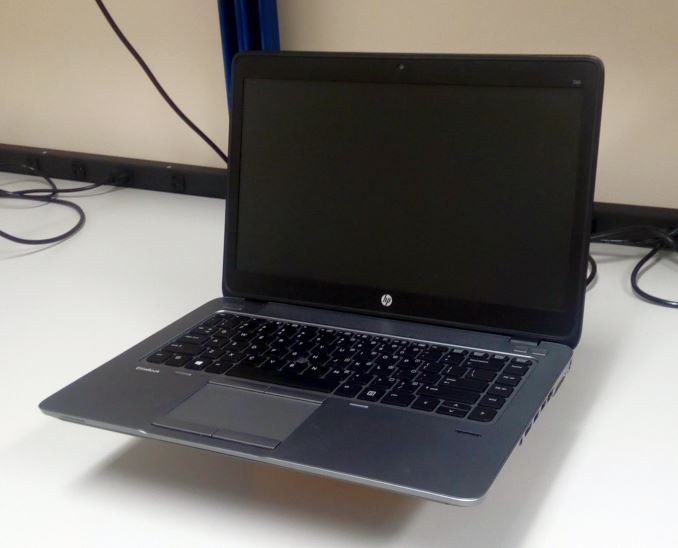 HP Elitebook 745 G3 (Carrizo) Specifications
Size and Resolution
14-inch, 2560x1440 IPS
Processor
AMD PRO A12-8800B
Dual module, 4 threads
2.1 GHz Base Frequency
3.4 GHz Turbo Frequency
Graphics
Integrated R7
512 Shader Cores
800 MHz maximum frequency
GCN 1.2
TDP
15W
Memory
4 GB in Single Channel Operation
1 x 4GB at DDR3L-1600 C11
2 SO-DIMM Slots
Storage
128GB SSD
Battery Size
45.76 Wh
3 cell Li-Po design, rated to 8.5 hours
WiFi
Broadcom Broadcom BCM943228Z
802.11ac 2x2
Optical Drive
No
Dimensions
13.3 x 9.3 x 0.74 in (non-touch)
13.3 x 9.3 x 0.80 in (touch)
Weight
3.41 lb (non-touch)
3.76 lb (touch)
Webcam
1280x720
Other Features
Gigabit Ethernet
4 x USB 3.0
DisplayPort
VGA
Smart Card Reader
Operating System
Windows 8.1
Website Link
link
The G3 is almost the top premium model Carrizo you can buy, coming in at nearly $1100 if you put up the cash for the top model, which includes as much memory and storage you can fit in. For our unit, it came in at a more modest $700 ($700 for the base model, this was more $1100), which is more in-line with what price point AMD originally expected the Carrizo platform to hit. This is the first notebook with AMD's new A12 line of processors, with this one being the PRO A12-8800B. This is a 15W part running at a base frequency of 2.1 GHz with a turbo mode up to 3.4 GHz. Any mobile APU in the A12 category has a full complement of 512 streaming processors similar to the FX mobile parts or A10 desktop parts, and the A12 runs these at 800 MHz. Unfortunately this is slightly crippled by only having the equivalent of one memory module in play, a single 4GB DDR3L-1600 module. It is dual channel capable if another is installed.
One of the big plus points with this model is the display, in comparison to the dire one on the G2, but this probably explains the majority of the cost in this 745 G3. With a 2560x1440 IPS display running a high contrast ratio (1422), it did have the best display out of what we tested for this piece. This is matched by the Wi-Fi solution, which had Broadcom's BCM943228Z module which is an 802.11ac module in the M.2 form factor. One of the general feelings I had from the engineers here is that laptop Wi-Fi will all migrate to M.2 eventually on the understanding of better power control and form factor.
G3 Specific Testing
The 2560x1440 display varied from 0.21 nits all the way up to 297, nearly reaching the 300 mark but resulting in a 1422 contrast ratio. The white point was high, marking it up at 6657K.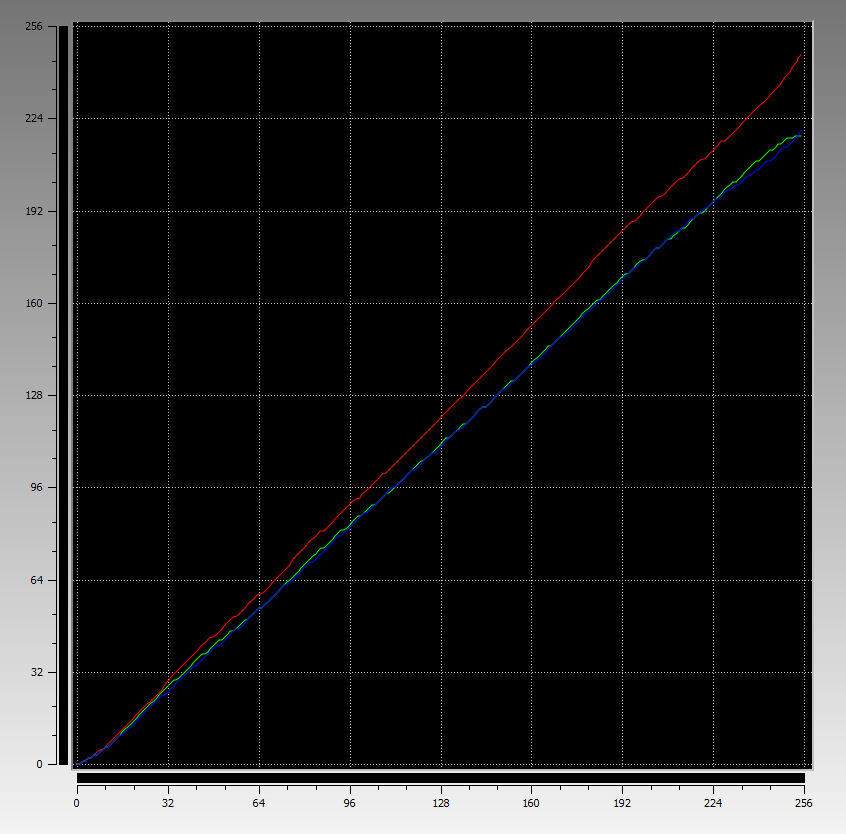 While the color accuracy calibration graph looks as if the red line is the one going off on its own, it is actually the red line that is most accurate – we're expecting a straight line through (0,0), (32,32), (64,64) and so on and while the red line is below most of these points, it isn't as low as the green or blue.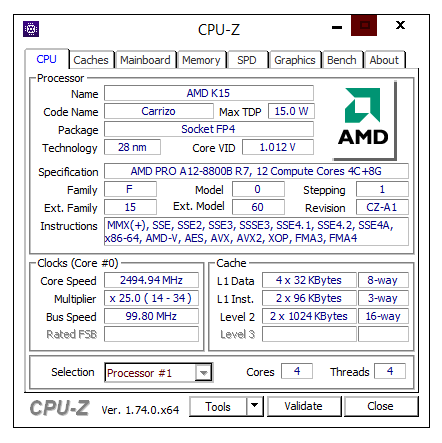 The CPU-Z outlay shows the new FP4 socket with Carrizo over Kaveri, as well as having the full 12 compute units with those 512 SPs in tow.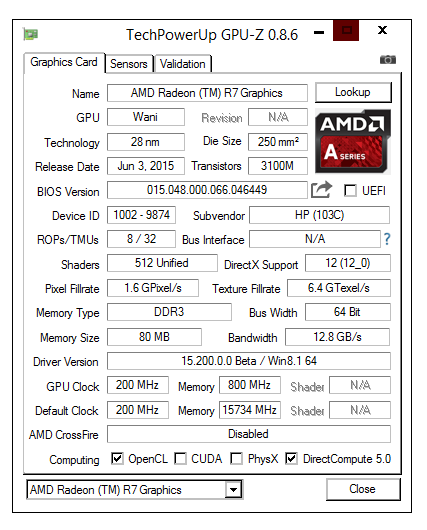 On the integrated graphics side, despite the R7 graphics in there, the important element is that memory bandwidth running at 12.8 GB/s due to the single channel memory in use. We can also see the GPU clock running at 200 MHz idle, lower than the Kaveri implementation, which has power benefits.
With the 745 G3 we were able to do a run down on our light battery test, as well as run through some charge numbers.