System Performance
With the iPhone SE I've decided to make the transition to our 2016 benchmark suite. We've been including some of these for a little while now, and some tests from our previous suite are still around. There is one test omitted, which is Basemark ES / Basemark Metal, which we'll be deploying once we have all the data from this year's flagship Android smartphones. Comparisons to those Android phones will also have to wait until their respective reviews, and for now I can only really compare the iPhone SE to Apple's other iPhones along with 2015's flagship Android devices.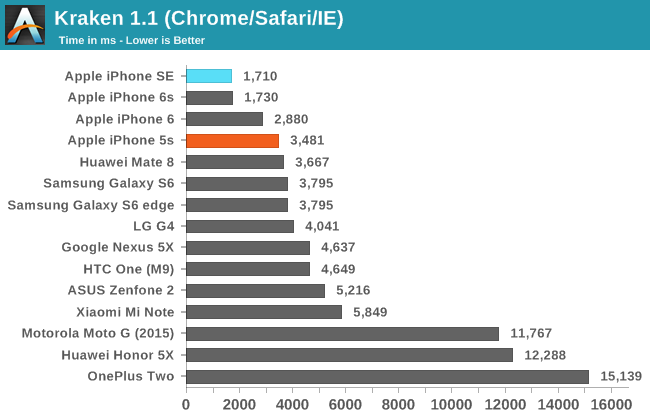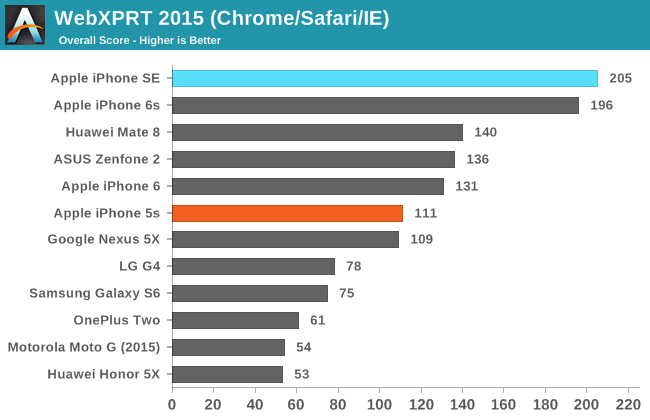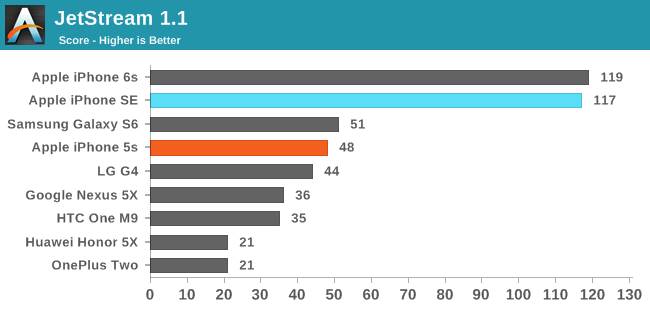 At this point I think we're ready to move to our 2016 web browser benchmarks. Octane is now retired, as there's a large degree of overlap between it and JetStream, with JetStream using a more sensible methodology with measurements for tests like the mandreel-latency test. Kraken, Octane, and Jetstream all have some overlap, but Kraken and JetStream are different enough to make it worth keeping Kraken on. Finally there's WebXPRT 2015, which we already introduced as a replacement for WebXPRT 2013 some time ago.
As expected, the iPhone SE matches the iPhone 6s in our JavaScript tests. The improvement over the iPhone 5s is significant, with roughly double the performance in all cases. This is right in line with Apple's 2x performance claim, and it's important to note that these are updated iPhone 5s figures run on iOS 9 to ensure that it also benefits from the improvements made to Apple's Nitro JavaScript engine since it launched in 2013.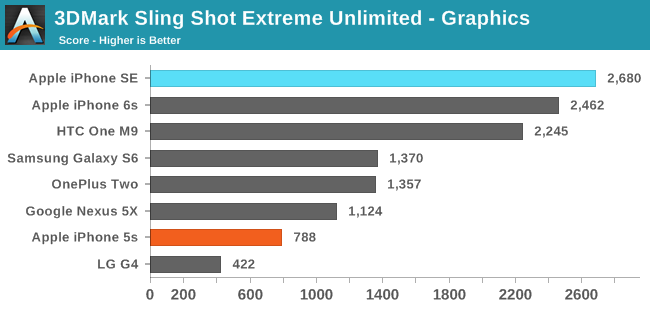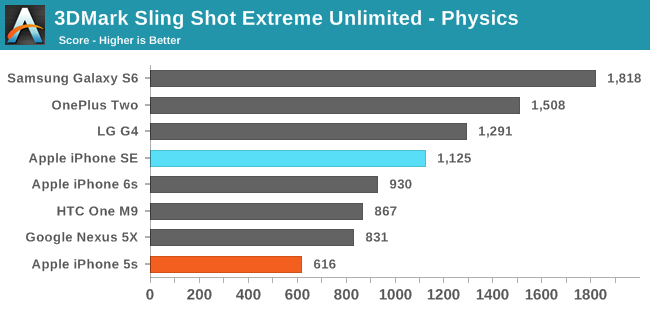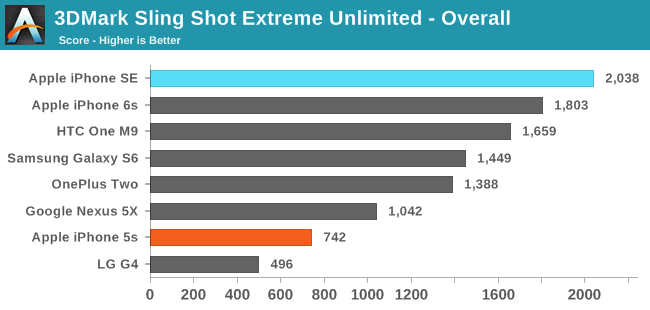 We originally planned to use 3DMark Sling Shot Unlimited, which is an OpenGL ES 3.0 test that runs off screen 1920 x 1080 tests to produce results that are useful for comparing devices and SoCs. However, in the interest of test longevity we have moved to the even newer Sling Shot Extreme test, which uses OpenGL ES 3.1 on Android and Metal on iOS, with a Vulkan version coming to Android in the future. The tests in Sling Shot Extreme render off screen at 2560 x 1440, so it should be a good target for GPU performance well into the future.
In this test the iPhone SE performs well. I experienced a strange situation where the iPhone 6s would consistently score lower than the SE, and I'm not sure if this is due to driver differences or some other problem, but in any case the SE and the 6s both end up at the top of the chart, and the final score is nearly three times higher than that of the iPhone 5s. I'm still waiting on final reviews for this year's Android flagships, so comparisons to Snapdragon 820 and Exynos 8890 will have to wait a bit longer.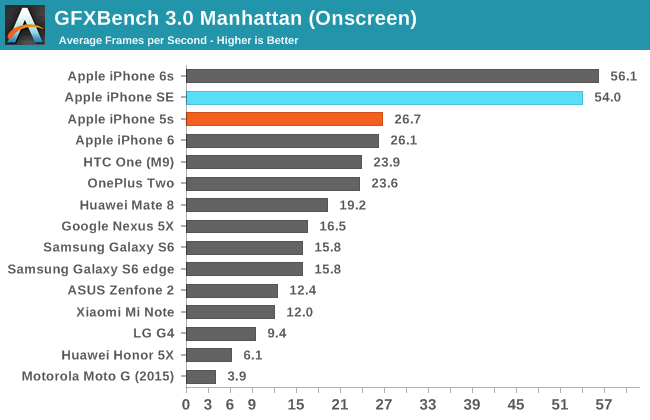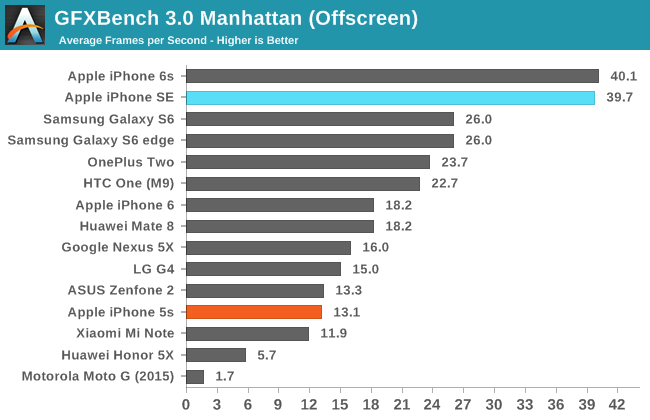 With T-Rex HD being such an old test, I've decided to retire it except perhaps for reviews of devices with relatively slow SoCs. That leaves GFXBench 3.0 Manhattan, and hopefully GFXBench 4.0 in the near future. In Manhattan the iPhone SE performs exceptionally well, achieving a frame rate that is ever so slightly more than three times that of the iPhone 5s. While there's obviously a degree of variance, I think this shows that Apple's 3x GPU performance claim is not an exaggeration, and on such a tiny display with a relatively low resolution you can render a scene like Manhattan at native resolution and almost achieve 60fps.
NAND Performance
With the first generation of the MacBook, Apple introduced their own PCI-E SSD controller with support for NVMe. At the launch of the iPhone 6s and iPad Pro, they noted that both devices had significantly improved storage performance. During the course of our review we discovered that Apple had essentially brought some version of their controller down to their mobile devices, and as a result they led the rest of the mobile market by a large margin when it came to overall storage performance.
With the iPhone SE, Apple uses the same controller as they do in the iPhone 6s and iPad Pro. Since this iPhone is a 64GB unit, we can take a look at the potential impact of a smaller SSD that may not be able to utilize parallelism to achieve the same performance as its 128GB and 256GB counterparts in Apple's other devices. To analyze the storage performance of the iPhone SE I've used StorageBench, a NAND benchmark developed by Eric Patno which is comparable to our AndroBench 3.6 test on Android.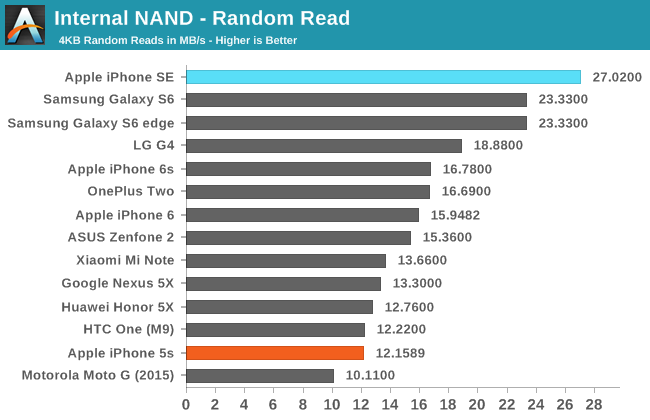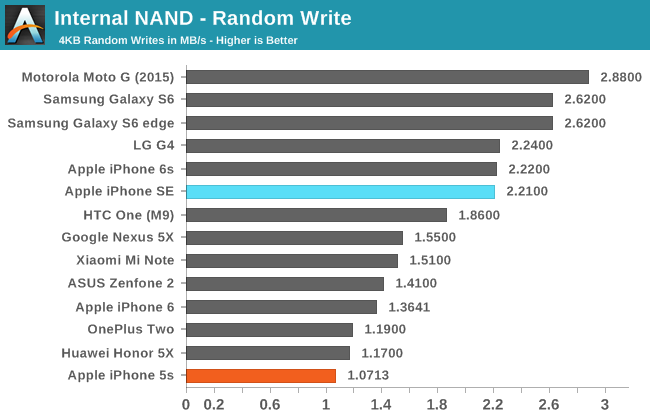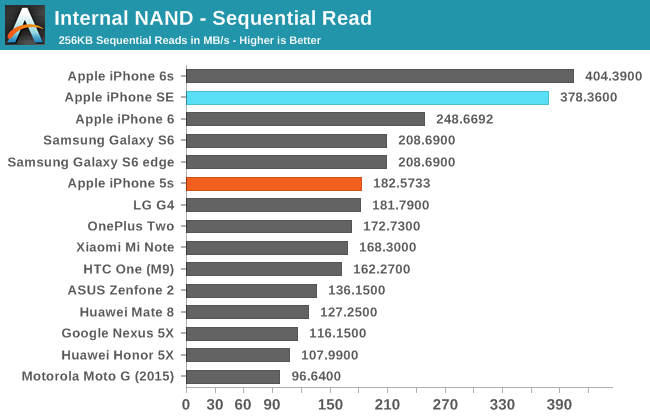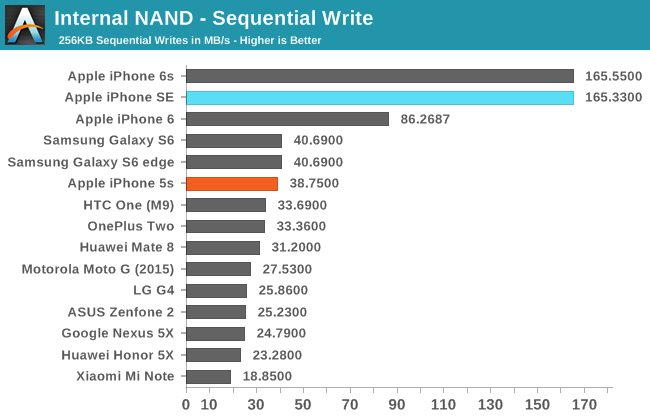 Despite the fact that the storage capacity is half that of our iPhone 6s review unit, the iPhone SE performs essentially just as well. Random reads actually end up being faster, while random writes are nearly identical. Sequential reads trail the 6s by a bit, but sequential writes end up being identical much like random writes. The differences are enough to attribute to testing variance, and it's probably safe to say that the storage performance on the 64GB iPhone SE is identical to that of the 64GB and 128GB models of the iPhone 6s.