AnandTech Storage Bench - Light
Our Light storage test has relatively more sequential accesses and lower queue depths than The Destroyer or the Heavy test, and it's by far the shortest test overall. It's based largely on applications that aren't highly dependent on storage performance, so this is a test more of application launch times and file load times. This test can be seen as the sum of all the little delays in daily usage, but with the idle times trimmed to 25ms it takes less than half an hour to run. Details of the Light test can be found here. As with the ATSB Heavy test, this test is run with the drive both freshly erased and empty, and after filling the drive with sequential writes.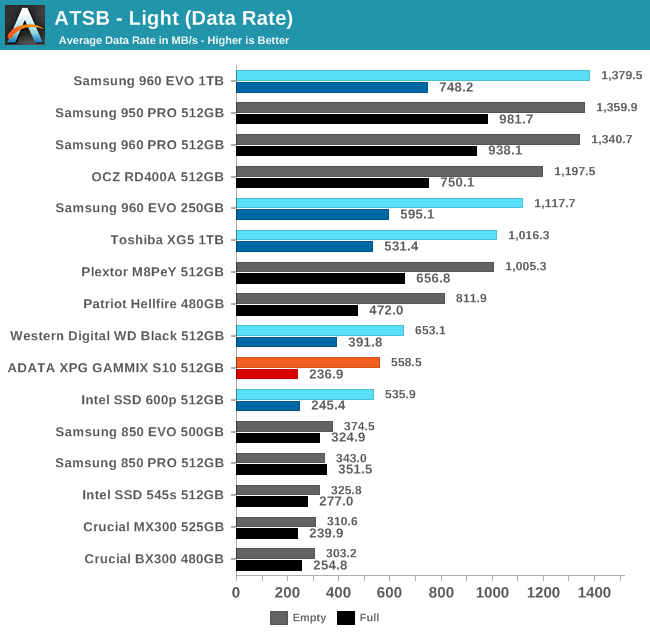 Like the Intel 600p, the ADATA XPG GAMMIX S10 has a substantial performance advantage over all SATA SSDs on the Light test when the test is run on an empty drive. But when the drive is full, the GAMMIX S10 and Intel 600p both suffer more than most drives and fall to an average data rate that is lower than most mainstream SATA drives.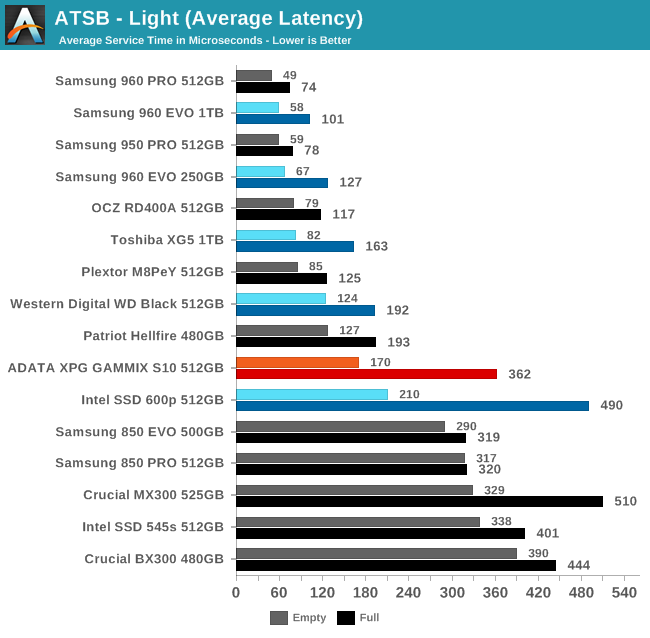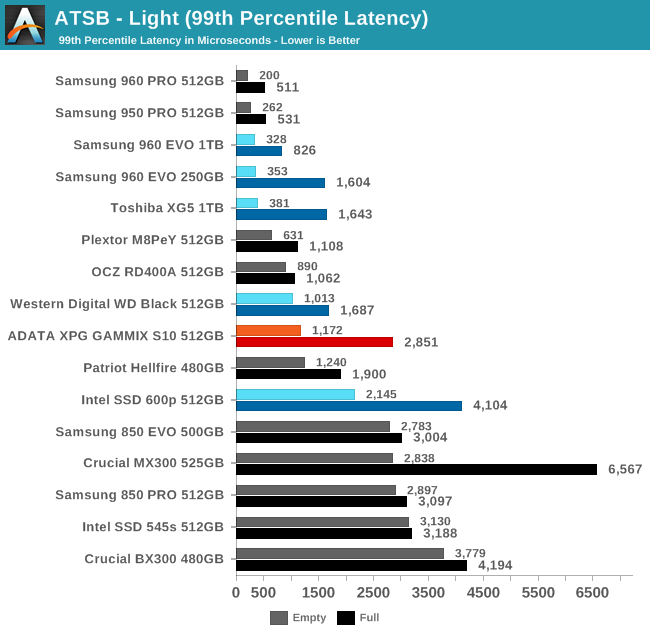 The average and 99th percentile latency scores of the GAMMIX S10 on the Light test are clearly better than the Intel 600p, allowing the GAMMIX S10 to deliver latencies that are no worse than mainstream SATA SSDs even in the worst case of the test running on a full drive. On a freshly erased drive, the GAMMIX S10 offers average latency that is close to other NVMe drives, and the 99th percentile latency is on par with other budget NVMe SSDs.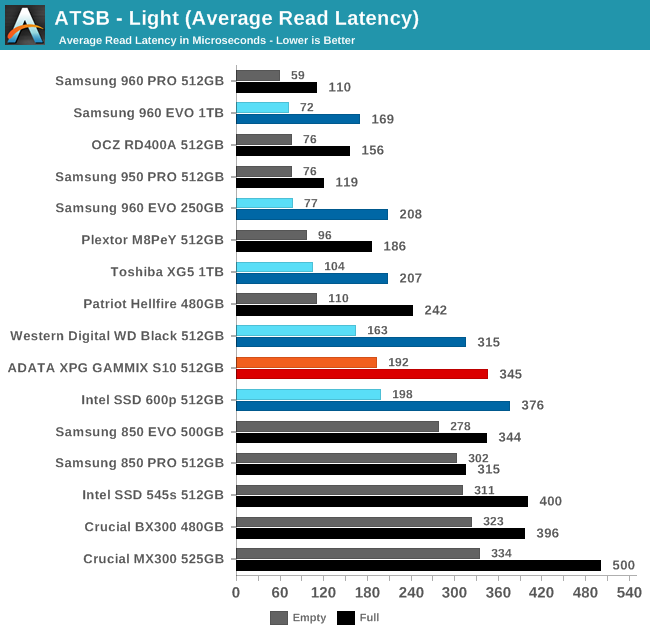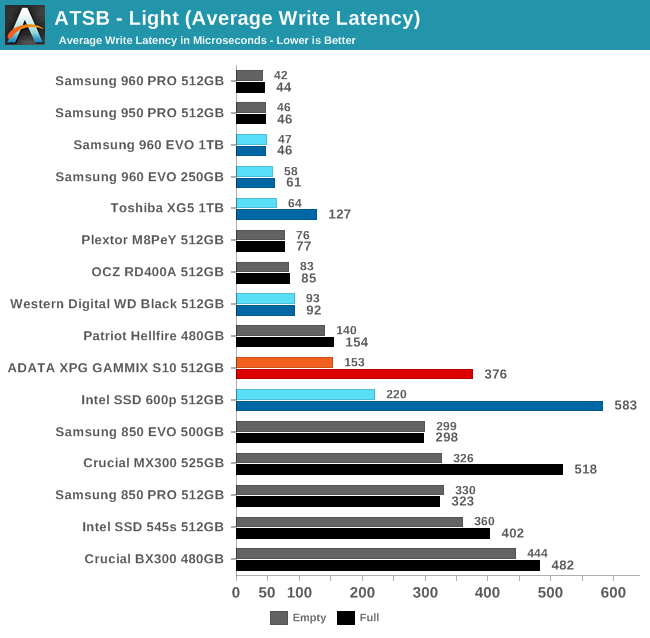 Average read and write latencies for the GAMMIX S10 on the Light test are poor by NVMe standards, but both are better than SATA SSDs when the drive is fresh, and no worse than mainstream SATA when the drive is full.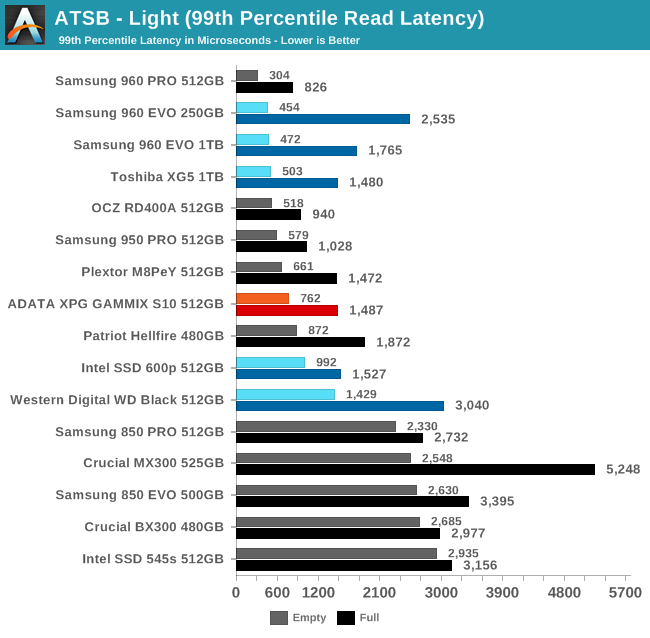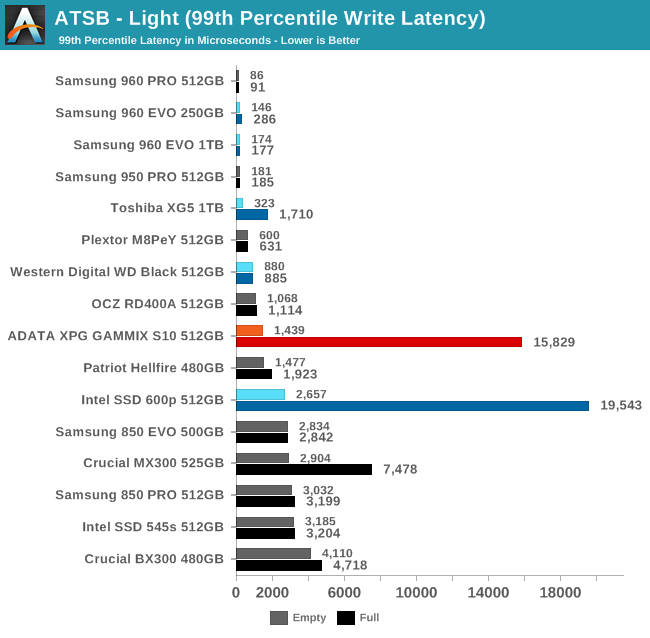 The 99th percentile read latency performance of the GAMMIX S10 is fine for a low-end NVMe drive. On the write side of things the GAMMIX S10 does fine when freshly erased, but the 99th percentile jumps up by a factor of ten when the drive is full. This makes it worse at controlling latency outliers than any mainstream SATA SSD.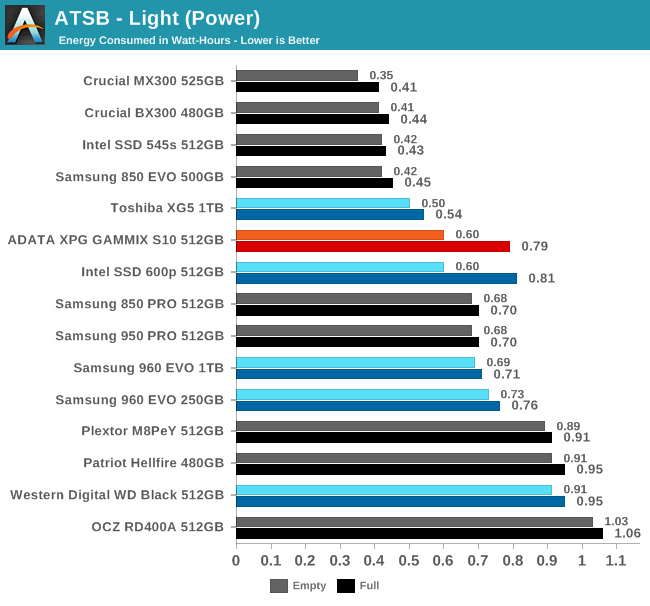 The energy usage of the GAMMIX S10 on the Light test is good compared to most other NVMe SSDs, though the energy usage is much higher when the drive is full. There's still a substantial gap between the energy usage of a typical SATA SSD and that of the GAMMIX S10 or a typical NVMe SSD.