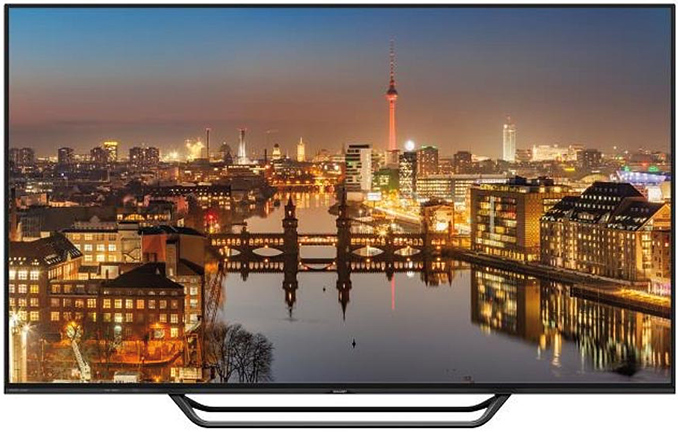 The era of 8K content is still a couple of years away, but screens featuring the resolution are already here and their availability is going to expand in 2018. Sharp started to sell its Sharp Aquos LC-70X500 8K UHDTV in Japan late in 2017, and said that it would gradually expand its availability to other territories throughout this year. Indeed, this month one of the European retailers of professional hardware started to list the LC-70X500E, a European version of the product, at a rather extreme price.
The Sharp Aquos LC-70X500E is a 70-inch UHD TV featuring a 7680×4320 resolution and presumably based on Sharp's 10-bit IPS/IGZO panel. The latter has a 400 nits typical brightness, a 1000 nits peak brightness for HDR (HDR10, HLG are supported), and a 8 ms GtG response time. The UHD TV uses a full array LED backlighting technology featuring 216 LED zones for dynamic local dimming, so its contrast ratio has to be decent too. Like other premium UHDTVs, this one naturally supports the BT.2020/Rec.2020 recommendations and an appropriate color range. The LC-70X500E has four HDMI 2.0 ports (with 4:4:4 chroma subsampling & HDCP 2.2) and four HDMI 1.4 inputs to connect everything but the kitchen sink. As a bonus feature, the TV is also equipped with a 2.1 audio subsystem.
In Japan, there are experimental 8K broadcasts, so the Aquos LC-70X500 is sold as an ultra-premium UHDTV for ¥760,000 - ¥972,000 ($7,078 - $9,052), according to Kakaku. In Europe, there are no experimental 8K broadcasts, so the Aquos LC-70X500E is aimed primarily at CAD/CAM, medical, DCC, design, engineering, and other professional as well as specialized applications. ProGraphics24.de store is offering Sharp's 8K UHD TV for €11,899 ($14,715) including VAT. Given the name of the retailer, it is obvious that it sells hardware to various graphics professionals (so don't be surprised about the price, it is a tool for making money), whereas the letter "E" in the model number of the product indicates that this is an official European version, not a grey import from Japan. In fact, late last year Sharp announced plans to bring the LC-70X500-series to Europe in March, so the German store may be among the first retailers to sell it.
Sharp has been a supporter of NHK's 8K Super Hi-Vision project for some time. The company built the world's first 85-inch 8K display in the early 2010s to demonstrate capabilities of the tech and enable content creation. The company also offers the S35MM 8C-B60A 8K professional broadcast camcorder and once demonstrated an 8Kp120 reference display. As a result, it is not surprising that Sharp is the first company to commercialize an 8K UHDTV and price it accordingly.
When it comes to commercially available 8K display hardware for consumers and professionals (i.e., not counting cameras, reference displays, etc.), right now it is possible to buy Dell's UltraSharp UP3218K monitor (now starts at $3,700) as well as Sharp's Aquos LC-70X500-series UHD TV. Both are priced well above average, but both are going to face competition later this year. Philips plans to launch its 328P8K 8K UHD LCD in the coming months, whereas AUO intends to start sales of 8K UHD panels for large TVs shortly, enabling TV makers to build 8K UHDTVs.
Related Reading: