Setup Notes and Platform Analysis
Assembling the ASUS PN50 is a trivial task with the disassembling instructions outlined in the previous section. In any case, ASUS sells pre-configured systems suitable for immediate deployment to B2B customers.
The ASUS PN50 sports a regular AMI BIOS offering multiple configuration knobs meant for system administrators in business settings - including configuration of DASH support on the Realtek NIC. The video below presents the entire gamut of available options.
The AIDA64 system report for the sampled hardware configuration provided the following information:
North Bridge: AMD K17.6 IMC

PCIe 3.0 x1 port #3 In Use @ x1 (ASMedia ASM1142 USB 3.0 xHCI Controller)
PCIe 3.0 x1 port #5 In Use @ x1 (Realtek RTL8111xP RealManage Virtual COM1, Realtek RTL8168/8111 PCI-E Gigabit Ethernet Adapter)
PCIe 3.0 x1 port #6 In Use @ x1 (Intel Wi-Fi 6 AX200 160MHz Wireless Network Adapter)
PCIe 3.0 x8 port #0 In Use @ x4 (Intel SSD 660p NVMe Controller)
The above breakdown needs to be taken in the context of the fact that the Renoir APUs are monolithic dies. They are true SoCs with all I/Os being sourced from the APU without a platform controller hub (PCH) in the picture.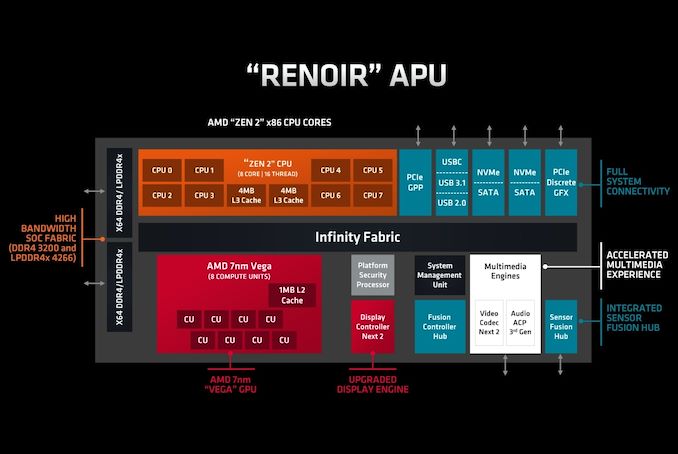 The distribution of the HSIO lanes for the various ports in the chassis is brought out in the diagram below.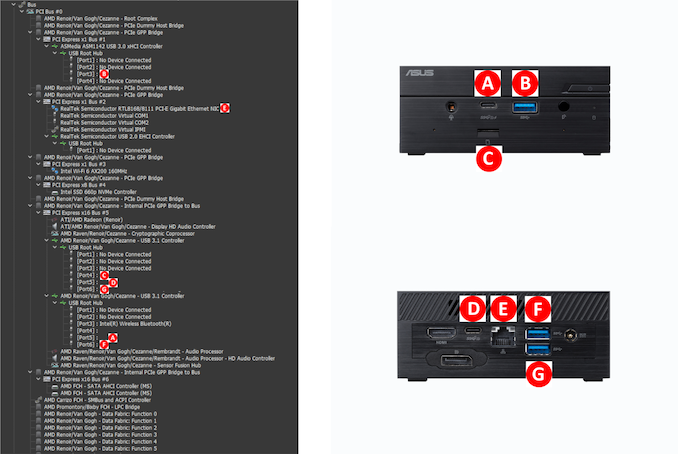 The distribution of various USB ports in terms of bandwidth sharing is much more balanced compared to the ASRock Industrial 4X4 BOX-4800U. This is in part due to the use of the ASMedia ASM1142 discrete USB 3.2 Gen 2 controller in the PC (the equivalent PCIe lane is used for a 2.5Gbps LAN port in the 4X4 BOX-4800U). There is also a microSDXC UHS-I slot in the front panel that is enabled by a Realtek USB 2.0 card reader attached to one of the in-built USB 3.2 Gen 2 controller in the APU.
Moving on to the performance evaluation report, we first take a look at various UL benchmarks, followed by BAPCo's SYSmark 25. Following this, the performance of the system for various real-world workloads including practical applications of cryptographic extensions, etc. is presented.