Viewing Angles and Color Quality
The BenQ uses a *VA panel (specifically A-MVA) and because of that the viewing angles on it are overall very good. You can get a bit of contrast shifting when you move to the extremes, but for all practical purposes there should be no real contrast shifts while working on it. Since this is designed just for desktop work and not for multiple people to use while gaming or watching TV, the viewing angles are very good.
When initially hooked up and set to 200 nits of light output, the average dE of the BenQ is in the high single digits, which unfortunately is very good for a consumer class LCD monitor—only higher quality professional (or at least prosumer) displays tend to be factory calibrated for accurate colors. The worst color is pure white, with the rest of the grayscale getting better as it gets darker, but overall this isn't a monitor you would want to use for serious color work straight out of the box.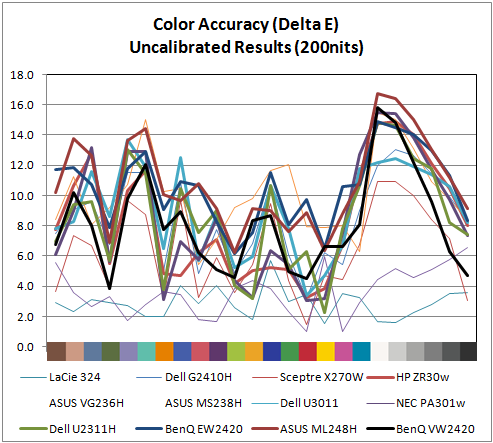 Of course, the uncalibrated results won't be that important to people that care about color quality, since they would be calibrating the monitor regardless of the performance out of the box. In this case the BenQ performs well, though it's strictly average for a consumer display. Our average dE comes down to just about 2, and the majority of the grayscale is at 1 or below. The main errors are in the blue swatches that cause most displays issues, or fall outside of the sRGB colorspace. Calibrated the BenQ falls strictly in the "good, not exceptional" category for dE performance.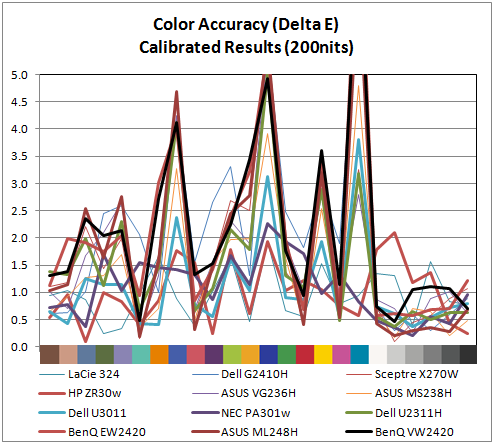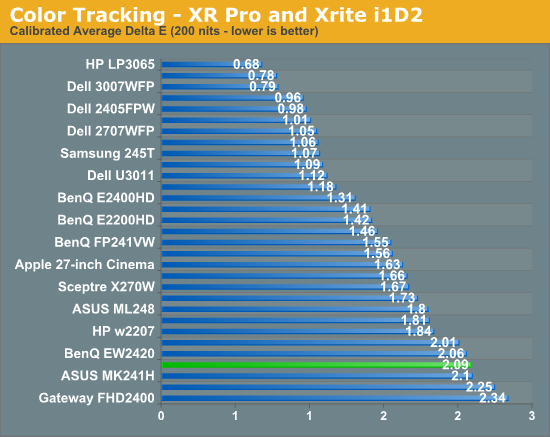 If you are doing print work and using a light output of closer to 100 nits than 200 nits, the performance of the BenQ is slightly better, but still in the range of most displays. The grayscale is more accurate which I like to see, and the color errors are in the same positions as before. If the 200 nits calibration data was close enough to accurate for you, then the 100 nits calibration data will be good enough as well, but the numbers are very similar.