Don't Just Thrive, Excite
Toshiba's Thrive tablet did modest business on release, but it was a first-generation Android tablet affair stemming from a period of time when most vendors were still trying to figure out just what this tablet craze was about. As someone who admittedly hasn't necessarily been that excited about tablets as a platform, I thought the Thrive was charming on its own but had some trouble standing out. In short, it felt like an also-ran that was bouyed in the market largely by a compelling price tag.
So if the Thrive was an opening salvo roughly equivalent to a spitball, the new Excite line of tablets is the real barrage of heavy artillery. Rather than try to figure out what the sweet spot in the tablet market is in terms of form factor, Toshiba is simply hitting all of them with the Excite 7.7, Excite 10, and Excite 13, with the numbers following them being the screen sizes of each. Each of these tablets is running NVIDIA's Tegra 3 under the hood along with Android 4.0 (Ice Cream Sandwich), and each of them offers a micro-USB port, mini-SD card slot, micro-HDMI, stereo speakers, a 5-megapixel back-facing camera, and a 2-megapixel front-facing camera. Toshiba has also substantially reduced the footprint of their design, with each tablet substantially thinner than the Thrive.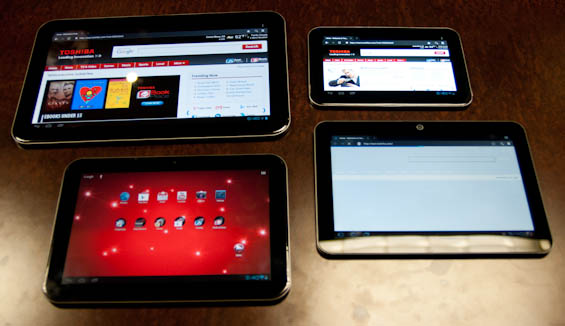 The original Thrive is in the lower left.
Form factor isn't the only differentiator between these models, though. The Excite 10 is essentially the least "exciting" model; it's pretty much the bog standard Android tablet, with a low 1280x800 resolution. It measures 0.35" thick and weighs 1.32 pounds, and Toshiba claims a running time of up to 10 hours on the battery. The Excite 10 is expected to retail for $449 for the 16GB model, $529 for the 32GB model, and $649 for the 64GB model.
Where things get a little more interesting is with the Excite 7.7. The 7.7" tablet enjoys a Super AMOLED display (likely Pentile, but we'll have to confirm), and while the resolution is still only 1280x800, color and contrast are absolutely stellar when compared to Toshiba's other tablets. The Excite 7.7 is 0.3" thick and just 13.4 ounces, and is expected to retail for $499 for the 16GB model and $579 for the 32GB model.
Meanwhile, the Excite 13 is an interesting experiment on Toshiba's part. It offers a 1600x900 display and is frankly pretty beefy for a tablet. Toshiba expects the Excite 13's unusually large form factor will produce new and interesting usage scenarios for tablets, and it's certainly better for watching movies than a smaller model, but whether their gamble pays off remains to be seen. The Excite 13 is 0.4" thick and 2.2 pounds, and it's expected to retail for $649 for the 32GB model and $749 for the 64GB model.
The Excite 10 will be on the market first at the beginning of May, while the 7.7 and 13 will follow in June.