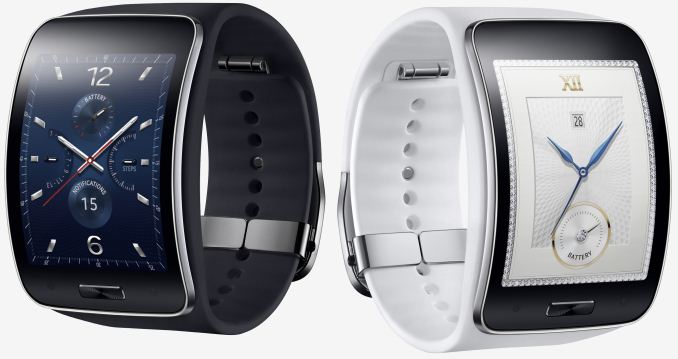 LG isn't the only company announcing a new smartwatch today. Samsung has announced a new device in their line of Gear smartwatches. Their latest watch is the Samsung Gear S, and it's one of the only smartwatches on the market that sports 3G connectivity. This allows it to function on its own without having to be forever tethered to a smartphone to access notifications and other content.
The other unique feature of the Gear S is its 2" curved OLED display with a resolution of 320x480. Samsung believes that a convex display allows for a more ergonomic and comfortable smartwatch. With its curved rectangular display the form factor of the Gear S is like a cross between fitness bands and smartwatches.
Inside it features an unnamed 1GHz dual core CPU paired with 512MB of RAM and 4GB of NAND. Samsung rates the 300mAh battery inside for two days of usage. Like most of Samsung's other smartwatches, it includes a heart rate sensor and IP67 dust and water resistance rated for 30 minutes of submersion in up to 1 meter of water.
Unlike most other smartwatches, the Gear S runs Samsung's Tizen operating system rather than Google's Android Wear platform. It includes some of Samsung's software like S Health and their smartwatch music player. Between Tizen's built in applications and the watch's support for WiFi and 3G networking, the Gear S may be the first smartwatch that can act as its own device rather than an extension of a user's smartphone.
Samsung will begin sales of the Gear S in early October. Pricing is yet to be announced.
Source: Samsung Mobile Press