Arctic
When it comes to cooling, the attention of most PC enthusiasts is drawn towards high performance air or liquid CPU coolers that can handle overclocked high-end processors without breaking a sweat. But countless desktops are shipped with modest cooling systems that have to do the job without suffering the all-too-common pitfalls of being noisy or expensive. One such common cooler has been Arctic's Freezer 7 Pro, which has been around for almost forever, and which is getting a successor this week. Dubbed the Arctic Freezer 7 X, the updated cooler promises 10% better cooling performance, a slightly lower cost, low noise levels, and even compatibility with future CPUs. The Arctic Freezer 7 X is a tower cooler made of aluminum and featuring two 6-mm U-shaped...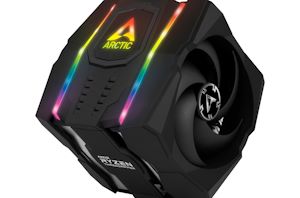 Arctic has formally introduced its Freezer 50 TR cooler for AMD's Ryzen Threadripper processors, which promises to remain quiet even when the CPU gets hot. The socket TR4-only cooler...
10
by Anton Shilov on 10/18/2019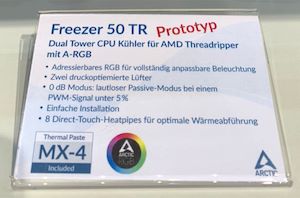 At an event for gamers in Leipzig, Germany, Arctic demonstrated a prototype of one the industry's first partially-passive cooling systems for AMD's Threadripper processors. The Freezer 50 TR is...
11
by Anton Shilov on 2/20/2019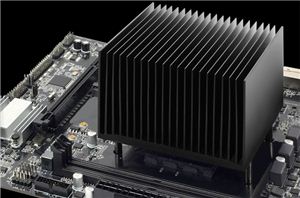 Arctic this week added its first passive cooler that is compatible with AMD's AM4 processors into its lineup of products. The Alpine AM4 was designed for APUs and CPUs...
26
by Anton Shilov on 5/25/2018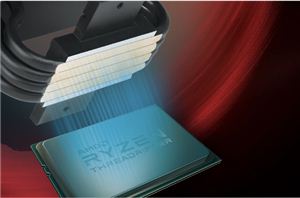 Arctic has announced a special version of its popular Freezer 33-series cooler, this time designed specifically for AMD's Ryzen Threadripper microprocessor. The cooler is not only physically compatible with...
6
by Anton Shilov on 8/14/2017