DirectX 12 Single-GPU Performance
We'll start things off with a look at single-GPU performance. For this, we've grabbed a collection of RTG and NVIDIA GPUs covering the entire DX12 generation, from GCN 1.0 and Kepler to GCN 1.2 and Maxwell. This will give us a good idea of how the game performs both across a wide span of GPU performance levels, and how (if at all) the various GPU generational changes play a role.
Meanwhile unless otherwise noted, we're using Ashes' High quality setting, which turns up a number of graphical features and also utilizes 2x MSAA. It's also worth mentioning that while Ashes does allow async shading to be turned off and on, this option is on by default unless turned off in the game's INI file.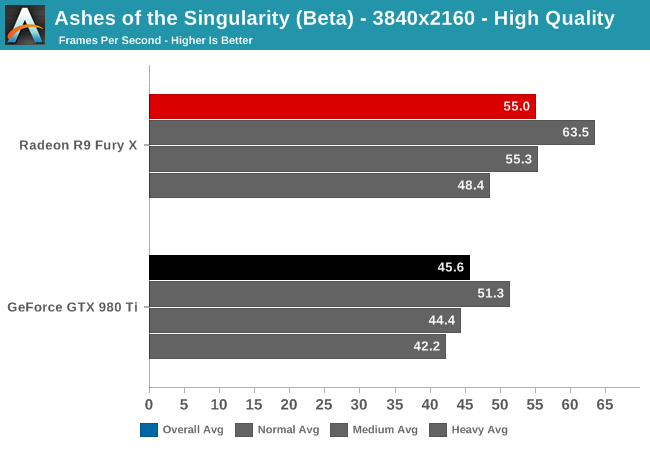 Starting at 4K, we have the GeForce GTX 980 Ti and Radeon R9 Fury X. On the latest beta the Fury X has a strong lead over the normally faster GTX 980 Ti, beating it by 20% and coming close to hitting 60fps.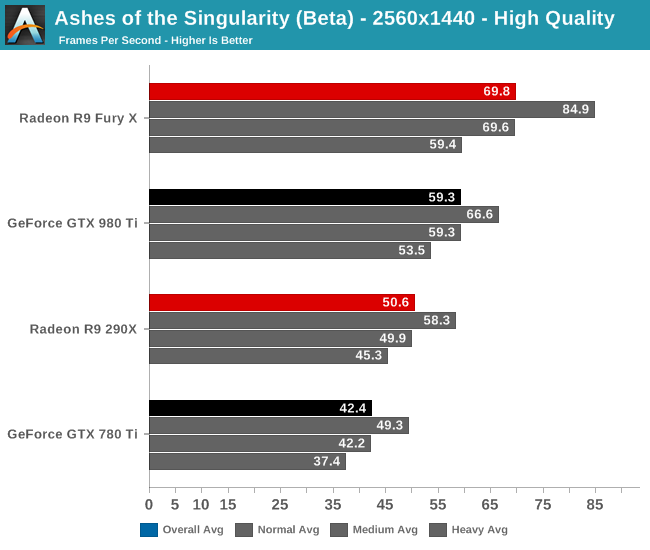 When we drop down to 1440p and introduce last-generation's flagship video cards, the GeForce GTX 780 Ti and Radeon R9 290X, the story is much the same. The Fury X continues to hold a 10fps lead over the GTX 980 Ti, giving it an 18% lead. Similarly, the R9 290X has an 8fps lead over the 780 Ti, translating into a 19% performance lead. This is a significant turnabout from where we normally see these cards, as 780 Ti traditionally holds a lead over the 290X.
Meanwhile looking at the average framerates with different batch count intensities, there admittedly isn't much remarkable here. All cards take roughly the same performance hit with increasingly larger batch counts.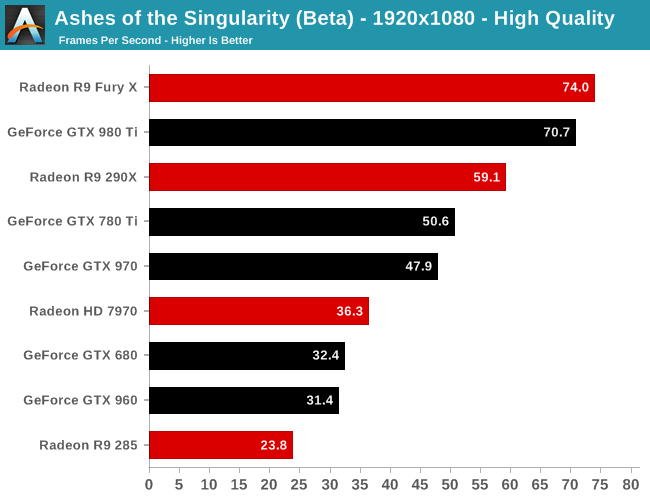 Finally at 1080p, with our full lineup of cards we can see that RTG's lead in this latest beta is nearly absolute. The 2012 flagship battle between the 7970 and the GTX 680 puts the 7970 in the lead by 12%, or just shy of 4fps. Elsewhere the GTX 980 Ti does close on the Fury X, but RTG's current-gen flagship remains in the lead.
The one outlier here is the Radeon R9 285, which is the only 2GB RTG card in our collection. At this point we suspect it's VRAM limited, but it would require further investigation.