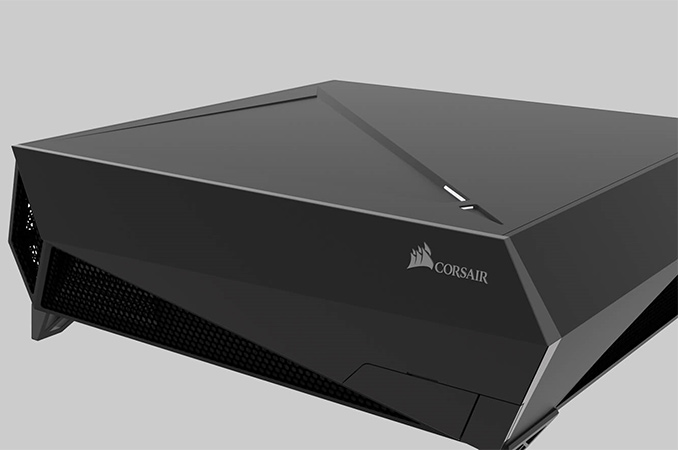 Many PC and chassis makers these days are trying to address console gamers with computers that are as small as game consoles and fit into the living room design-wise, but which are considerably more powerful and can run games at ultra-high resolutions. When Corsair announced its plans to enter this market with its Bulldog concept a year ago, it was not exactly a big surprise: a company with expertise in cooling and PC chassis is arguably the best possible candidate to offer such kind of products. Even though some chassis designs seem to churn out over weeks, Corsair has taken over a year and a half to bring the final product to the market.
This week, Corsair finally started to sell the Bulldog chassis and barebones in North America and Australia. Corsair equips its Bulldog case with its H5 SF low-profile liquid cooler, which was specifically designed for mini-ITX systems and which performance is sufficient for all mainstream CPUs from Intel and AMD, its SF600 SFX PSU as well as two fans. The Bulldog case can house a mini-ITX motherboard, a full-height graphics card (which is not longer than 300 mm and is not thicker than 90 mm), a 3.5" HDD, up to three 2.5" storage devices, multiple fans as well as an SFX power supply. The price of the Bulldog chassis (CS-9000003-NA) is $299, just like Corsair promised a year ago.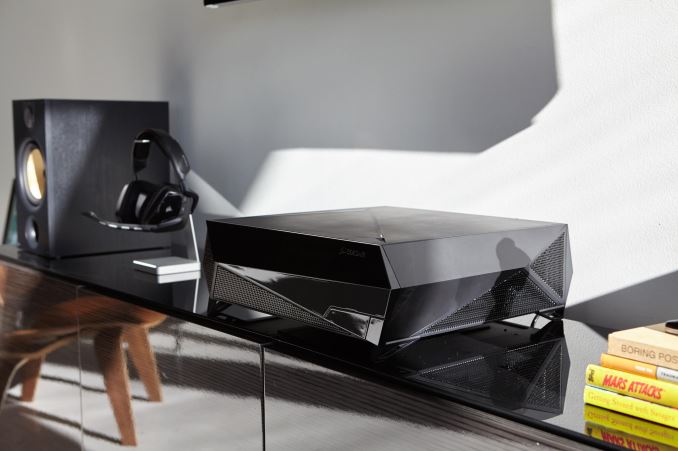 The internal architecture of the Corsair Bulldog allows installing modern high-performance graphics cards, such as NVIDIA's reference GeForce GTX 1080 with blowers. However, due to thermal constraints, Corsair recommends using its own H55 liquid cooling system with the HG10 bracket to cool-down GPUs, or install the AMD Radeon R9 Fury X or graphics cards with pre-equipped hybrid cooling.
Corsair also offers the Bulldog DIY PC barebone with pre-installed GIGABYTE GA-Z170N-WIFI motherboard. The GA-Z170N-WIFI supports all modern Intel Skylake-S processors in LGA1151 packaging (as well as, we assume, the next Intel generation of Kaby Lake processors), up to 32 GB of DDR4 memory, an M.2 slot for high-performance SSDs, a PCIe x16 slot for graphics cards, two Gigabit Ethernet ports, 2T2R 802.11ac Wi-Fi, integrated multi-channel audio, USB 3.0 (with Type-A and Type-C connectors) ports and so on. The Bulldog barebone kit (CS-9000001-NA) is priced at $399, in line with Corsair's original promises. In addition, select PC makers and system integrators will offer pre-configured systems featuring Corsair's Bulldog chassis, which will cost according to their specifications.
Corsair Bulldog: Quick Specs
Dimensions (W×H×D)
457 mm × 133 mm × 381 mm
Weight
5 kilograms
Motherboard Form-Factor
Mini-ITX
PSU Form-Factor
SFX
3.5" Drive Bays
1
2.5" Drive Bays
1 if 3.5" drive is installed
3 if 3.5" bay is unused
System Fans
2 × 92 mm (included)
1 × 120 mm
CPU Cooler Dimensions
Up to 90 mm in height
Graphics Card Length
300 mm
PSU Length
130 mm
External Connectors
Power, Audio, USB 3.0, Display, etc
From an aesthetics point of view, Corsair has altered the design of its Bulldog compared to the prototype. Among some other things, it eliminated red inlays to make it look less aggressive in order to blend in with home theater surroundings. The chassis has retained its futuristic look as well as the ventilation capabilities, but now it matches various players and other equipment in terms of color scheme.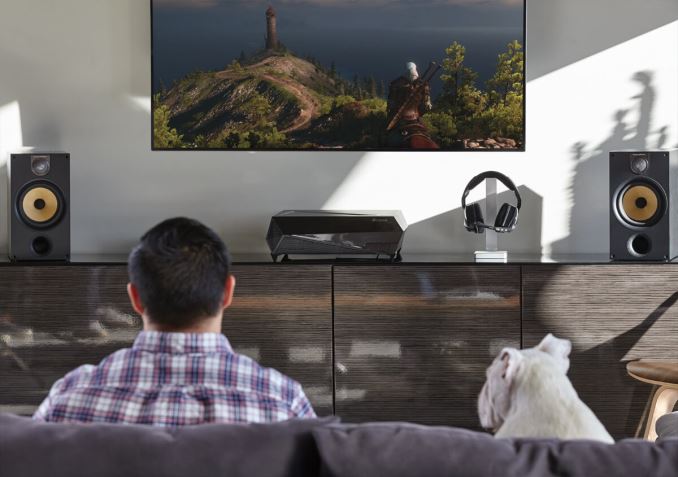 Even though Corsair's Bulldog has hit the market somewhat later than expected, it still looks very promising thanks to the emergence of new 14nm and 16nm video cards this quarter that can better handle games in 4K resolution than previous-gen graphics adapters.
(Edit from Ian: I should also add a nod to Dustin Sklavos, former AnandTech editor for cases and cooling, who is the Corsair Product Manager for Bulldog and had a big hand in its design and development.)
Source: Corsair