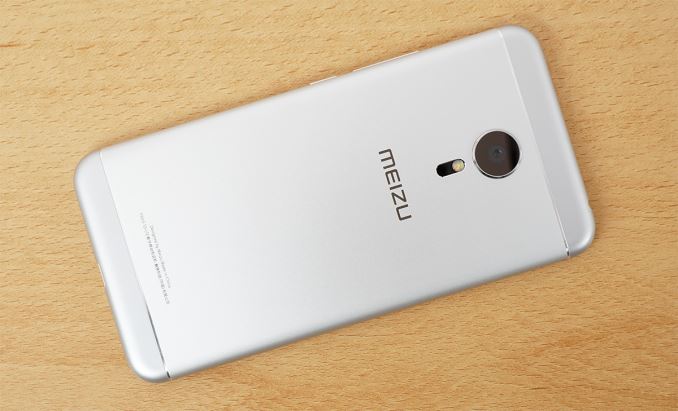 The dominance of the smartphone market by Apple and Samsung is being challenged by several Chinese brands that are delivering surprisingly well-featured phones for a fraction of the price. Meizu, one of the smaller Chinese OEMs based on sales volume, trails Huawei, OPPO, and Xiaomi in market share, but is gradually building its brand centered around design and build quality.
The Meizu PRO 5 has been available for some time now, and has even been supplanted by the PRO 6 as the company's flagship device, but Meizu plans to continue selling the PRO 5 alongside the newer version for the foreseeable future at a reduced price. The PRO 5 itself follows the MX5 and is the successor to the MX4 Pro, adopting a new naming convention that further separates it from the midrange MX series.
Besides Samsung, Meizu is one of the few OEMs to use Samsung LSI's Exynos SoCs, and the PRO 5 is the only other phone outside of Samsung's more expensive Note5 and Galaxy S6 family to specifically use the Exynos 7420. Introduced in 2015, the Exynos 7420 is notable for being the first commercially available mobile SoC to use FinFET technology, which has less leakage than planar transistor technologies and higher subthreshold swing enabling lower overall power consumption. The 7420's octa-core CPU—consisting of four higher-performing Cortex-A57 cores running at up to 2.1GHz and four lower-performing but lower-power Cortex-A53 cores running at up to 1.5GHz—and Mali-T760MP8 GPU are manufactured on Samsung's 14nm LPE process.
The PRO 5 comes in two different configurations: one with 3GB of LPDDR4 RAM and 32GB of UFS 2.0 NAND and one that expands memory and internal storage to 4GB and 64GB, respectively. Both configurations support microSD cards to further expand storage.
Meizu 5 Series
Meizu PRO 5
Meizu MX5
SoC
Samsung Exynos 7420

4x Cortex-A57 @ 2.1GHz
4x Cortex-A53 @ 1.5GHz
Mali-T760MP8 @ 772MHz
MediaTek Helio X10
(MT6795)

8x Cortex-A53 @ 2.2GHz
PowerVR G6200 @ 700MHz+
RAM
3GB / 4GB LPDDR4-3104
3GB LPDDR3-1600
NAND
32GB / 64GB (UFS 2.0)
+ microSD
16GB / 32GB / 64GB (eMMC 5)
Display
5.7-inch 1920x1080 SAMOLED
5.5-inch 1920x1080 SAMOLED
Dimensions
156.7 x 78.0 x 7.5 mm
168 grams
149.9 x 74.7 x 7.6 mm
149 grams
Modem
Samsung Shannon 333
2G / 3G / 4G LTE (Category 6)

FDD-LTE / TD-LTE / TD-SCDMA / WCDMA / GSM
MediaTek (Integrated)
2G / 3G / 4G LTE (Category 4)

FDD-LTE / TD-LTE / TD-SCDMA / WCDMA / GSM
(Chinese Bands)
SIM Size
2x NanoSIM (dual standby)
2x NanoSIM (dual standby)
Front Camera
5MP, 1/5" OmniVision OV5670, 1.12μm, f/2.0
5MP, f/2.0
Rear Camera
21.16MP, 1/2.4" Sony IMX230 Exmor RS, 1.12µm pixels, f/2.2, PDAF + Laser AF, HDR, dual-tone LED flash
20.7MP, 1/2.3" Sony IMX220 Exmor RS, 1.2µm pixels, f/2.2, Laser AF, HDR, dual-tone LED flash
Battery
3050 mAh (11.59 Wh)
non-replaceable
3150 mAh (11.97 Wh)
non-replaceable
Connectivity
802.11b/g/n/ac, BT 4.1 LE, NFC, GPS/GNSS, USB 2.0 Type-C
802.11b/g/n/ac, BT 4.1 LE, GPS/GNSS, microUSB 2.0
Launch OS
Android 5.1 with Meizu FlymeOS 5.1
Android 5.0 with Meizu FlymeOS 4.5
Launch Price
(No Contract)
¥2799 / ¥3099
$438 / $485 USD
¥1799 / ¥1999 / ¥2399
$290 / $320 / $386 USD
The Meizu PRO 5 uses a 21MP Sony IMX230 Exmor RS sensor for the rear camera, the same sensor the Moto X Pure Edition uses, paired with a dual-tone LED flash. It also includes a hybrid autofocus system that combines the strengths of laser, phase detection (PDAF), and traditional contrast detection methods—an uncommon feature, especially at this price point—which should give the PRO 5 excellent focusing performance in a variety of lighting conditions. The PRO 5's rear camera does not support HDR when recording video or offer a 1080p60 recording mode, which is disappointing, but it does record 4K video using the newer H.265 codec, which is something even the most expensive flagships do not support.
Along with the Exynos 7420 SoC, Meizu is also using Samsung's Shannon 333 baseband processor that supports GSM/EDGE (900/1800/1900 MHz), WCDMA (bands 1/2/5/8), and TD-SCDMA (bands 34/39), but not CDMA2000. It also supports Category 6 LTE speeds up to 300 Mb/s down and 50 Mb/s up with carrier aggregation. The PRO 5's LTE support is primarily focused on its Chinese home market offering FDD-LTE (bands 1/3/7) and TD-LTE (bands 38/39/40/41). For our readers in the U.S., the PRO 5 will operate on AT&T's and T-Mobile's 3G/4G UMTS/HSPA+ networks, but there's no LTE support.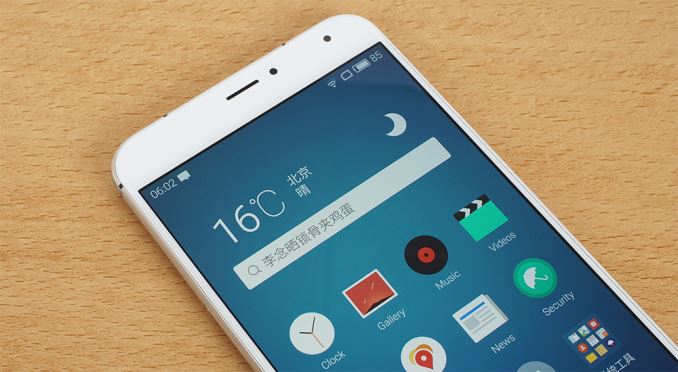 The PRO 5's card tray accepts one NanoSIM and one microSD card or two NanoSIM cards. When using both SIM slots, it's possible to select which one will support 2G/3G/4G networks for voice and data and which one will be for GSM voice only. The slots are Dual Active, meaning you can have two different phone numbers active at the same time, which is useful when using a single phone for both personal and business use or when traveling abroad.
Unlike many other flagship phones that have different hardware models with frequency support tailored to specific regions or carriers, there's only one model of the PRO 5. Meizu does have two different versions of its operating system, however; there's a generic international version that comes with Google's apps and better language support and a Chinese version that lacks Google's apps but comes with additional apps and services for Chinese customers.
Design
The PRO 5 adopts the same clean design language, materials, and construction techniques used in the MX5. The aluminum chassis has a fine sandblasted finish and generously radiused corners, giving it a comfortable in-hand feel that is very similar to that of an iPhone. The PRO 5 is also nearly the same size as an iPhone 6s Plus despite its larger screen. Compared to the Moto X Pure Edition and Nexus 6P, which both have 5.7-inch screens, the PRO 5 is a little larger than the Moto X overall and essentially the same width and thickness as the Nexus 6P, but comes in 2.6 mm shorter. The PRO 5 is lighter than all three (iPhone 6s Plus, Moto X Pure Edition, Nexus 6P), but still has enough heft and stiffness to give it an aura of quality.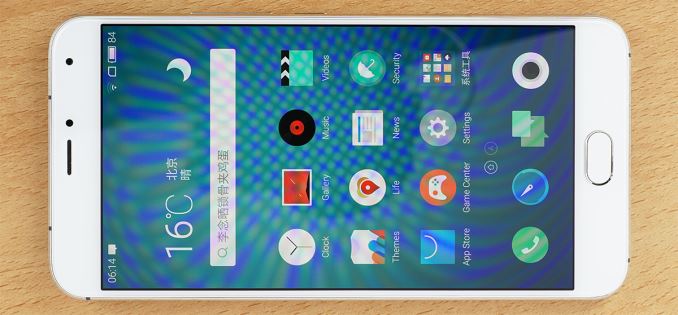 The front is covered in edge-to-edge glass with a small radius around the perimeter where it blends into the polished, chamfered edge of the aluminum chassis. I'm not sure to what specification the aluminum is heat treated, but the used review unit we received already had many fine scratches on this polished chamfer, implying the metal may be a little soft and prone to scratching. Thankfully, the black border around the 5.7-inch screen is very thin, and the bezels along the sides are also reasonably thin.
Centered above the screen is the phone's earpiece, whose small size relative to the rest of the phone makes it difficult to hear phone conversations sometimes if it's not aligned perfectly with the ear. This is an issue I've noticed on other phablets too, most notably the iPhone 6s Plus. The ambient light/proximity sensor and front-facing camera are both positioned to the right of the earpiece, with the camera furthest from center. A white notification LED is hidden just to the left of the earpiece.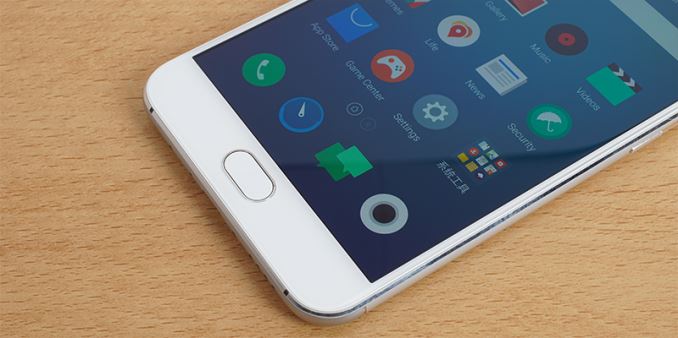 There's a physical home button below the screen that also functions as a touch-based fingerprint sensor using Meizu's mTouch 2.1 technology. The capacitive sensor is supplied by Fingerprint Cards, and works quite well. It has no issues with changes in finger orientation or position, assuming you've done your part during the setup process, and even handles mild changes in dampness and temperature. Fingerprint recognition also occurs very quickly. The pill-shaped button itself is surrounded by a polished accent ring, and while it does not feel mushy, it does not provide a positive click either.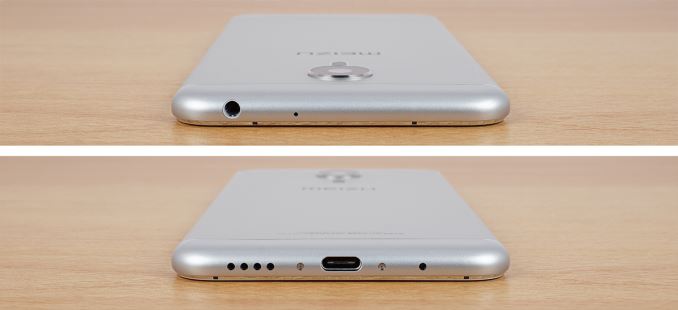 The rounded edges flow smoothly into the phone's back, improving comfort. A 3.5 mm headphone jack and secondary microphone for noise cancellation are located on the top edge, while the primary microphone and single, downward-firing speaker flank a USB Type-C port on the bottom. There's a card tray on the left edge that can hold either two NanoSIM cards or one NanoSIM and one microSD card. The power button and single-piece volume rocker sit just above the midpoint on the right edge inside a polished groove. The buttons depress with a solid click, but they are not held firmly in place; there's just a hint of free play.

The prominent feature on the back is the large, circular surround for the rear camera. Located near the top edge, its polished metal ring and sapphire protective lens protrude from the back, but not enough to catch on things when slipping it into a pocket or purse. Just below the camera is a flush-fitting, pill-shaped module for the dual-tone flash and laser autofocus system.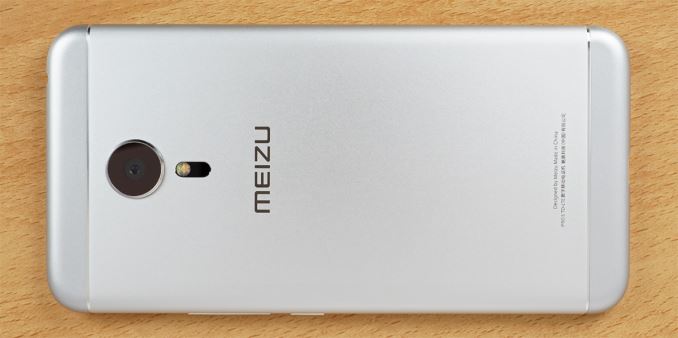 In place of the plastic antenna lines we usually see on all-metal phones, the PRO 5 has polished slots machined into the chassis. These are purely decorative, however, because the antennas are actually hidden behind plastic inserts in the upper and lower portions of the back. The inserts are then painted to match the look and feel of the chassis' metallic finish. Even though the color does not match exactly in certain lighting conditions, this method of hiding the antennas is less controversial than the method used by the LG G5.
The PRO 5 comes in four different color combinations, including silver with white front like our review unit, silver with black front, gray with black front, and gold with white front. None of these colors, like the phone's aesthetic, are flashy or cheap looking. Instead, the PRO 5 has a clean, tasteful appearance not unlike many other metal phones.