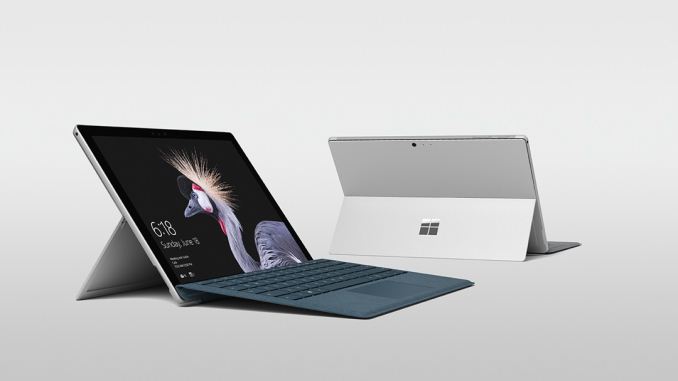 This morning in Shanghai, China, Microsoft announced the latest generation of their Surface Pro tablet. The numbering system is gone, and it's back to just Surface Pro, but the latest generation is a long way from the original Surface Pro that came out in 2013, and it's a design that they've now morphed into its fifth incarnation. Clearly they are pretty happy with the form factor, since Surface Pro hasn't had a huge change in design since the Surface Pro 3 launched with the 3:2 display. Microsoft has had a lot of success with Surface Pro, but the previous generation Surface Pro 4 launched way back in October 2015, so this new model has been anticipated for a while.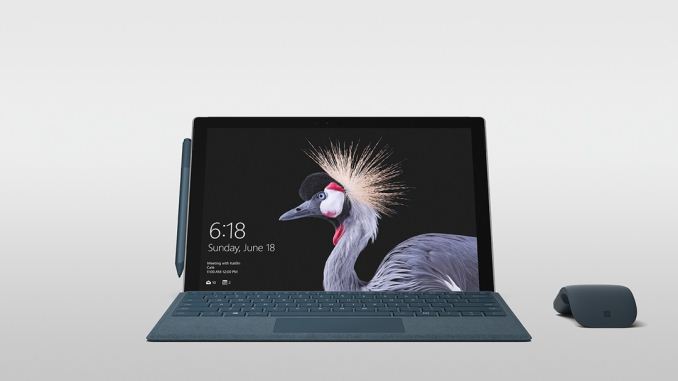 Despite the Surface Pro still offering the same 12.3-inch PixelSense display as its predecessor, Microsoft says that there are over 800 new custom parts inside, and they've managed to use up 99% of the interior of the tablet to pack it with new cooling, battery, and performance. The Surface Pro 4, despite being launched 580 days ago on October 21st, 2015, was still the tablet to beat in this space, with a fantastic display, impressive performance, solid battery life, a great keyboard, pen support, and a brilliant design. It felt long in the tooth because it was, but what was available was still a solid system. The issue any company offering a system like this is that people know there will be a new version, it's only a matter of when, so once Kaby Lake was launched, it would have been tough to recommend someone run out and buy a Surface Pro 4 since there had to be a new model coming soon. Well, it didn't exactly come soon, but it's here now, so let's look at what's new.
Microsoft Surface Pro
Processor
Intel Core m3-7Y30 (2C/4T, 1.0-2.6GHz, 4MB L3, 14nm, 4.5w)

Intel Core i5-7300U (2C/4T, 2.6-3.5GHz, 3MB L3, 14nm, 15w)

Intel Core i7-7660U (2C/4T, 2.5-4.0GHz, 4MB L3, 14nm, 15w)
Memory
4 GB, 8 GB, 16 GB Dual-Channel
Graphics
Intel Core m3-7Y30
Intel HD 615 (24 EUs, 300-900 MHz)
Intel Core i5-7300U
Intel HD Graphics 620 (24 EUs, 300-1100 MHz)
Intel Core i7-7660U
Intel Iris Plus Graphics 640 (48 EUs, 64 MB eDRAM, 300-1100 MHz)
Display
12.3" 2736x1824 3:2 PixelSense
LG Display, Touch and Pen support
100% sRGB color + enhanced color, individually calibrated panels
Storage
128 GB, 256 GB, 512 GB, 1 TB PCIe NVMe
Networking
802.11ac, 2x2:2, 866Mpbs Max, 2.4 and 5GHz
Bluetooth 4.1
Audio
Stereo Speakers (front facing)
Dolby Audio Premium
Battery
Up to 13.5 hours Video Playback
Right Side
USB 3.0
Mini DisplayPort
Surface Connect Port (charging and docking)
Left Side
Headset Jack
Power Button
Volume Rocker
Keyboard Connector
Dimensions
292 x 201 x 8.5 mm (11.5 x 7.9 x 0.33 inches)
Weight
Core m3: 766 grams (1.69 lbs)
Core i5/i7: 786 grams (1.73 lbs)
Cameras
Rear: 8.0 MP auto-focus
Front: 5.0 MP auto-focus and Windows Hello support
Extras
Surface Pen and Dial (sold separately)
micro SD card slot
TPM 2.0
Pricing
$799.99 USD and up
Unsurprisingly, Microsoft stepped up to Intel's 7th generation Core processors, codenamed Kaby Lake. Kaby Lake doesn't jump to new levels of performance, but it's a nice step up from Skylake, and it offers a lot more power saving features as well. Just like the Surface Pro 4, Surface Pro will offer a Core m3 model, a Core i5, and a Core i7 with Iris graphics. Memory configurations are also the same, with a 4 GB base model, and up to 16 GB maximum with the Core i7, so LPDDR3 is still the name of the game here. Storage is also the same, at 128 GB up to 1 TB of PCIe SSD. This is a very incremental update for performance, but nonetheless it is very welcome. The battery life has gotten a boost as well, with Microsoft now claiming up to 13.5 hours in a charge, although that test was done with video playback, which is offloaded to fixed function hardware and takes the least energy to perform.
The display is also the same 12.3-inch 2736x1825 PixelSense panel, which works out to 267 pixels per inch. Microsoft has focused a lot on display quality over the last several years, so it would be expected that this is a solid, accurate, display, but much like the Surface Studio, Microsoft is adding a wider than sRGB color mode to the new Surface Pro, with a toggle to choose between enhanced color and sRGB. We're not yet sure if that means P3-D65, but hopefully it does. The move to 3:2 triggered a new category of devices, so it's difficult to blame them for not changing what already worked so well. Framing the display are new speakers though, with Dolby Audio Premium, and Surface Pro has always done a nice job of blending the speaker grilles into the frame.
Reading this, you may be wondering where the 800 new parts fit in, if it's an incremental update on the CPU side, with the same display. Rest assured, there's still a lot new to the Surface Pro. First up is cooling, and the new Surface Pro now extends the fanless capabilities to the i5 model as well, despite the U series CPU having a 15-Watt TDP. When the Surface Pro 4 launched, I was talking to one of the engineers at the launch event who showed off the new cooling, and was told at the time, it would be able to handle the entire 15-Watt passively if needed, but with another 19 months under their belt, they've clearly tweaked it a bit more to make the i5 fanless as well. The i7 will continue to offer a fan, despite the same TDP as the i5, but the main difference is that the i7 offers Intel Iris Plus Graphics 640, which will be able to stress the system much more than the HD Graphics 620 that ships with the i5 model. The m3 gets HD Graphics 615, and with just a 4.5-Watt TDP, there's no question it can be run fanless.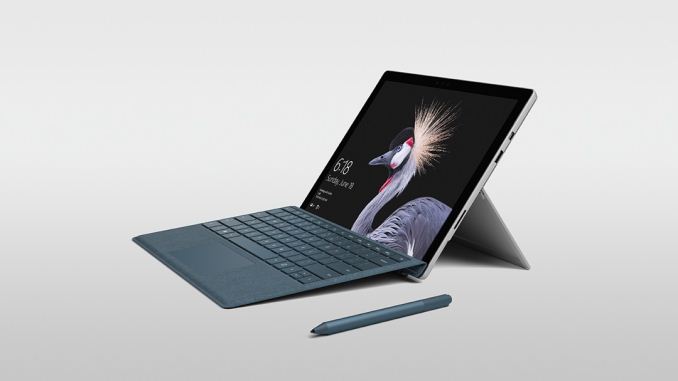 Microsoft is also evolving the hinge, again. The kickstand can now tilt back all the way to 165°, compared to 150° of the Surface Pro 4, and the reason for the hinge change is undoubtedly because the Surface Pro ships with support for the Surface Dial, which launched with the Surface Studio. Support will be added for on-screen use of the Dial through firmware for existing Surface Pro 4 users, but they won't get the "studio" mode the new hinge provides.
There's also a new pen, except it's no longer included with the device. The new pen now offers 4096 levels of pressure sensitivity, and lower latency than the previous model, with Microsoft tagging latency at 21 ms. It also supports tilt, which is something that wasn't available on the previous model and was something it was often compared against. I really like the last Surface Pen, with its changeable tips, and it offered great on-screen traction and feel, so I'm excited to see the new, improved model. It's no longer included, but you can buy it for $60, and the cheapest m3 model is now $100 less than when the Surface Pro 4 launched. Plus, it's available in several colors to match the new keyboards.
The last generation keyboard will still work, and likely be available, but Microsoft is touting the new Signature Type Covers, which offer Alcantara fabric over the keyboards for a softer feel, and they are available in Platinum, Burgundy, and Cobalt Blue, which happens to coincide with the colors of the new pen, if you're into matching sets. The Alcantara is covered in a polyurethane coating to provide protection from liquids and oils, so hopefully they will hold up well. The Alcantara on the Surface Ergonomic keyboard has been pretty decent so far.
There's a lot that's new, but there's also some things that haven't changed at all. The I/O ports on the Surface Pro are exactly the same as the Surface Pro 4: Full-sized USB 3.0 (Type-A), microSD, Surface Connect, Headset, mini DisplayPort, and the keyboard cover connector. What's missing is USB-C, and Microsoft seems to be taking a hard stance here about supporting a future standard. Their concerns over USB-C are that the port is too open to interpretation, with quite a few different capabilities that could or could not be available, leading to customer confusion. It's hard to argue with that since it is 100% true, and USB-C has kind of shot itself in the foot by being too open. Some ports support power, some don't, and some have Thunderbolt 3, and some don't, and just today Huawei launched a new MateBook X with two USB-C ports, and it can only charge on one of them. This kind of confusion is not ideal, and USB likely needs to come up with a good solution, soon. In an apparent attempt at humor, Microsoft will be releasing a dongle which supports USB-C, for those that need it.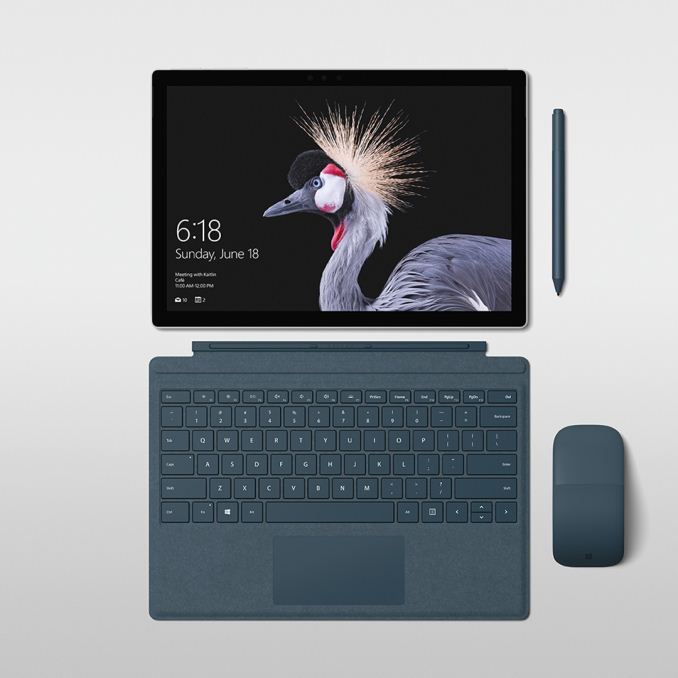 Even though they do have reasons to question USB-C in the marketplace, and the fact that, today, you need to use adapters for most things, there's still the main issue in that the Surface Pro ships with a mini DisplayPort video output. To hook up practically anything to mini DisplayPort, you need either a dongle, or a DisplayPort to mini DisplayPort cable, meaning you already need a dongle to use the port that's there. They could have swapped that for a fully functional USB-C with Thunderbolt 3 and Power Delivery, and it could have handled the DisplayPort natively (with a dongle, of course, just like mini DisplayPort. If they included everything that USB-C can do, there also wouldn't ever be the scenario where a customer buys something and it wouldn't work in the Surface Pro. So I don't fully buy their argument, but it's also not invalid either.
Other than the lack of USB-C, the new Surface Pro does offer everything that would have been expected in an update like this, with a new CPU, a slightly updated design, a new kickstand, and better battery life. Hopefully by dropping the number from the end of the name, it won't take 19 months until the next refresh can occur, since if it's just a CPU refresh, it should be able to be handled with little fanfare.
The Surface Pro is available for pre-order today, and ships June 15th, which is the same day the Surface Laptop will be shipping. Availability is listed as "worldwide" as well, so those that had to wait for the Surface Pro 4 to become available in their region shouldn't have to wait any longer.
Source: Windows Blog