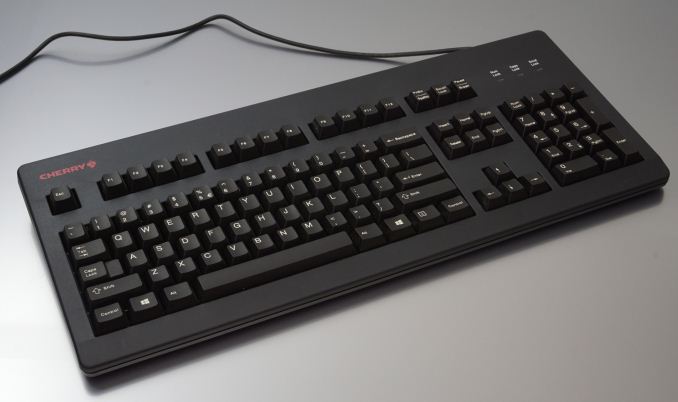 With years of successful products behind them, Cherry is undoubtedly the most reputable manufacturer of computer keyboard mechanical switches. The company practically invented the mechanical keyboard switch, with their first products – under patent protection at the time – leaving assembly lines over three decades ago. At the same time, Cherry doesn't just manufacture keyboard switches, but myriads of items, ranging from basic electronic parts to complete retail products. During the recent market boom of mechanical keyboards, Cherry also released several retail keyboards of their own, such as the MX Board 6.0 that we reviewed last year.
Today we're taking a look at the Cherry G80-3494 MX Board Silent mechanical keyboard. This keyboard is an especially interesting item to review because rather than being a wholly new design, it's a new iteration on a classic design, following in the footsteps of the original iconic Cherry G80-3000 series keyboards that have been in circulation for decades. Unlike most of the keyboards that we usually review, the Cherry G80-3494 MX Board Silent is not a keyboard directly marketed towards gamers or even consumers in general – rather it is a keyboard that has been designed for workspaces, with an emphasis on office workers, public computers (kiosks, schools, etc.), and for applications where reliability is of the utmost importance (medical equipment, control systems, etc.).
Cherry G80-3494 MX Board Silent Mechanical Keyboard - Key features and specifications
Mechanical Black or Red stem MX Silent keyswitches are rated at 50 million actuations to withstand harsh environments and ensure long product lifetime
Patented noise reduction using an integrated 2-component stem minimizes noise at top and bottom-out
N-Key rollover: Simultaneous operations of up to 14 keys without any ghosting effects
Self-cleaning contacts, dust and dirt resistant
Full QWERTY key layout in full-size 18.5″ form factor
USB 2.0 Interface or PS/2 with adapter
104 Keys
PC & MAC compatible over USB
Packaging and Bundle
Cherry supplies the G80-3494 MX Board Silent in a simple, no-frills, black cardboard box. With the exception of the company's logo, there is virtually no artwork on the box, not even marketing hype. The box seems to have been designed solely to provide the keyboard with shipping protection. Cherry does not bundle anything along with this keyboard, only the keyboard itself can be found inside the box.