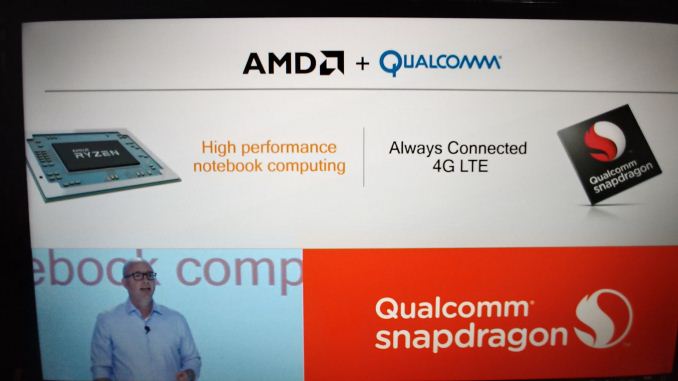 One of the surprises at the Qualcomm Snapdragon Technology Summit was the presence of AMD. Out of no-where, Kevin Lensing, CVP and GM of the Client Business Unit at AMD, was invited onto the stage to announce that AMD and Qualcomm were in a connectivity partnership.
Recently AMD announced it was bringing its new high-performance x86 CPU cores and its latest GPU architecture to the notebook space. Within a 15W form factor, the Ryzen 7 2700U packs in four Zen cores along with 10 Vega compute units, to which AMD states that they have the top performing 15W notebook processor on the market. At the launch, three designs were briefly announced from HP, Acer, and Lenovo, from which the HP Envy x360 with the Ryzen 5 2500U is currently available for sale (we're awaiting our review sample).
What Kevin Lensing was doing on stage at a Qualcomm event was announcing that AMD and Qualcomm have been working together on bringing LTE connectivity to the Ryzen Mobile platform. Normally when a vendor creates a notebook or a smartphone platform, they create a series of reference designs which are sent out to OEMs. These designs are meant to demonstrate how the parts fit together, and what sort of technologies can be implemented (just in case the OEMs don't realize what can be possible). Kevin explained that in those Ryzen Mobile reference platforms, they included a Qualcomm LTE modem to allow for mobile connectivity on the go.
Equipping a laptop with mobile connectivity is not necessarily new – Intel has been doing it for years with their own modems (such as the XMM7260 and XMM7360), mostly in business end devices or Chromebooks. The fact that AMD is getting in on the action (and even appearing at a Qualcomm event to talk about Ryzen and Ryzen mobile) makes it interesting for sure. Kevin Lensing on stage stated that several OEMs were sufficiently interested in enabling their designs with Qualcomm LTE connectivity. As a result, some of the more interesting Ryzen Mobile designs, either for business or for casual users, might actually have LTE enablement as an option.
The obvious questions are about the extra cost, carrier partnerships (if they're from OEMs, QC, or from AMD), and then also a nod at what the extra power consumption is. Questions I suspect that might be discussed next month at CES, when everyone involved will be giving new information about the products coming to market.
Related Reading