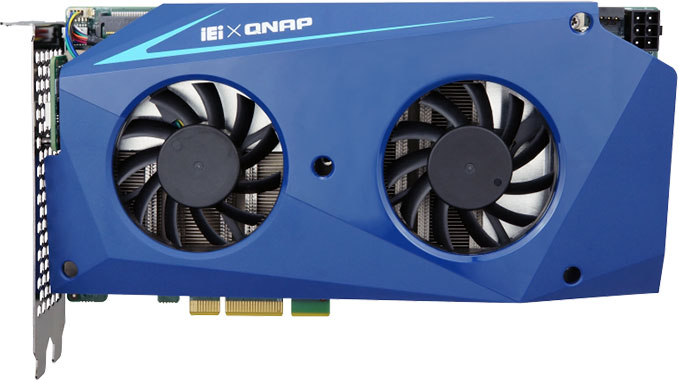 QNAP has released a special-purpose accelerator based on two Intel CPUs that is designed to significantly boost the processing capabilities of NAS boxes and even PCs. QNAP's Mustang-200 can speed up access to data located on a NAS box, but can also be used to increase image processing capabilities of NASes used for surveillance, run AI and ML apps, or speed up virtual machines.
The QNAP Mustang-200 accelerators are PCIe 2.0 x4 cards based on two Intel Kaby Lake CPUs (Core i7-7567U, Core i5-7267U or Celeron 3865U) outfitted with their own 4 - 16 GB of DDR4 memory as well as 512 GB Intel 600P SSDs (Core i5/i7 only). Each node has its own 10 GbE NIC and runs its own copy of QNAP's mQTS operating system, thus offering a familiar functionality to those who use NAS products from QNAP.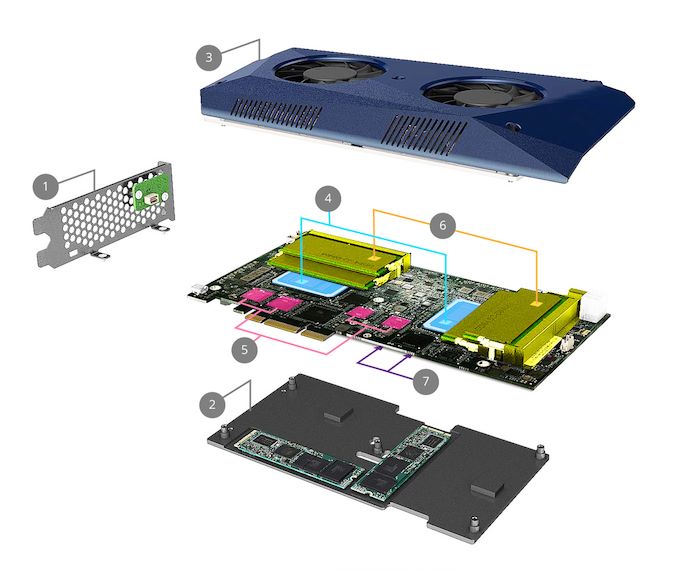 By adding a Mustag-200 card, owners of QNAP NASes can increase the processing power of their systems from one processor to three, which can be used by a variety of applications supported by mQTS. Since the cards have their own resources, administrators can deploy different applications on different nodes using the Mustang Card Manager program and physically isolate them from each other. It is noteworthy that the Mustang-200 accelerators can be installed not only into NAS boxes, but also into regular PCs and be used for a variety of applications.
QNAP Mustang-200 Cards
CPU (x2)
RAM (per CPU)
SSD (per CPU)
Mustang-200-i7-1T/32G-R10
Intel Core i7-7567U - 2C/4T, 3.5GHz, Iris Plus Graphics 650
16 GB
Intel 600p
512 GB
Mustang-200-i5-1T/32G-R10
Intel Core i5-7267U: 2C/4T, 3.1 GHz, Iris Plus Graphics 650
Mustang-200-C-8G-R10
Intel Celeron 3865U: 2C/2T, 1.8 GHz, Intel HD Graphics 610
4 GB
-
Compatible NAS Models
TS-2477XU-RP , TS-1677XU-RP, TS-1685, TS-1677X, TVS-1282, TS-1277, TVS-882, TS-877
Notes
1. The host NAS requires QTS 4.3.5 (or later).
2. TVS-1282 and TVS-882: Only models with 450W power supplies are supported.
3. TS-1685: Only models with 550W power supplies are supported.
QNAP's Mustang-200 cards are now available to customers with compatible NAS machines. Prices have not been published yet.
Related Reading:
Source: QNAP