Visual Inspection
The GIGABYTE Z390 Aorus Master is a direct replacement to its last generation Z370 Aorus Gaming 7 model which was the captain and commander of the GIGABYTE's arsenal. With a price tag of $290, it's in direct competition with the MSI MEG Z390 Ace ($290) and the ASUS ROG Maximus XI Hero ($290). The only boards above this in the GIGABYTE Z390 product are the GIGABYTE Aorus Z390 Master Xtreme and Aorus Z390 Xtreme WaterForce models which represent some of the most extravagant and expensive models on the market.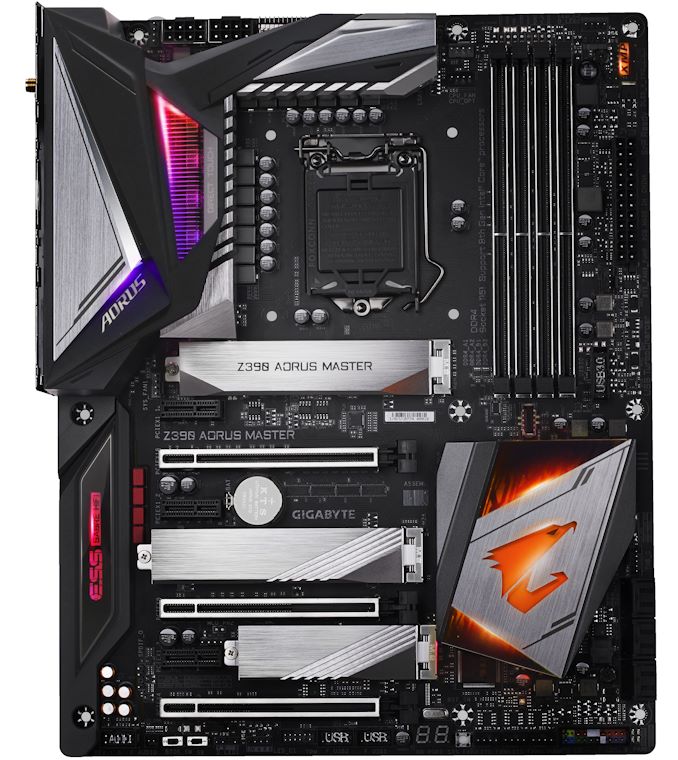 Across the entirety of the board is a wide host of visually pleasing PCB covering elements. These include a sophisticated looking rear panel cover, a chipset heatsink, and a audio PCB cover which all include integrated RGB LEDs supported by GIGABYTE's RGB Fusion 2.0. A large and robust L shaped finned aluminum power delivery heatsink and three M.2 heatshields not only vital cooling functionality but contrast nicely against the black PCB backdrop with their shimmery silver stylings. The same stylings can be found across the rear panel cover and chipset heatsinks. Users can add to the style of their system through two 5050 RGB headers and two addressable RGB headers; each addressable header has its own power select jumper. Also featured is the capability to install a Thunderbolt adapter due to an add-in card connector and a 2 x 6-pin TPM header.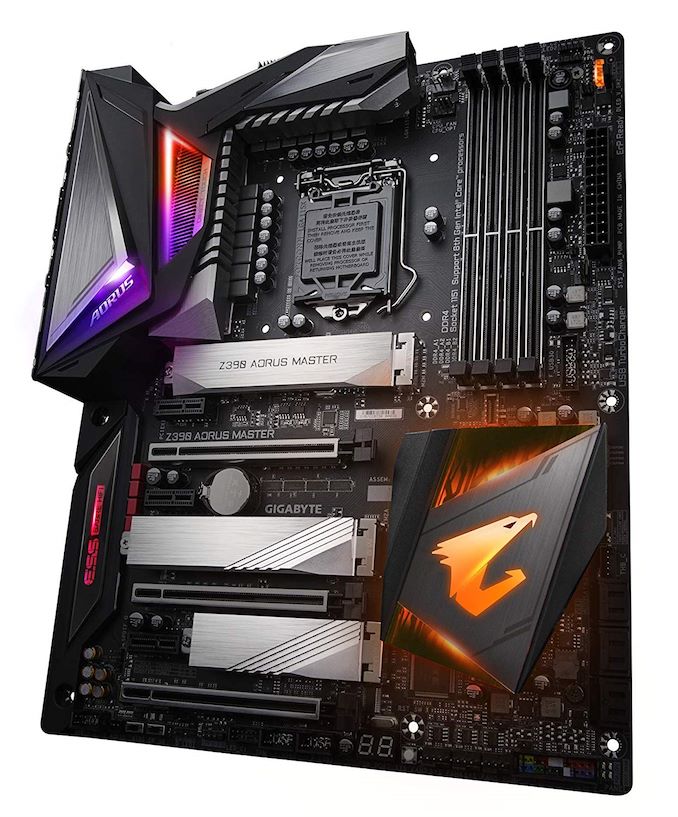 Touching on the PCIe layout of the GIGABYTE Z390 Aorus Master, there are three full-length PCIe 3.0 slots which feature metal slot reinforcement to protect against physical damage. The top two full-length slots take their bandwidth from the CPU and operate at x8/x8, with the third slot directly wired into the chipset and operates at just x4. This means users can use up to two-way NVIDIA SLI and three-way AMD Crossfire multi-graphics card configurations. Also included is three PCIe 3.0 x1 slots.
GIGABYTE Z390 Aorus Master PCIe Layout
Number of Installed
PCIe Cards on CPU
PCIe_1
PCIe_2
PCIe_3
x1
x16
-
-
x2
x8
x8
-
x3
x8
x8
x4
(from chipset)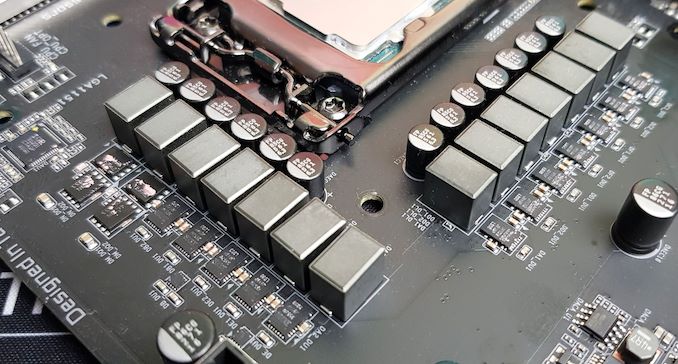 The power delivery on the GIGABYTE Z390 Aorus Master is quite simple to dissect with a robust looking 12+2 layout which technically runs with a 6+2 controller equipped with doublers. An International Rectifier IR35201 PWM 8-channel controller takes care of both the CPU VCore and SoC. A total of twelve International Rectifier IR3553 40 A IR power stages make up the CPU VCore with a total of six IR3599 doublers. On the SoC, GIGABYTE is using two 4C10N high-side and two 4C06N low-side MOSFETs. One noteworthy element is the power delivery heatsink itself which with its L shaped design looks and feels well equipped to allow it to run cool under full load; something a lot of manufacturers in the past have neglected to focus adequate attention on. Providing power to the CPU is a pair of 8-pin 12 V ATX power inputs which are slowing becoming a normal inclusion on mid to high-end desktop motherboards.

Z390 Motherboard Power Delivery Comparison
Motherboard
Controller
H-Side
L-Side
Chokes
Doubler
ASUS ROG Strix Z390-I Gaming
ASP1401CTB
(4+2)
ON NCP302045
(6)
11
-
ASRock Z390 Taichi
IR35201
(5+2)
TI 87350D (12)
ON FDPC5939SG (2)
14
IR3598
(6)
ASRock Z390 Taichi Ultimate
IR35201
(5+2)
TI 87350D (12)
ON FDPC5939SG (2)
14
IR3598
(6)
ASRock Z390 Phantom Gaming 9
IR35201
(5+2)
TI 87350D (12)
ON FDPC5939SG (2)
14
IR3598
(6)
GIGABYTE Z390 Aorus Master
IR35201
(6+2)
IR3553
(12)
14
IR3599
(6)
GIGABYTE Z390 Aorus Ultra
ISL69138
(6+1)
SiC634
(12)
13
ISL6617A
(6)
GIGABYTE Z390 Aorus Pro WiFi
ISL69138
(6+1)
SiC634
(12)
13
ISL6617A
(6)
GIGABYTE Z390 Aorus Pro
ISL69138
(6+1)
SiC634
(12)
13
ISL6617A
(6)
GIGABYTE Z390 Aorus Elite
ISL69138
(6+1)
SiC634
(12)
13
ISL6617A
(6)
GIGABYTE Z390 I Aorus Pro WiFi
IR35201
(6+2)
IR3553
(6)
8
-
GIGABYTE Z390 Gaming SLI
ISL69138
(5+2)
PPak
(10)
12
ISL6617A
(5)
GIGABYTE Z390 Gaming X
ISL69138
(5+2)
PPak
(10)
12
ISL6617A
(5)
GIGABYTE Z390 UD
ISL69138
(5+2)
PPak
(10)
12
ISL6617A
(5)
MSI MEG Z390 ACE
IR35201
(6+2)
ON4C029N
(12)
ON4C024N
(12)
13
IR3598
(6)
Supermicro C9Z390-PGW
PXE1610
(6+1)
PXM1310
(3+1)
TDA21232
(6)
TDA21240
(2)
8
-

Following on tracks of cooling, the GIGABYTE Z390 Aorus Master has a combined total of seven 4-pin headers which are split into three segments; one for a CPU fan, one for a water cooling CPU fan, two for water cooling/AIO pumps and four system fan headers. Located along the bottom of the board is two BIOS dip switches, two external temperature sensor headers, two USB 2.0 headers, a front panel connections header and a two-digit LED debugger.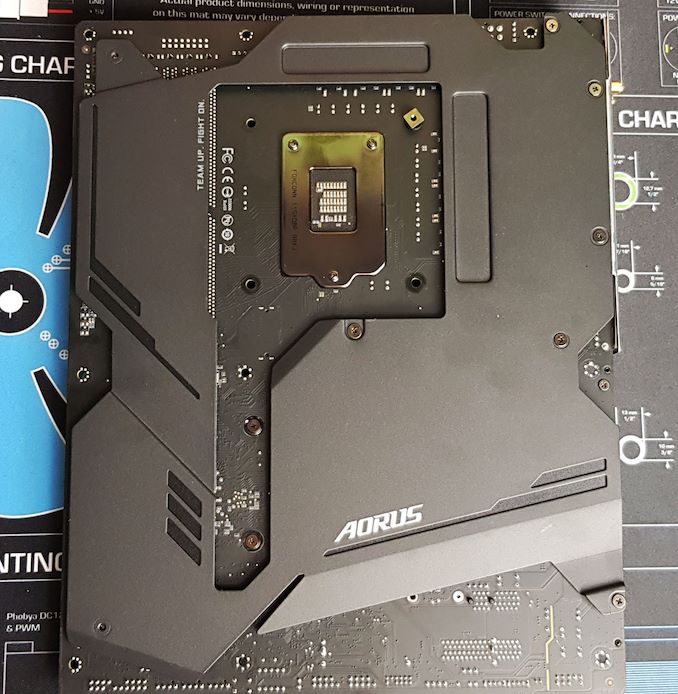 Over on the rear is a large steel brace which stretches across the majority of the PCB. This not only looks good and strengthens the boards overall rigidity. It's black in color and as expected, adds a large amount of weight to the board overall.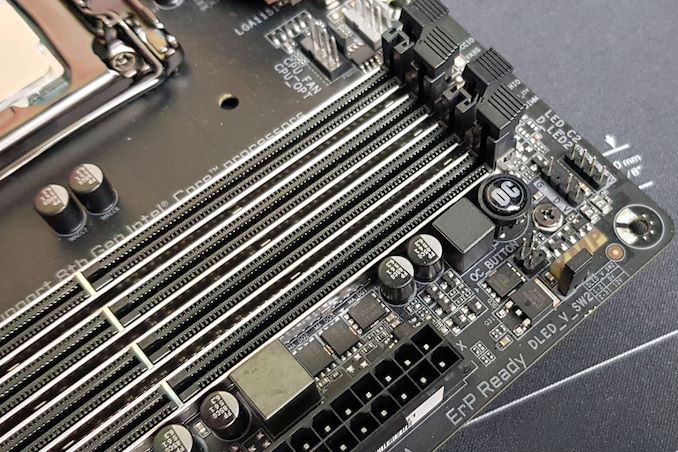 In the top right corner are a one-click GIGABYTE OC button and a set of voltage check points for users looking to monitor voltage accurately. These include points for CPU VCore, VCCIO, VSA, PCHIO, VPP_25 V, VDIMM and VAXG. Also located towards the top of the board is eight memory slots offering up to a maximum of 128 GB. The Z390 Aorus Master has official support for up to DDR4-4400 with support for ECC and non-ECC kits.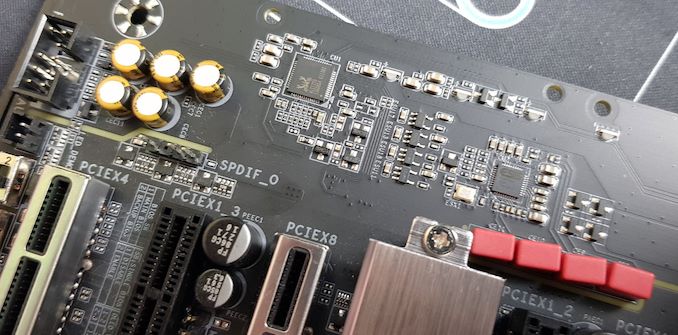 Removing the audio PCB cover reveals an interesting selection of components. GIGABYTE is well-known for focusing on audio performance and is using a premium Realtek ALC1220 HD audio codec to power its onboard audio. This is complemented by an ESS Sabre 9118 DAC which includes an integrated headphone amplifier and a total of five gold and four WIMA audio capacitors. There is some physical PCB audio separation which splits the analog signals from the rest of the board, but the Realtek ALC1220 itself doesn't feature any EMI shielding.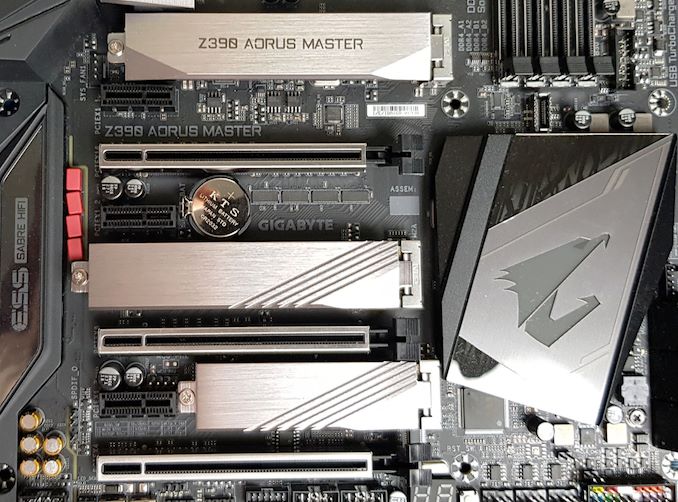 Storage options on the Z390 Aorus Master are comprised of six SATA ports with support for RAID 0, 1, 5 and 10 arrays. A total of three M.2 slots are present each with its own heatsink designed to keep those hot running NVMe based storage drives from throttling. The top two M.2 slots support up to M.2 22110 PCIe 3.0 x4 and SATA drives, while the third slot has support for up to M.2 2280 PCIe 3.0 x4/x2 drives. The Z390 Aorus Master also supports Intel's Optane memory.

Looking closely at the rear panel, GIGABYTE has opted to utilize the space with plenty of USB connectors and benefits from a pre-installed rear panel shield. There are three USB 3.1 G2 Type-A ports and a USB 3.1 G2 Type-C, with a further two USB 3.1 G2 Type-A ports that double up as USB DAC-UP 2 ports with adjustable voltage. Finishing off rear panel USB is four USB 2.0 ports. Users looking for more USB connectivity can use the USB 3.1 G2 Type-A (two ports) header and two USB 2.0 headers (four ports). A single USB 3.1 G2 Type-C front panel header is inconveniently located below one of the RAM slots clasps which could cause issues with users filling all the RAM slots up (see the final page for more info). Featured is a single RJ45 port controlled by an Intel I219-V 1 GbE PHY and two antenna slots for the integrated Intel 9560 802.11 1.73 Gbps capable Wi-Fi; this also offers users Bluetooth V5 connectivity and is backwards compatible with other Bluetooth standards.
Also located on the rear panel is a clear CMOS button and a power/reset switch which are located next to the Wi-Fi antenna adapters. Users looking to integrated graphics can do so with a single HDMI 1.4 output. The five 3.5 mm gold plated audio jacks and S/PDIF optical output are powered by a Realtek ALC1220 HD audio codec and unfortunately don't feature color-coded connectors.
What's in the Box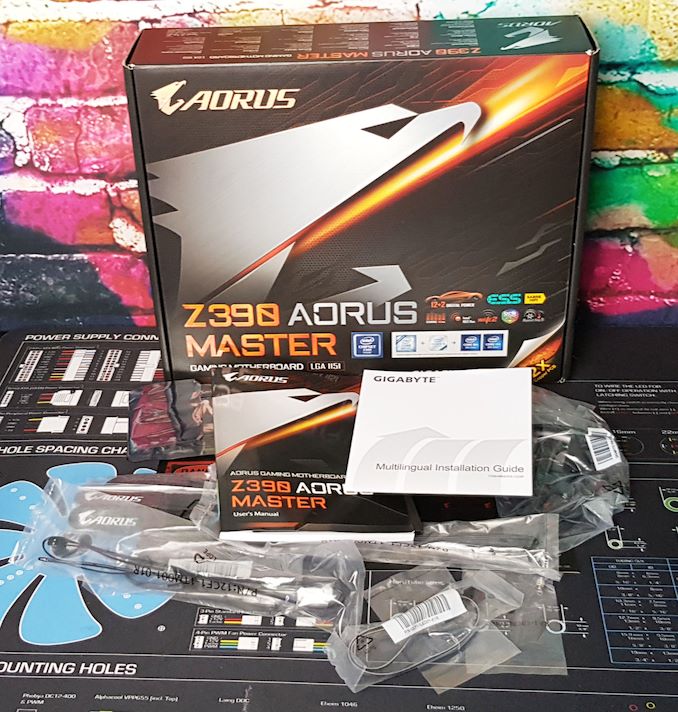 Accompanying the Z390 Aorus Master in the box is a varied selection of accessories. The most notable include four SATA cables, two thermal probes for the external temperature headers, a sticker sheet, two RGB LED extensions, two Aorus branded velcro straps and the antenna for the Intel 9560 802.11ac Wi-Fi CNVi. Also included is a driver installation disc, manual and NVIDIA SLI HB bridge.
Four SATA cables (two right-angled, two straight angled)
NVIDIA HB SLI bridge
Four RGB LED extension cables (two 5050, two addressable)
Two M.2 mounting kits with screws
Two Aorus velcro strips
Instruction manual
Driver/Utility installation disk
Sticker sheet
Quick install guide
Aorus case badge
G connector