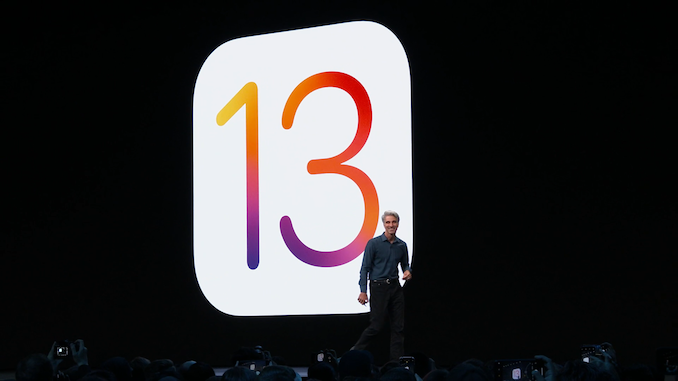 At today's WWDC event in San Jose, California, Apple unveiled the newest update to its iOS operating system, iOS 13, as well as its forking of iOS for tablet devices into a new dedicated OS: iPadOS. We'll be quickly covering the most important updates this year and see what's to expect of this year's newest features introductions.
System-wide dark mode
Most interesting visual change for iOS 13 is the addition of a new dedicated dark mode that switches the UI to a darker colour scheme that is easy on the eyes. Apple's implementation of the feature is similar to what we've seen by other mobile vendors: It's able to be quickly switched on or off, and also has a schedule feature which automatically adapts the mode based on time of day.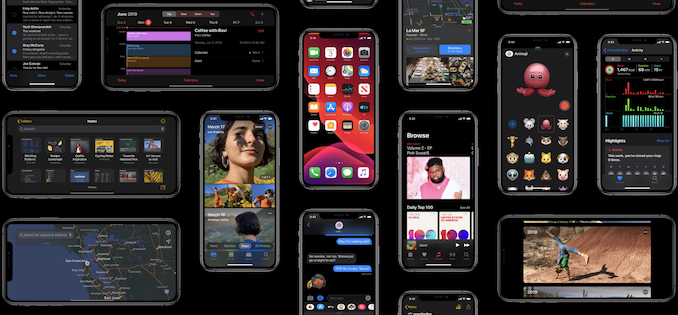 Wallpapers have been optimised to also feature variants for both light and dark mode themes. While dark mode isn't supported by third-party apps immediately, developers can update their apps with the new SDK and also integrate with the system-wide switch via an API.
Dark mode will best work on OLED devices and will such provide users with notable battery life improvements due to the lower power draw required to display darker content.
Advanced Photos Editing & Photo Arrangement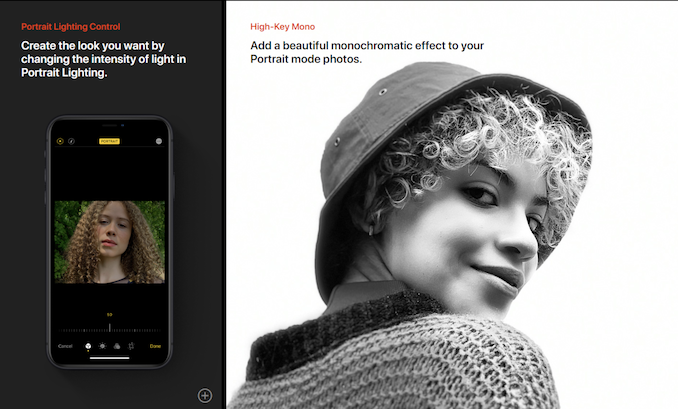 The new Photos app allows users to now more extensively edit photos with new advanced techniques. New controls include vibrance, white balance, sharpening, "definition" (clarity filter), noise reduction and vignette filters right from the photo app. Most importantly is the ability to now do advanced editing on video content as well, something that usually had to be done by editing on a dedicated device can now be done on your phone, and you can now crop, rotate, change exposure or apply filter right from your iOS device.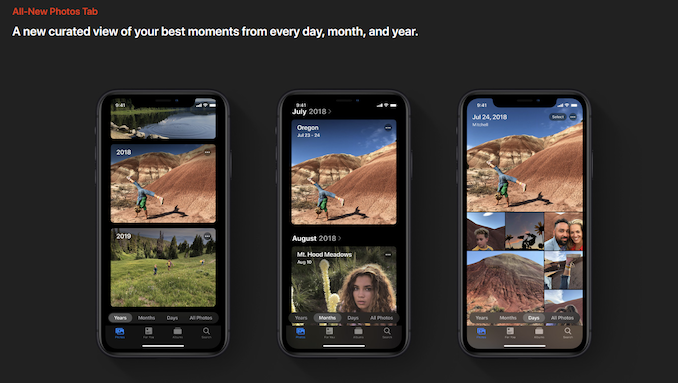 The album feature of the Photos app has also been massively updated. The device and iCloud will now sort your photos based on dates, being able to view group of pictures based on the day, month or even year they were taken, a feature that mimics the way Samsung's Gallery app has worked for a few years now. Furthermore the new app will be able to sort photos by events, able to better rediscover the collections in the future.
Portrait mode will now allow users to change the intensity and position of the lightning, giving much better control over their portrait shots and allowing for more customised lighting results.
Privacy & Security
Apple made a big emphasis on new privacy and security features in today's keynote event. At the heart of the new improvements for iOS13 is the new addition of a "Sign In with Apple" feature. The new feature, relatively self-explanatory in its name, is linked to your Apple ID instead of your traditional email account.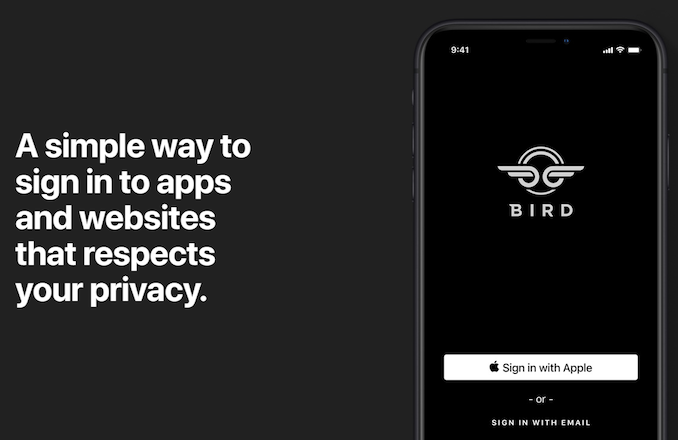 The cool thing about the new feature is that Apple enables a "Hide My Email" feature where it creates a unique alias for a given particular app or website. In Apple's privacy settings later you can have the alias forward emails to your real email or simply block emails if the third-party becomes a nuisance.
Part of the goal of increasing privacy and security, application location permissions will now work differently in iOS 13. You can now give out more fine-grained controls, such as only granting access once instead of permanently. Furthermore Apple will now notify you when an app is using your location, giving you the option to deny access.
A nifty new feature is that sharing photos will now give the option to strip off the location EXIF data based on your preference.
Maps With More Detail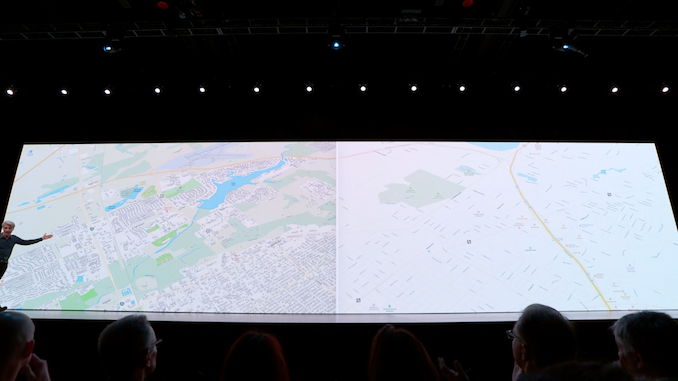 Apple has completely revamped the mapping data for its own Maps app. Using new LIDAR technology, satellite and mapping vehicles, the new Maps app delivers significantly more detail. New functionality includes collections of locations and favourites which gives you a better handle of your most common locations.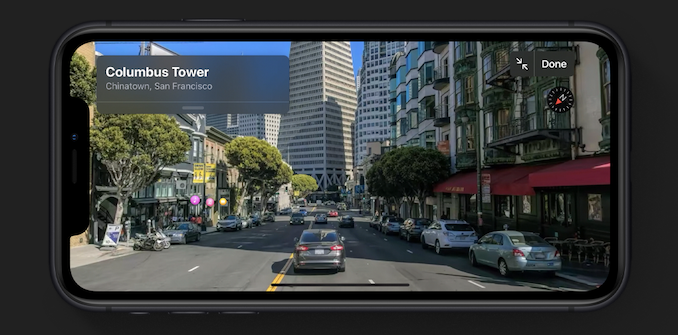 Apple also essentially introduces its own version of Google StreetView: The new 360° view of locations promises to offer a similar experience to what Google is able to achieve, but Apple's implementation seems a lot more seamless and in the event demonstration traveling along a route looks a lot smoother and eye-catching than what Google's implementation.
The big catch with the new mapping data is that it's only targeted to cover most of the US by the end of 2019 with some very limited European countries later in the year.
Memoji and Messages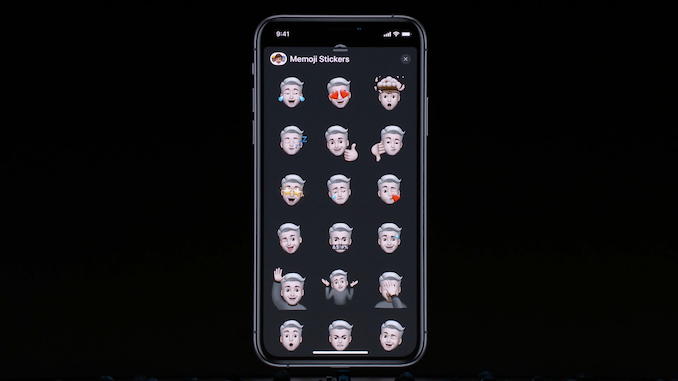 Devices with A9 chips or newer now support generation of your own Memoji stickers. Stickers are essentially static Animojis that you can send in Messages and integrate into the new keyboard.
Messages now also give the option for you to share your name or photo (or animoji or any other photo) when starting a conversation, so the receiver on the other end will immediately know who it is.
Swipe Keyboard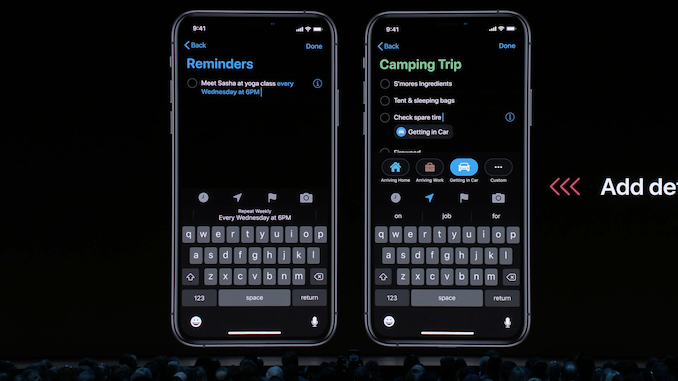 Existing for years on Android devices and third-party Android keyboards, Apple now finally introduces swipe to type on its default iOS keyboard with the adoption of QuickType. Frankly personally this is a huge deal as I haven't used a regular tap to type keyboard on my daily devices in like 5 years, so it's great to see Apple get on to the bandwagon for this feature.
Performance - 2x App Launch Speed
Last year's iOS 12 saw a large performance increase in overall user experience and responsiveness due to Apple's revamped scheduler and DVFS scaling speed. This year iOS 13 further enhances performance of devices, particularly application launch speeds.
Apple is now employing a new application packaging standard that vastly reduces the size of apps. New application downloads from the App Store are said to be 50% smaller, while application updates will be up to 60% smaller. The new app packaging also increases the application launch times by 2x, a significant upgrade over past generations.
Files - An Actual Filesystem??
Probably what is the single most significant update for iOS 13 was something that was covered in the iPadOS part of the presentation: Files support with full local storage.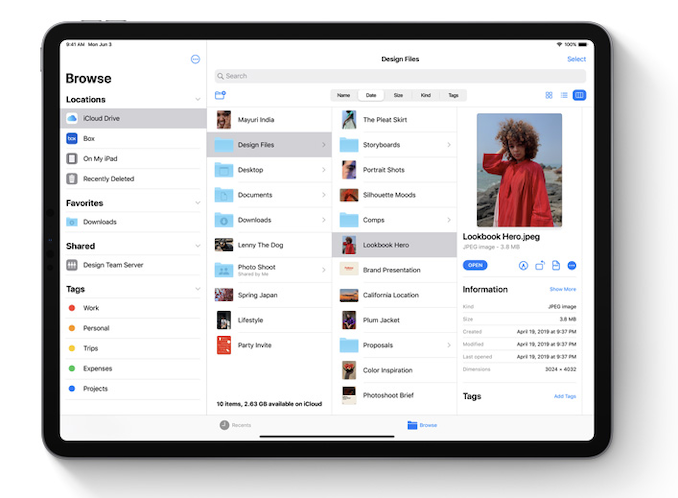 The addition of a files browser with full generic access to the local storage is finally resolving one of iOS's single biggest lackings since its inception over a decade ago. The new iOS 13 now supports showcasing of full file metadata, zipping and unzipping files, iCloud folder sharing and, crazy enough, a Downloads folder.
To blow your mind even further, iOS now will support external files on USB drives, SD cards or even hard drives. If this finally works as promised, it's a gigantic step for the usability of iOS.
Enterprise
Enterprise users will enjoy a new data-separation feature: It fully separates a user's usual data from corporate data, something that is targeted for "Bring Your Own Device" use-cases, and will be quite popular with a lot of enterprise users who sometimes will carry around two devices just because of enterprise usage restrictions.
Related Reading: