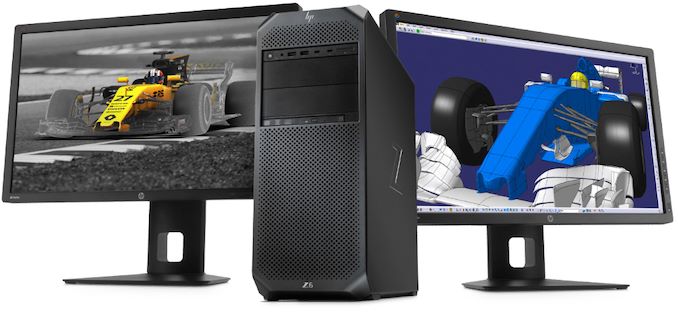 HP has started sales of its fourth-generation Z6 workstation, which pack one or two of Intel's Xeon Scalable processor, NVIDIA's Quadro RTX graphics cards, as well as up to 384 GB of memory. The new HP Z6 G4 machine is designed for graphics and compute intensive workloads and is aimed at VFX specialists, engineers and other creative professionals.
HP's Z6 G4 workstation is based on one Intel Xeon W CPU or two Intel Xeon Scalable processors, with up to 48 cores in total. The machine can integrate up to 384 GB of DDR4 memory with ECC as well as six PCIe add-in-boards. Since the workstation has two PCIe 3.0 x16 slots, it can also feature two NVIDIA Quadro RTX 6000 graphics cards. In addition, the system can pack multiple SSDs and HDDs that offer tens of terabytes of storage space.
The key feature of HP's Z6 G4 is its expandability and upgradeability. It may be configured with one Xeon W processor, but may be eventually upgraded to two Xeon Scalable CPUs using a special module. The machine comes with a 1000 W power supply, enough to feed the most power-hungry components.
HP's Z6 workstations cost starting from $1,829 and sit between the company's top-of-the-range dual-processor Z8 machine with up to four Quadro RTX 8000 graphics cards (which costs $2,489 and higher) as well as a more compact and affordable Z4 with two graphics cards that starts at $1359.
Like all HP Z workstations, the Z6 G4 comes with the company's Sure Start self-healing BIOS capability, HP Sure Run security feature, HP Sure Recover as well as a three-year warranty.
Related Reading:
Source: HP