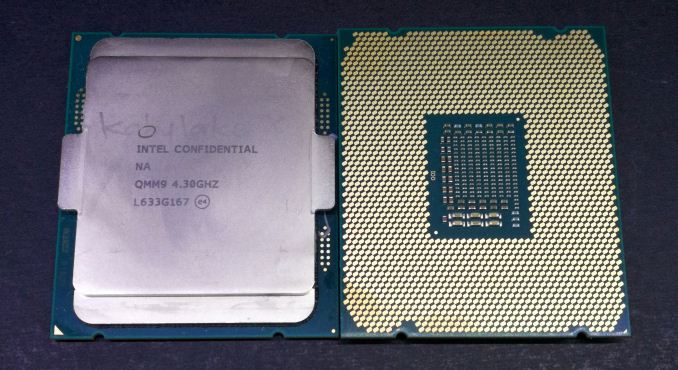 Motherboard firmware is a fickle thing: in order to support as many CPUs as possible, especially in the multi-core and turbo era, each processor has to have its own entry in the support table in the BIOS. With luck, some processor variants can share entries, but ultimately the more processors a platform supports, the larger the BIOS firmware tends to be. As we have moved from basic BIOS implementations to complex UEFI interfaces, the amount of free space inside BIOS firmware has reduced drastically.
As a result, in recent generations, we're seeing motherboards drop support for certain ranges of processors. Recently, a range of AMD AM4 motherboards have dropped support for the earliest A-series processors that were supported on the platform, mostly because these parts were not widely used at the end of the day. Now, Intel is doing the same thing: for users who invested in the X299 platform, in order to support the new Cascade Lake-X processors, that same BIOS version is unlikely so support the quad-core Kaby Lake-X processors.
Intel killed off the low-core count Kaby-X parts quite a while ago – they were only launched on the platform to afford the latest microarchitecture on the HEDT platform for users who wanted large memory sizes and the best single-core performance available. Due to the high price of X299 motherboards at the time, and the lack of additional PCIe lanes, the products received a poor reception, and the idea of this 'latest microarchitecture on low-core count HEDT' idea was quickly swept under the rug. Retailers got rid of Kaby Lake-X stock as well.

Some motherboard vendors may still support Kaby Lake-X, depending on the size of the BIOS chip used in their products. Typically a 2x increase in BIOS chip capacity affords a 3-4x BOM cost at the high-end, so you can imagine that motherboard vendors want to keep it efficient. Nonetheless, due to the latest flashy UEFI interfaces, what used to be a bunch of free space is now jam packed, and something has to give when new generations of hardware are released on the same platform.
With this new Intel Advisory, it ultimately should not affect most Intel HEDT users. If you were unfortunate enough to be a Kaby-X user, then it might not be worth upgrading your system BIOS ever again, unless you plan to upgrade in the future. For everyone else, it is business as usual.
Related Reading
Source: Intel