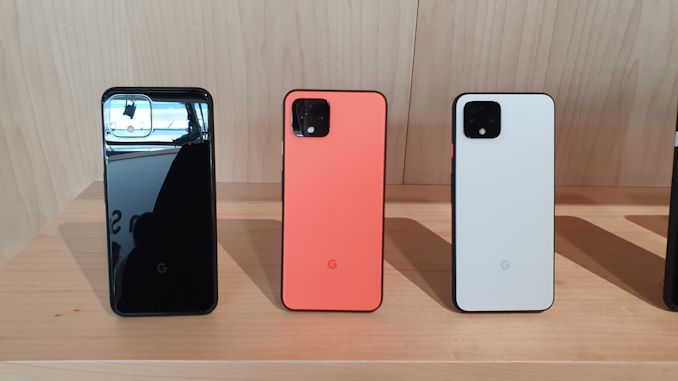 Today Google announced the new Pixel 4 and Pixel 4 XL flagship devices, representing Google's vision for 2019 and 2020. The new phones upgrade the hardware to the latest and greatest, such as introducing a new 90Hz display. The new phones come with a new design language that does differ more significantly from its predecessors, with some risky choices in terms of the new features that the new generation drops as well as adopts.
As always, Google prides itself in the camera of the Pixel phones and this year we kinda saw the new Pixel go against the flow of industry trends, and instead of adopting a much hyped ultra-wide-angle module, Google doubled down on a new telephoto camera. However Google's forte remains software, and here alongside new camera features, Google also brings new features to the table, such as a new upgraded voice recognition aided by machine learning that's been used both for the new Assistant, as well as new apps such as the live transcription recorder app.
Google Pixel 4 and Pixel 4 XL
AnandTech
Pixel 4
Pixel 4 XL
SoC
Snapdragon 855
1 x 2.84 GHz Kryo 485
3 x 2.42 GHz Kryo 485
4 x 1.78 GHz Kryo 485
Adreno 640 Graphics
DRAM
6 GB LPDDR4X
Storage
64 GB or 128 GB UFS
Display
5.7" OLED
2280 x 1080 (19:9)
90 Hz
6.3" OLED
3040 x 1440 (19:9)
90 Hz
Size
Height
147.1 mm
160.4 mm
Width
68.8 mm
75.1 mm
Depth
8.2 mm
8.2 mm
Weight
162 grams
193 grams
Battery Capacity
2800 mAh
3700 mAh
Charging
18 W Wired Quick Charge 2.0
Qi Wireless Charging
Rear Cameras
Main
12.2MP 1.4µm Dual Pixel PDAF
f/1.7 1/2.55" sensor with OIS
Telephoto
16 MP f/2.4 1.0 micron
PDAF, OIS, ~2x Optical Zoom
Wide
-
Extra
-
Front Camera
8MP 1.12µm f/2.0
+ ToF 3D Camera
I/O
USB-C 3.1 (5 Gbps)
No 3.5mm headphone jack
Wireless (local)
802.11ac Wave 2 Wi-Fi
Bluetooth 5.0 LE + NFC
Cellular
UE Category 18 (DL) / Category 12 (UL)
1200 Mbit/s DL (5xCA 2x2 MIMO)
150 Mbit/s UL
Other Features
Stereo Speakers
IP68
Android 10
Project Soli Radar Motion Sensng
No fignerprint sensor, face ID only
Dual-SIM
1x nanoSIM + 1 x eSIM
Colors
White
Black
Orange
Launch Price
€749 / $799 for 64GB
$899 for 128GB
€899 / $899 for 64 GB
$999 for 128 GB
Starting off with the hardware, Google's Pixel 4 and 4 XL are both powered by Qualcomm's Snapdragon 855. It's always a bit awkward to see the Pixel phones' launch schedule to be out of sync with the SoC generation launch schedule, but as in the past Pixel iterations it seems it hasn't handicapped Google's success with the devices too much.
Google upgrades the DRAM of the new models to 6GB of LPPD4X, and offers the models in storage variants of 64GB and 128GB of NAND. The latter is a bit unfortunate as we saw a lot of vendors move on to base storage models of 128GB this year, and the 128GB version does come at a $100 premium.
Other internal hardware changes aren't quite as attractive. Google, like many other vendors this year, wasn't able to integrate new WiFi 6 (802.11ax) into the phones this year, which is a pity.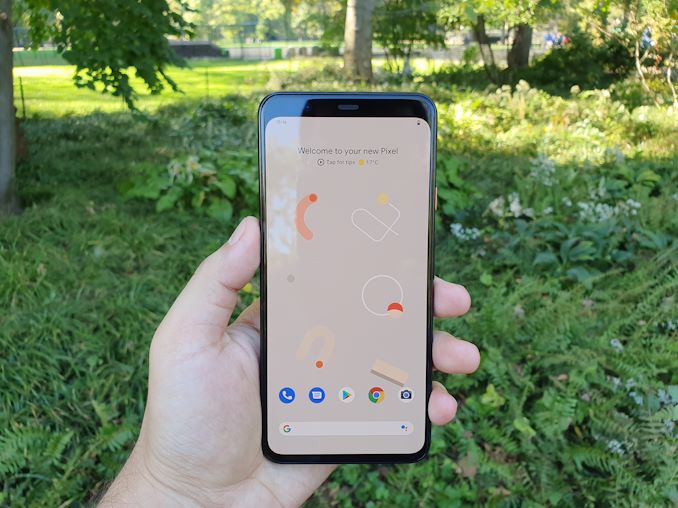 The battery capacities of the phones is also quite odd in terms of the changes made between the two generations: While the 4 XL now increases the battery capacity from 3430mAh to 3700mAh, the regular Pixel 4 actually decreases the capacity from 2915mAh to 2800mAh, which is now among the smallest batteries out there even though it remains a smaller device. The new capacities aren't very impressive when we consider that the new phones advertise 90Hz as a new feature of the display.
90Hz as shown off by OnePlus and a few other vendors this year has been touted as a killer feature, and in my opinion it does add a fantastic new aspect to user experience. Google's implementation doesn't have all applications running at 90Hz all the time - it's only available in a select amount of apps, which I'll still have to dwell into more thoroughly. In my short time since I had the phone I did notice that it's very conservative in its enablement, basic applications such as the browser seem not to be enabled for 90Hz. Thankfully, Google does have an option to force on 90Hz all the time in the developer options which makes things a lot more straightforward in terms of taking advantage of the new hardware capability.
The displays come in a new aspect ratio of 19:9 which elongates things a bit compared to last year's 18:9 and 18.5:9 aspects of the Pixel 3 and 3 XL. Resolution remains 1080p for the Pixel 4, and 1440p for the Pixel 4 XL - which makes sense in terms of their resulting PPIs.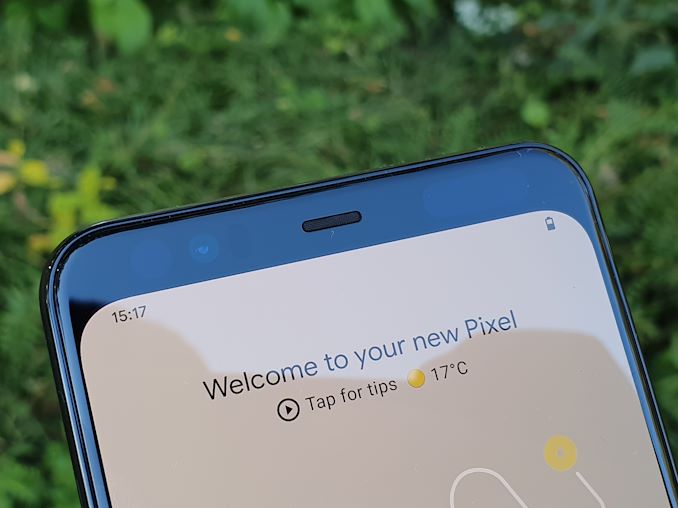 A big design change is that now both units have the same overall device symmetry - meaning the 4 XL no longer has the atrocious display notch of the 3 XL. Both units retain a larger upper bezel area in which Google fits the cameras as well as the new sensors.
The big new addition in terms of the sensors is the new Soli radar chip. Google's goal here is to enable motion sensing navigation, Minority Report style - and to do it more efficient and a lot more precisely than what has been possible by other implementations out there such as LG's ToF sensor motion control feature attempt. I'll have to investigate this a bit more, but currently it feels like the software use-cases for the feature are a bit meager - so definitely this will be a hit or miss just depending on how Google is able to have apps take advantage of the new controls.
The big feature oddity is that Google has made some compromises: There no longer is a fingerprint scanner on the phone, and now the Pixel 4s have to solely make due with facial unlocking. Google says it's going to be the fastest implementation out there, but we'll have to see how it ends up in practice. I do feel as if they could have had the secondary under-display fingerprint sensor like many other vendors as an alternative option.

Also a sort of a side-grade seems to be the speaker setup. Google has dropped the dual front-facing speaker setup last year for a more conventional top earpiece + bottom firing main speaker setup. A very quick audio check pointed out to some disappointing sound quality that doesn't really compete with other 2019 devices.
The phone comes in three colors: white, orange and black. The former two options have the matte etched glass finish that's definitely quite great in feel - while the black option retains a regular glossy glass.
The frame of the phone is said to be made out of aluminum, but it's coated in a hybrid material that's definitely not something that's been adopted before. It's a coarse matte finish that feels a bit weird and definitely something to get used to.
The dual-front facing cameras on the Pixel 3 are gone and we now solely see a single module. The space of the second camera is now taken up by a near infrared flood emitter, dot projector, and two NIR cameras, which enable the new face unlocking.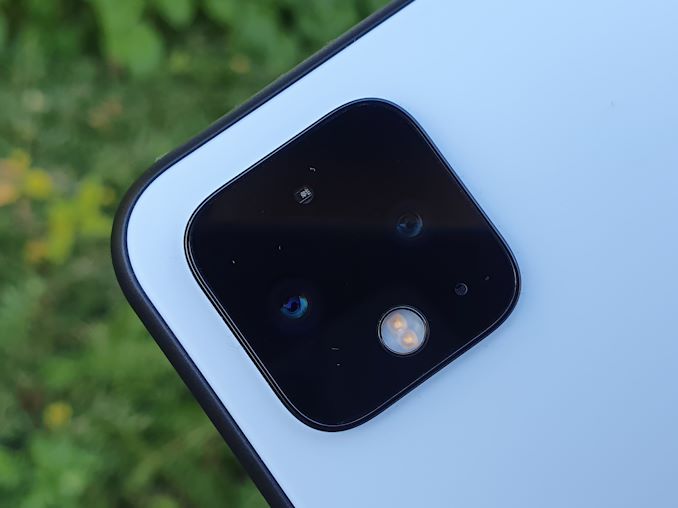 In terms of the new rear cameras, the main unit seems relatively unchanged in its features. It's still a 12.2MP sensor with 1.4µm pixels, although a Google representative hinted that it might be a newer sensor with better noise characteristics. The aperture has widened from f/1.8 to f/1.7, and the module retains OIS.
In terms of the secondary camera, Google really went full on against the flow in the industry and instead of adoption a ultra-wide-angle, has opted to employ a telephoto module for optical magnification. Google explains that it currently sees more sense and worth in a telephoto module compared to the UWA, a certainly polarizing decision.
The telephoto module is a quite higher resolution 16MP unit and has an aperture of f/2.4. The combination of a higher resolution optical telephoto module with Google's super zoom algorithm is said to be extremely capable and resulting in very high quality pictures.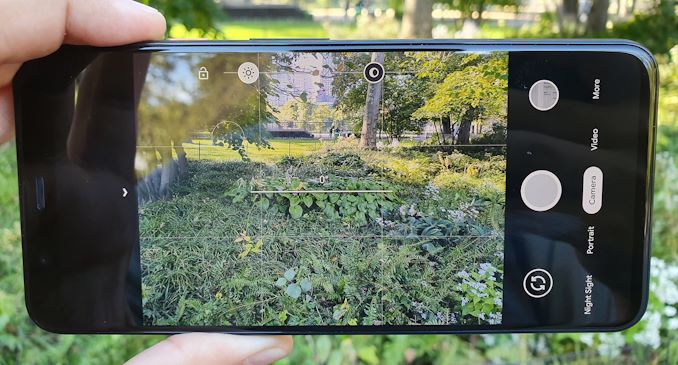 On the software side of things, Google's new camera now introduces dual exposure controls where you can individually adjust highlights and shadow exposure before a capture, allowing one to better create good compositions. I noted that you first have to tap on the viewfinder and expose for an element of the scene in order to have these controls show up.
Night Sight is now improved, and will be able to achieve better low-light capture ability. One aspect that was put under the spotlight is the ability for the phone to take viable astrophotography pictures, albeit it's recommended to use a tripod or prop up the phone for this to work best.
Overall, the new Pixel 4 phones look interesting, and I think their success will depend solely on how the battery life of the 90Hz display ends up, and also if Google's camera has seen other improvements besides the aforementioned new features.
Google's pricing this year is identical to last year: The Pixel 4 starts at $799, while the 4 XL starts at $899, with the 128GB variants coming with a $100 premium.