Sequential Read/Write Speed
To measure sequential performance we ran a 3 minute long 128KB sequential test over the entire span of the drive at a queue depth of 1. The results reported are in average MB/s over the entire test length.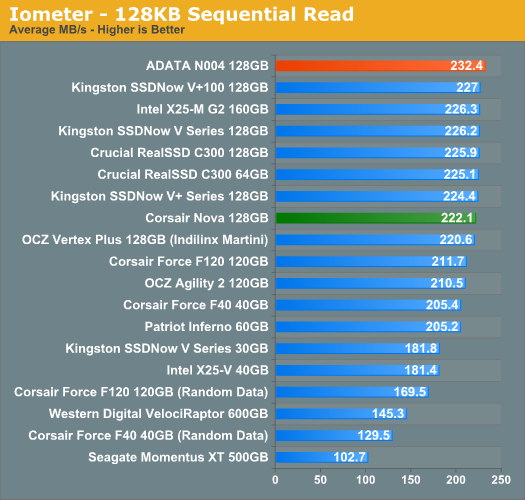 This is one area where the Indiilinx controller doesn't look aged, sequential read performance turns in the best figures we've seen to date.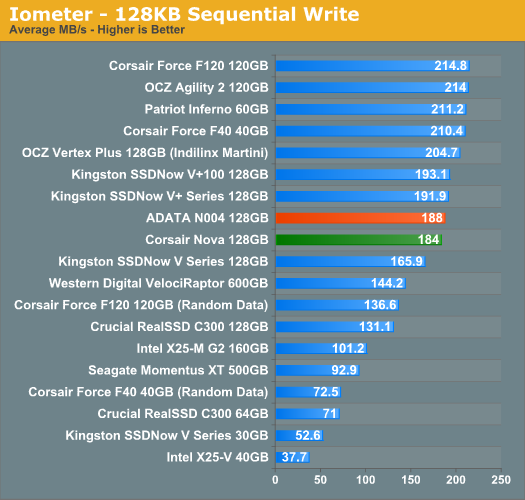 Back to normaility on sequential writes; certainly not one of the Barefoot's strong points.
Final Words
The ADATA N004 series ceratainly stands alone from a connectivity standpoint. Whether or not that's enough to sway the purchasing decision of anyone in the market for fast external storage though, largely hinges upon how vendors like Kingston decide to price external drives based upon the Toshiba T6UG1XBG controller. Over USB, Toshiba's controller is far more adept at sustaining performance under real world usage scenarios than the Indilinx Barefoot. It takes several hours for the Barefoot to return to optimal performance after stress while Toshiba's controller regains composure within an hour. So if you're looking for a drive that can handle the rigors of daily use while maintaining a decent level of overall throughput, we'd probably wait on pricing from Kingston before commiting to buy.
The combination of a more attractive price than OCZ's Enyo together with SATA connectivity does however give ADATA a small window of opportunity to captialize on a niche market-space in the meantime. Granted, we can't see many users out there that will be moving the N004 around between ports in such a manner, unless involved in some form of system setup/maintenance where there's a need for making quick drive images and such. If that sounds like you, the N004 isn't a bad option at the present moment if you can accept the limitations of the Indilinx Barefoot controller.