Meet the HP Mini 5103
Netbooks are all so similar in terms of performance that it's difficult to get excited about reviewing "yet another netbook". Aesthetics and build quality may change, but outside of features like NG-ION or the use of an SSD, there's not much new under the sun. However, one Atom variant that we haven't had a chance to actually test in house is the dual-core Atom N550. With support for DDR3 memory and a second Hyper-Threaded core, can this "high-end" Atom change our feelings? If you read our ASUS 1215N review, you probably already know the answer, but it's always good to get concrete numbers.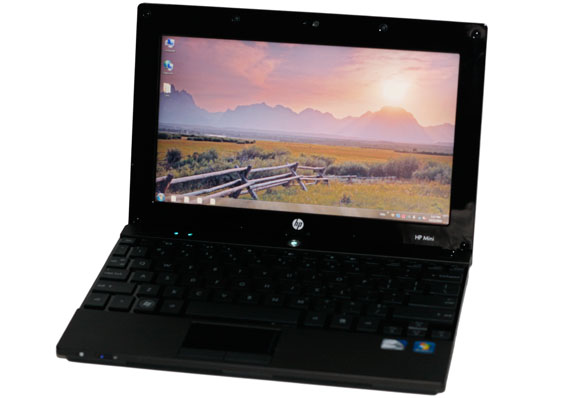 Besides being our first look at a dual-core Atom N550 netbook, HP's Mini 5103 packs in just about every other extra you can imagine. The test unit includes a multi-touch 1366x768 display, 2GB DDR3, Bluetooth, Gigabit Ethernet, and a Broadcom Crystal HD decoder—just in case you want to watch a 1080p H.264 movie on your 10.1" LCD. As with the Mini 5102, the 5103 is also one of the best looking and well-built netbooks to hit our labs. Unfortunately, the pricing puts it into the realm of much faster ultraportables, but if you want the combination of features HP provides—and your company is willing to foot the bill—it's a decent little machine.
HP Mini 5103 Specifications
Processor
Intel Atom N550
(2x1.50GHz + SMT, 45nm, 2x512KB L2, 667FSB, 8.5W)
Chipset
Intel NM10
Memory
1x2048MB DDR3-1333 @ DDR3-667 5-5-5-15 Timings
Graphics
Integrated Intel GMA 3150
Display
10.1" Multi-touch LED Matte 16:9 768p (1366x768)
(CPT CLAA101WA01)
Hard Drive
2.5" 160GB 7200RPM 16MB
(Western Digital WD1600BEKT-60V5T1)
Networking
Marvel Yukon 88E8059 PCIe Gigabit Ethernet
Broadcom BCM4313 802.11b/g/n WiFi
Broadcom 2070 Bluetooth 2.1
WWAN (Optional)
Audio
IDT 92HD75B2X5 2-Channel HD Audio
(2.0 Speakers with headphone/microphone jacks)
Battery
4-Cell, 14.8V, 1900mAh, 29Wh
Front Side
None (Speaker Grille)
Left Side
2 x USB 2.0
Heat Exhaust
VGA
AC Power Connection
Right Side
SD/MMC reader
Microphone/Headphone Jacks
Gigabit Ethernet
1 x USB 2.0
Kensington Lock
Back Side
None
Operating System
Windows 7 Professional 32-bit
Dimensions
10.3" x 7.09" x 0.91" (WxDxH)
Weight
2.64 lbs (with 6-cell battery)
Extras
2.0MP Webcam
82-key keyboard
Broadcom Crystal HD (Optional)
Office 2010 Starter
HP DayStarter
HP QuickSync HP QuickWeb
HP ProtectTools
Warranty
1-year standard warranty
Price
Starting at $399
As configured: around $688
Outside of the change to the CPU and memory, about the only other noteworthy update compared to the older 5102 is the move to an espresso (dark brown) finish. HP informs us that this was done in response to customer feedback, and the espresso color doesn't show fingerprints quite as much as the old black. We do have to point out a few items on our test system that we could no longer find on the HP site. First, our netbook shipped with Windows 7 Professional as opposed to Starter or Home Premium. Second, it has a 768p multi-touch LCD, while we could only find a 1024x600 multi-touch option online now.
With all the upgrades in place, the final price comes in just under $700. For that much money, you can find a wide variety of netbooks and laptops, but HP includes some other value added items you won't find in most netbooks. As with the 5102, build quality and the keyboard are substantially better than any other netbook we've encountered, which adds to the cost. The basic model at $400 lets you get just the build quality and a typical Atom N455 + 1GB DDR3 setup. If you want more, you have to go to a configurable model and start choosing extras (with prices starting at $522). Unless you get a discount code or other special offer, the configurable models carry a hefty price premium; luckily, such codes are frequently available, and you can always try calling HP direct to see if they can make you a better offer.)
Breaking down the upgrades: $40 moves you up to Win7 Home Premium (and Professional would cost even more!), and you also need $25 for the 2GB RAM upgrade (not available with Win7 Starter); add $25 for a 768p LCD, and an additional $25 to go to 600p with capacitive multi-touch; the CrystalHD decoder is a big add-on at $45, and Bluetooth is another $18; finally, the N550 model costs $20 more than the N455 version. Put it all together and you basically get what you pay for—provided you think the starting price is acceptable. As a point of reference, the ASUS Eee 1015PEM-MU17 starts at around $340 online, with an Atom N550 and 1GB, but it lacks Bluetooth, Gigabit Ethernet, and several other features on the HP. Barring any other discounts, you're looking at a nearly $200 premium to move to the 5103.
As a parting shot on pricing, you can also find pre-configured HP Mini 5103 netbooks from a variety of resellers; the cheapest starts at $384, and it looks like Atom N550 would only bump the price up around $40. Unfortunately, no one appears to offer any pre-configured N550 models, so you have to go straight to the source. We've heard comments in the past that suggest you can get substantially better pricing on the configurable models if you call HP (one reader claimed a 28% discount on an EliteBook), so if you're in the market for this type of netbook it can't hurt to call; $500 would be far more impressive than the current $700 price tag.