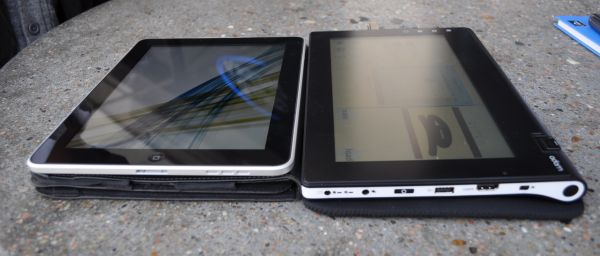 2011 is the Year of the Tablet. With all due respect to the rabbit, who would have otherwise been assigned to this year, I think the tablet has earned the right of representing 2011. If you followed CES at all this year, you'd know why.
I decided pretty early on that I would make a huge post with all the tablets we looked at instead of posting each one individually, simply because the sheer number of tablets on the show floor meant that I would have taken over AnandTech's front page with tablet-related posts. It would have been impossible to cover all the new tablets, but I think we managed to get our hands on most of the high profile tablets in addition to some of the more promising new tablets out there.
Everyone, it seemed, was debuting a new tablet. The usual suspects were out in full force, with Motorola showing off the first Honeycomb tablet to hit the market, ASUS releasing a quartet of highly specced tablets, Dell's 7", Tegra 2-based follow-up to their first Streak tablet, Acer coming up with new 7" and 10" Honeycomb tablets, Samsung releasing a convertible slider PC tablet to go with the newly LTE-infused Galaxy Tab, and RIM showing off the PlayBook prior to its imminent launch this quarter.
But they weren't the only ones. Notion Ink had the production Adam on hand, with the first US shipments going out this week. Panasonic's Viera range of tablets was unexpected to me, since it's been ages since Panasonic had a consumer-level computing device in the US. Razer debuted a pretty sweet looking dual screen gaming tablet running Oak Trail and Windows, though we didn't get a chance to go hands on with it. And then there were new companies like Enspert coming out of the woodwork with new devices amongst all the big launches. So let's get this party started.