Physical Impressions
The button arrangement on SGS2 continues the trend set by the international version of the original SGS, and eschews the search button, instead going with (left to right) menu, home, and back. Of course, regional variants are going to have different button arrangements, but this three-button approach seems to be a mainstay of the international market. When I hand the phone to most people, there's usually a bit of confusion about what the home button does, and many mistake it for an optical or capacitive trackpad. Instead, the button is just that - a button. They're backlit, and there are options to define backlighting behavior in the stock ROM - when in the dark, for a few seconds, and so forth.
Update: You can alternatively search by pressing and holding menu. Thanks everyone!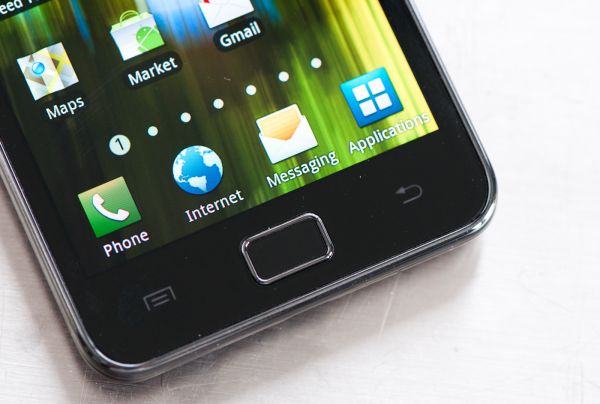 I have to be honest that continuing to shun the search button confuses me. Not just because not having it means we can't run kwaak3 and get to console without lots of work, but because not having it made me realize how much I use it. Thankfully almost everywhere that I'd use the search button there's a contextual shortcut - menu, then search. It's just an added button press in the occasional spot, which can be alien if you're used to having that button.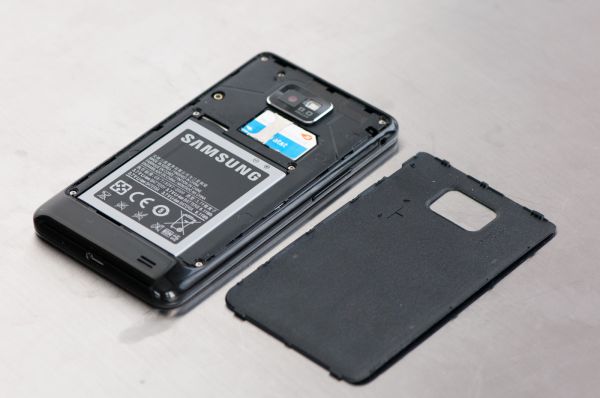 As I mentioned earlier, the battery cover is one piece of plastic which pries off and is held on with clips. It isn't particularly sturdy, so thankfully getting the battery cover off isn't a harrowing experience. Underneath is the SGS2's large 6.11 Whr battery, microSD slot, and SIM slot. The microSD card can't be accessed without a battery pull, and the card clicks in and clicks out. You can get the SIM out without a battery pull, however, and word has it you can even change SIMs without rebooting despite the prompts. At the very top is a ribbon antenna which is pretty evident, and below that is the camera module with adjacent LED flash.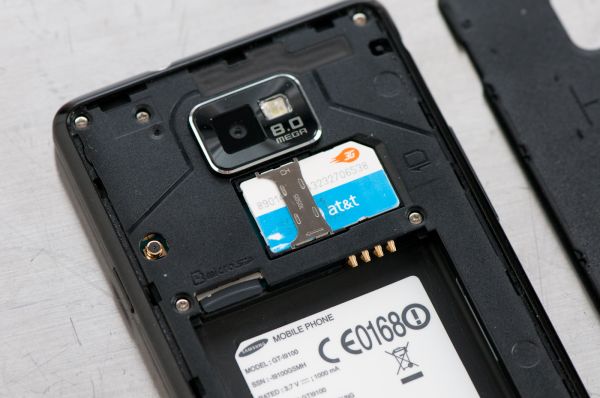 There's really not much to say about the phone with the battery cover off, everything is perfect here, and it's clear just how much of the device's internal volume is dedicated to the SGS2's relatively large 6.11 Whr battery.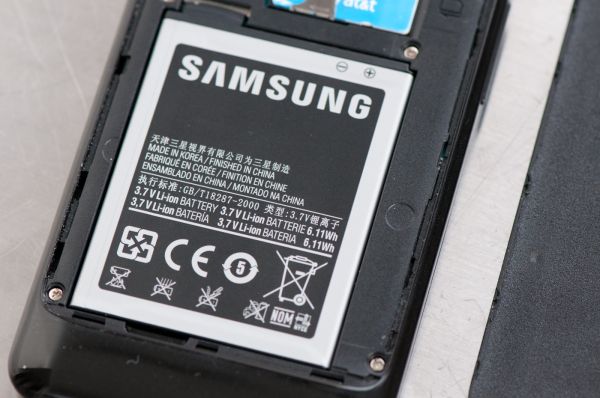 Overall the SGS2's in-hand feel is much better than its predecessor - it's incredible how much a different back texture and 1.6mm of reduced waistline can make a phone feel. Where I waver back and forth is the weight department. The competition has largely gone in a design direction that employs metal and thus results in heavier devices. As a result, SGS2's light weight seems to imply a certain level of cheapness where really there is none. I guess that's the problem - even though SGS2 has metal internally for structure, the exterior is entirely plastic, and that's what's ultimately the material that sets user perception. The good thing is that though it feels light, SGS2 has solid build quality.
There are no rattles when the vibrator is going, no flimsy parts that might snap off or break (like the old microUSB door), and few places where dirt can encroach. There's also very little flex. It's impressively solid after you get over the hurdle that is its light weight.
Physical Comparison
Apple iPhone 4
HTC Sensation
Samsung Galaxy S
Samsung Galaxy S 2
Height
115.2 mm (4.5")
126.3 mm (4.97")
122.4 mm (4.82")
125.3 mm (4.93")
Width
58.6 mm (2.31")
65.5 mm (2.58")
64.2 mm (2.53")
66.1 mm (2.60")
Depth
9.3 mm ( 0.37")
11.6 mm (0.46")
9.9 mm (0.39")
8.49 mm (0.33")
Weight
137 g (4.8 oz)
148 g (5.22 oz)
119 g (4.20 oz)
115 g (4.06 oz)
CPU
Apple A4 @ ~800MHz
1.2 GHz Dual Core Snapdragon MSM8260
1.0 GHz Hummingbird S5PC110 Cortex A8
1.2 GHz Exynos 4210 Dual Core Cortex A9
GPU
PowerVR SGX 535
Adreno 220
PowerVR SGX 540
ARM Mali-400
RAM
512MB LPDDR1 (?)
768 MB LPDDR2
512 MB LPDDR2
1 GB LPDDR2
NAND
16GB or 32GB integrated
4 GB NAND with 8 GB microSD Class 4 preinstalled
16 GB NAND with up to 32 GB microSD
16 GB NAND with up to 32 GB microSD
Camera
5MP with LED Flash + Front Facing Camera
8 MP AF/Dual LED flash, VGA front facing
5 MP AF, VGA front facing
8 MP AF/LED flash, 2 MP front facing
Screen
3.5" 640 x 960 LED backlit LCD
4.3" 960 x 540 S-LCD
4.0" 800 x 480 SAMOLED
4.27" 800 x 480 SAMOLED+
Battery
Integrated 5.254Whr
Removable 5.62 Whr
Removable 5.92 Whr
Removable 6.11 Whr