The iPad (3) took front row during the recent launch extravaganza, however Apple also refreshed their Apple TV with a new model sporting a single core A5 SoC and some other noteworthy tweaks. We've spent some time with the new model since its launch, and have found a few interesting new things lurking inside. In addition to decoding 1080p iTunes content as well as YouTube and Netflix streams, the new Apple TV also includes a second WiFi antenna with better gain, which translates to improved reception and network throughput.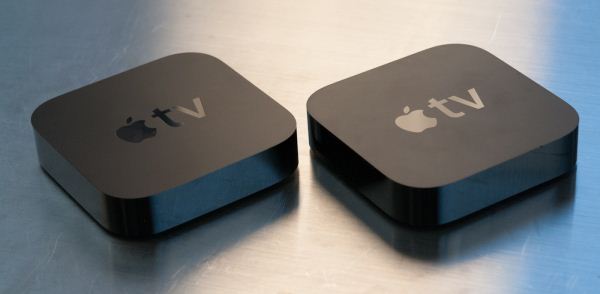 Quick, from the photo above, can you tell which Apple TV is the third generation device? Externally, the Apple TV 3rd generation is virtually indistinguishable from the Apple TV 2nd generation. The new device keeps the exact same dimensions and mass, in fact, during my testing the only way to tell the two apart was to compare the model number at the bottom. This is pretty unsurprising for an Apple product cycle, where you see successive generations inherit the same external design even as internals evolve or change dramatically. On the box, the new Apple TV 3 now includes both a 1080p marking and an Energy Star logo, something the previous model didn't.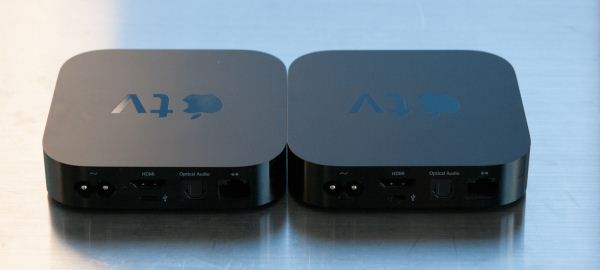 Ports on the backside are unsurprisingly identical as well, as are the material choices. I've managed to leave quite a few scratches in the back of my Apple TV 2 over time, and the same glossy (if somewhat scratch-prone) plastic rings the device. No doubt that plastic choice was made originally both for RF propagation characteristics (low density, probably low carbon) and also so that IR works in the front. The real change again is that the Apple TV 3 now supports 1080p50 and 1080p60 over HDMI, where the previous Apple TV 2 only supported 720p50 and 720p60 at maximum over HDMI. Ethernet is still 10/100, there's still a microUSB port for restoring and flashing, and full size optical TOSLINK.
At the risk of sounding redundant, the accessories and remote inside are the same as the Apple TV 2 as well, namely an aluminum IR remote and the same length power cable. I don't think Apple's neat little aluminum remote needed any changing, nor did the power cable, but it's worth noting. The obvious upside is that if you're upgrading, everything about the current setup (power cable, HDMI, and space required) has stayed the same. If you're as obsessive about having a neatly wired home theater cabinet or stand as I am, this is definitely an upside.