So we have survived one of the biggest days of the year for all things computer performance related - the release of Intel's new Ivy Bridge processor. It replaces Sandy Bridge in the landscape of all things processor related, with Ivy Bridge boasting better single threaded performance at lower power usage when at stock speeds. Despite Ivy Bridge being in the same socket as Sandy Bridge, we have a new trio of chipsets to tackle. As in my previous chipset and motherboard preview, AnandTech has a series of boards ready to put through their paces with the glory of Ivy Bridge. Today we begin with the first set of boards - the ASRock Z77 Extreme4, the ASUS P8Z77-V Pro, the Gigabyte GA-Z77X-UD3H, and the MSI Z77A-GD65.
ASRock Z77 Extreme4 - Overview
In the early reviews of a new chipset, and a new processor, there is often a delay between initial testing and understanding a platform. In this circumstance, ASRock have the dubious honor of being my first victim for Ivy Bridge. Typically the lower end Extreme models from ASRock have solid performance, are priced extremely competitively and come with many extras. In this case, the Z77 Extreme4 board currently retails for $140, but does not come with a lot more than the board itself.
From the results, we notice that ASRock is perhaps a little behind. However, this is more indicative of a larger issue regarding certain options that motherboard manufacturers are implementing to appear to be better in multithreaded scenarios. It boils down to how each manufacturer implements turbo modes. So there is a big chance we will see these 'tweaks' being implemented on future BIOSes across all the motherboard manufacturers, including ASRock.
The BIOS and software are ASRock standard, with XFast USB providing faster speeds for an individual USB port, XFast LAN allowing configuration of the network controller, and XFast USB giving RAMDisk options for large memory configurations. The software is spread across several programs, which perhaps in the future will be integrated into one interface. I do like the Internet Flash feature in the BIOS though, which downloads the latest BIOS and applies it without ever needing an operating system (as long as the motherboard is connected to the internet via Ethernet).
One 'issue' I had (which I have experienced on the past few ASRock boards I have tested) was that by default the CPU fan speed is set at 100% to minimize temperatures on the CPU. The downside of this is increased noise, so users should be aware and adjust accordingly. The fan controls themselves are not very sophisticated compared to other manufacturers, so I hope these will evolve over time.
Overall, the board is very easy to use, but the package as a whole which backs ASRock's products has room to grow.
Visual Inspection
ASRock is still insistent with bringing the black gold philosophy to its range, as seen here with the Z77 Extreme4. The main point you may immediately notice is the size and depth of the heatsinks covering up the power delivery - they are smaller than previous iterations of ASRock boards, and no longer connected via a heatpipe. This is indicative of quite a few boards in the Z77 range, due to the low power requirements of the new processors and as a result, the lack of heat given away.
The socket area is relatively clean, especially to the south where we have no large intruding heatsink. The VRM heatsinks however do brush right up against the Intel specifications for the socket area, so users ultimately have only two directions (to the PCIe and towards the memory) in which to play around with big air coolers. The socket area is adorned with five fan headers - three along the top edge of the board and two chassis headers near the top PCIe x1 slot. The other header on board is along the bottom next to the two-digit debug.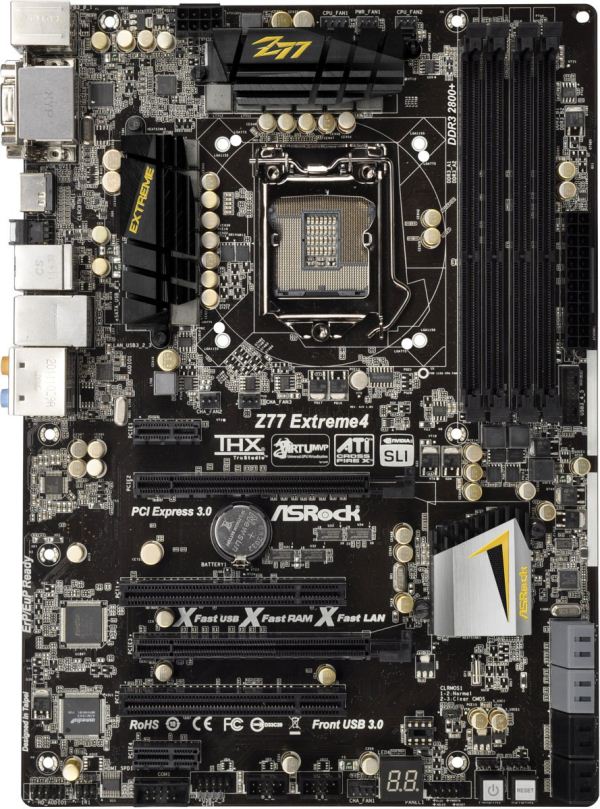 The board is actually not a full ATX sized board - from left to right, it measures only 21.8 cm, rather than the standard ATX size of 24.4 cm. As a result, this means ASRock do not have to deal with the far right holes in the motherboard for case mounting, and hence why the SATA ports in the bottom right are neatly tucked away. In this corner, we have the six SATA ports from the PCH (two SATA 6 Gbps, four SATA 3 Gbps) and another two from an ASMedia ASM1061 controller (SATA3_A1 is shared with an eSATA port, however). The internal USB 3.0 header is located nearer the 24-pin ATX power connector, perhaps indicating that is for both front case use and rear case use, taking up the space where the first PCIe x1 is.
The chipset heatsink is rather small, compared to Z68 and X79 boards, and is not connected via heatpipe to any other heatsink nearby. On the south side of the board are the standard array of audio and USB headers, along with a fan header and power/reset buttons. It is good also to see the two-digit debug on the board as well.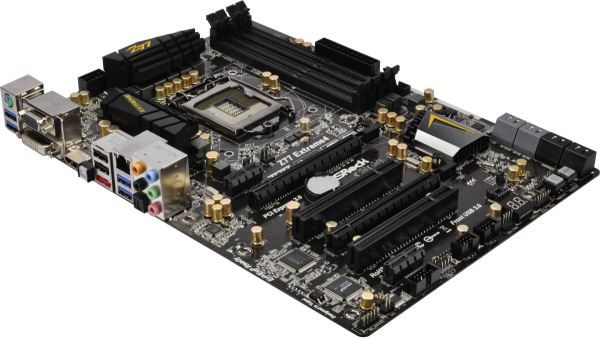 The PCIe layout is indicative of what we will see on many Z77 boards this year, which do not use any form of PCIe lane expansion, such as a PLX chip. In this case, we have an x1, an x16 (x8 on a dual card setup), a gap, a PCI, an x8, another PCI, and another x1. This is some smart thinking, as even with a dual GPU setup there is space for two single width PCIe x1 cards and a PCI card (which contrary to what some people think are still used in reasonable numbers).

Despite the stock image from ASRock looking a little bent on the back panel, we have a typical Z77 arrangement for IO. From left to right, a combination PS/2 port, two USB 3.0 ports (blue), a D-Sub output, a DVI-D output, HDMI, a clear CMOS button, two USB 2.0 ports (black), an eSATA port (red), gigabit Ethernet, two more USB 3.0 ports (blue), and a standard array of audio jacks featuring an optical SPDIF output.
Board Features
ASRock Z77 Extreme4
Price
Link
Size
ATX
CPU Interface
LGA-1155
Chipset
Intel Z77
Power Delivery
8 + 4 Phase
Memory Slots
Four DDR3 DIMM slots supporting up to 32 GB
Up to Dual Channel, 1066-2800 MHz
Video Outputs
HDMI 1.4a, DVI-D, D-Sub
Onboard LAN
Broadcom BCM57781
Onboard Audio
Realtek ALC898
Expansion Slots
2 x PCIe x16 Gen3
2 x PCIe x1 Gen2
2 x PCI
Onboard SATA/RAID
2 x SATA 6 Gbps (PCH), Support for RAID 0, 1, 5, 10
2 x SATA 6 Gbps (ASMedia ASM1061)
4 x SATA 3 Gbps (PCH), Support for RAID 0, 1, 5, 10
USB
Two USB 3.0 at rear (PCH)
Two USB 3.0 at rear (ASMedia 1042)
One USB 3.0 header (PCH)
Onboard
4 x SATA 6 Gbps
4 x SATA 3 Gbps
1 x IR Header
1 x CIR Header
1 x COM Header
1 x SPDIF Header
Power/Reset Buttons
Two Digit Debug LED
6 x Fan Headers
Front panel audio connector
3 x USB 2.0 headers (support 6 USB 2.0 ports)
1 x USB 3.0 header (supports 2 USB 3.0 ports)
Power Connectors
1 x 24-pin ATX connector
1 x 8-pin 12V connector
Fan Headers
2 x CPU Fan Header (one 4-pin, one 3-pin)
3 x CHA Fan Headers (one 4-pin, two 3-pin)
1 x PWR Fan Headers (3-pin)
IO Panel
1 x Combo PS/2 Port
1 x HDMI 1.4a
1 x DVI-D
1 x D-Sub
1 x Optical SPDIF
2 x USB 2.0
4 x USB 3.0
1 x eSATA 6 Gbps
1 x Gigabit Ethernet
1 x Clear CMOS
Audio Outputs
Warranty Period
3 years from date of purchase
Product Page
Link
Rather than dump a Realtek NIC/Audio combination on this board, ASRock has gone for a Broadcom NIC. This means either they have struck a deal with Broadcom, or it works a lot better for their ASRock LAN software. ASRock is the only motherboard manufacturer to state they support HDMI 1.4a on their website specifications as well. As one of the cheaper boards of this roundup, the Z77 Extreme4 actually comes away pretty well in terms of features.