Samsung is a well-known and generally respected brand within the computer and consumer electronics world, but we actually haven't had a chance to look at very many of their laptops. We've reviewed many of their smartphones, some of their displays, and quite of few of their storage offerings (including HDDs and SSDs) over the years, but this is the first time in a long time that we've had a chance to review one of their upscale consumer notebooks. Given what we have in our hands, that's unfortunate, as Samsung's latest Series 7 notebook has plenty to offer.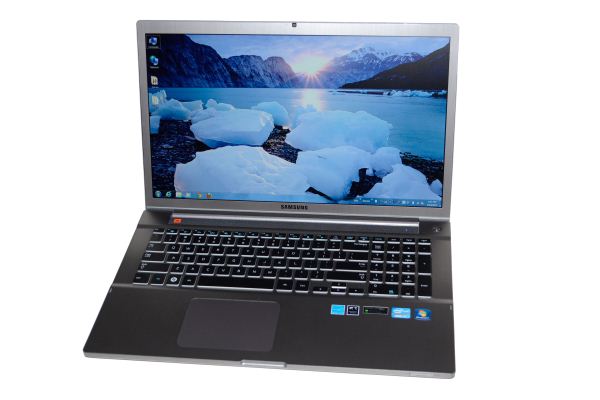 We've praised the build quality, aesthetics, and design of Apple's MacBook Pro offerings for several years, and more recently we really liked the way Dell's XPS 15 looks—though we're still waiting for the throttling issues to be addressed. The Series 7 certainly isn't a direct attempt to copy a MacBook Pro, but it does have quite a few similarities in terms of the overall design. The aluminum and magnesium chassis is definitely a cut above average, and while the it isn't a machined aluminum block and the metal isn't as thick as on the XPS 15 (leading to less rigidity), the weight is actually quite reasonable for a 17.3"-screen chassis. The notebook itself is of a nearly-uniform z-height, eschewing the wedge shape that we've seen in many other laptops and notebooks over the years, and that's something else I can appreciate. In terms of feel, the Series 7 chassis is a bit closer to something like the Dell XPS 15z rather than the MacBook Pro 15, but that's not necessarily a bad thing.
The design and aesthetic of the new Series 7 is really nice, driving home the point once more that you have to pay more for better designed products. Samsung uses aluminum for the LCD and palm rest, and the profile of the 17.3" model is still very thin and sleek. It's nowhere near as close to looking like a MacBook Pro as the XPS 15 is, but it does follow some of the same design language where it makes sense. Moving on to the spec sheet, here's what Samsung shipped us for our review unit.
Samsung Series 7 NP700Z7C-S01US Specifications
Processor
Intel i7-3615QM
(Quad-core 2.30-3.30GHz, 6MB L3, 22nm, 45W)
Chipset
HM76
Memory
8GB DDR3-1600
Graphics
Intel HD 4000
(16 EUs, up to 1200MHz)

NVIDIA GeForce GT 650M 2GB GDDR5 (Optimus)
(384 cores at 745MHz/835MHz Boost, 128-bit GDDR5-4000)
Display
17.3" WLED Matte 16:9 1080p (1920x1080)
(Appears to be Chi Mei Innolux N173HGE-L11)
Storage
1000GB 5400RPM HDD (Seagate ST1000LM024) with
8GB caching SSD (SanDisk iSSD P4)
Optical Drive
DVDRW slot-load (Matshita UJ8A7AS)
Networking
802.11n dual-band 300Mb WiFi (Intel 6235)
Bluetooth 4.0 (Intel 6235)
Gigabit Ethernet (Realtek RTL8168/8111)
Audio
Realtek ALC269
Stereo Speakers plus Subwoofer
Headphone/Microphone combo jack
Battery/Power
8-cell, ~16.5V, ~4600mAh, ~77Wh
90W Max AC Adapter (19V, 4.74A)
Front Side
Memory Card Reader
Left Side
Headphone/Microphone jack
Mini-DisplayPort
2 x USB 3.0
HDMI
VGA
Gigabit Ethernet
AC Power Connection
Kensington Lock
Right Side
2 x USB 2.0
Slot-Load Optical Drive (DVDRW)
Back Side
2 x Exhaust Vents (Behind Hinge/LCD Cover)
Operating System
Windows 7 Home Premium 64-bit
Dimensions
15.9" x 10.3" x 0.98" (WxDxH)
(404mm x 262mm x 24.9mm)
Weight
6.26 lbs. (2.85kg)
Extras
1.3MP HD Webcam
102-key Backlit Keyboard with Dedicated 10-Key
Memory Card Reader (MMC/MS Pro/SD)
Price
$1500 MSRP, online starting at $1400(8/15/12)
Samsung equips the Series 7 (specifically, the NP700Z7C-S01US) with several components that are becoming standard fare on modern mainstream notebooks. The CPU is a quad-core Ivy Bridge i7-3615QM (basically the same as the i7-3610QM but with a slightly higher 1.2GHz maximum IGP clock instead of 1.1GHz) while discrete graphics come courtesy of NVIDIA's GeForce GT 650M Kepler chip—with Optimus Technology to improve battery life, naturally. While the CPU is reasonably high-end, the graphics are more of a mainstream offering, and that same dichotomy exists in many of the other components.
For a relatively high-end notebook, the storage subsystem is going to be something of a sore point. Yes, Samsung provides some SSD caching, but frankly it just doesn't feel particularly snappy in practice. I'm not sure if the fault lies with the 5400RPM hard drive, the pitifully small 8GB SanDisk SSD, the ExpressCache software, or some or all of those elements. We recently got our first taste of Intel's Smart Response Technology in a laptop with the XPS 15, and while 32GB wasn't enough to completely mitigate the slower HDD performance, overall the experience was quite good. With the Samsung, I've been shocked by how frequently the HDD activity LED goes solid, particularly during Windows boot and post-boot as well as post-resume. There were times where the HDD light would be lit up for minutes on end, and applications wouldn't respond to user input. Given that Samsung makes an excellent SSD in their PM830 series, I can see no good reason—other than penny pinching—to not include a better storage subsystem.
That penny pinching extends to other areas—and explains the use of the ExpressCache software rather than Intel's Smart Response Technology. The HM76 chipset only supports two USB 3.0 ports and no SRT, and that's what Samsung is using. The price difference between HM76 and HM77 is very small—Intel lists the HM77 at $48 and the HM76 at $43—and yet the impact on the final product is definitely felt. I'm not sure many people will actually need more than two USB 3.0 ports during the life of this notebook (since they're mostly of benefit for external storage right now), but SRT with a larger and faster SSD would significantly improve the responsiveness.
As mentioned earlier, the matte LCD is quite good and is another highlight of the Series 7, and considering that's where your eyes will be focused any time you're using the notebook we appreciate the use of something better here. We'd still prefer to see companies push for good IPS displays, and Apple's MacBook Pro Retina is leading the charge in the high-quality display arena, but at least the LCD isn't going to drag down an otherwise good experience.
When we get to the bottom line is where things start to get a bit dicey. I mentioned in the XPS 15 review that you can get very similar performance if you're willing to give on the build quality and materials for $1000 from the ASUS N56VZ. The Series 7 is built better than the N56VZ and I prefer the keyboard as well, but this particular model is also slightly larger and it costs $400 extra. Samsung's notebook looks and feels better, but is it $400 better? If Samsung had equipped the notebook with a 256GB PM830 SSD I'd go for it, no problem, but with the lackluster HDD/SSD combination (basically no better than a Seagate Momentus XT in my experience, and actually worse according to our benchmark results), the decision isn't quite so clear cut. Let's dig a little deeper into the design and overall experience before hitting the benchmarks.