Introducing the AZZA Silentium
The desktop enclosure market has broken down pretty simply into three categories with only the rarest of outliers. Cases under $100 will either have good acoustics or good thermals, but never really both. Cases between $100 and $150 will typically find a balance. And if you're paying more than $150 for a case, it needs to deliver on both, full stop. The problem that sub-$100 silent cases often run into is that the measures taken to keep noise down result in substantially reduced airflow, and when you start really pushing the hardware (and thus the limits of the case's cooling), those measures actually serve to increase system noise beyond a garden variety case.
With all of that information in mind, AZZA's $99 Silentium is entering a perilous market. The Silentium is meant to compete with cases like the BitFenix Ghost and the NZXT H2, offering quiet computing at a competitive price point. The problem is that when you're at the top of the sub-$100 market, you risk having to compete with monsters like the Fractal Design Define R4 and the soon-to-be-released-on-American-shores Nanoxia Deep Silence 1. Does the Silentium carve out its own niche, or is it fighting an uphill battle?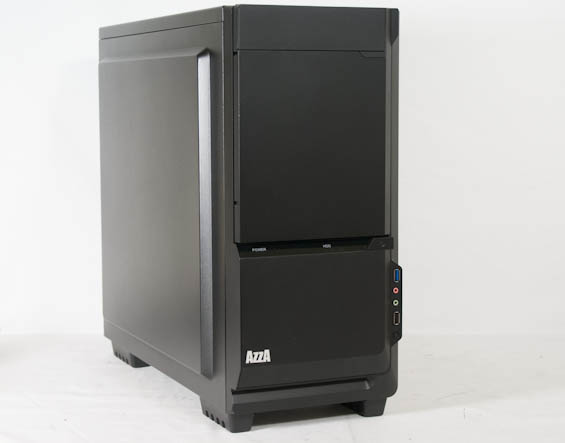 I admit I feel like we haven't seen enough of AZZA's offerings here. While a lot of their cases on NewEgg seem like garden variety "g4m3r" enclosures, designs like the Genesis and Fusion have some real ingenuity built into them. The Silentium at least superficially has some interesting ideas on hand, too; as a silence-oriented enclosure (if you couldn't tell by the name) it doesn't seem to be working off of quite the same plans that other silent cases do. It has the traditional ATX layout, but AZZA goes their own way in other places.
AZZA Silentium Specifications
Motherboard Form Factor
Mini-ITX, Micro ATX, ATX
Drive Bays
External
4x 5.25", 1x 3.5"
Internal
5x 2.5"/3.5"
Cooling
Front
1x 120mm intake fan
Rear
1x 120mm exhaust fan
Top
-
Side
-
Bottom
1x 120mm/140mm fan mount
Expansion Slots
7
I/O Port
1x USB 3.0, 1x USB 2.0, 1x Headphone, 1x Mic
Power Supply Size
Standard ATX
Clearances
HSF
170mm
PSU
180mm
GPU
300mm
Dimensions
19.7" x 8.8" x 18.1"
500mm x 225mm x 460mm
Special Features
USB 3.0 connectivity via internal header
Toolless 5.25" drive bays and 3.5" drive sleds
Acoustic foam on most interior surfaces
Price
$99
What I appreciate about AZZA's design here is that by and large they've elected to eschew even the idea that this is a high performance case. The Silentium is about quashing noise, pure and simple. With that said, whenever a manufacturer opts for an odd number of USB ports (of either variety), I get irritated. This is a cost cutting move, pure and simple. I've heard from reps that it's cheaper to use a single USB 3.0 port and a single USB 2.0 port by a couple of bucks, which is an absolutely pointless savings in the long term and wastes motherboard headers.