Using the HDMI input and the Leo Bodnar lag tester, I measure 27.33ms of lag overall in the Monoprice IPS-Glass. This is a bit slower than the Zero-G, which used an HDMI-DVI adapter, but right in the range of most monitors out there today. Changing the mode on the display did not cause a change in the lag. Of course a bit of scaling is introduced, but other monitors have shown that you can add only 1-2ms of lag through scaling if done properly so I don't believe results will be much different at native resolution. Sadly, there are no 2560x1440 (or 4K) equivalents of the Leo Bodnar tester at present.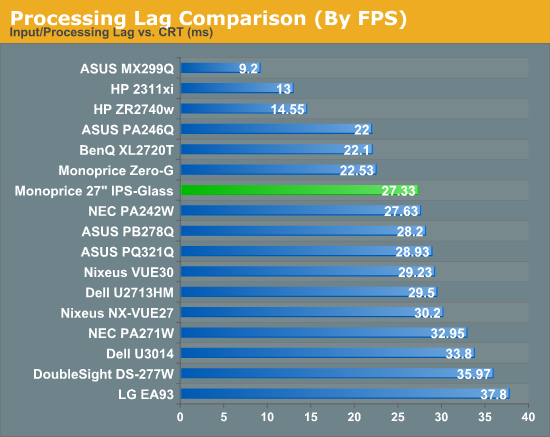 Power Use from the Monoprice is better than I expected it to be. It is far better on a candelas-per-watt basis than the Nixeus VUE 27 that it so closely resembles. The minimum brightness setting is hindered by the fact that the minimum brightness really isn't all that low, indicating I perhaps need to find a way to incorporate that into this data. Overall with a pure-white screen up the Monoprice consumes 65 watts with the backlight at maximum and 37 watts when set down to minimum. This puts it ahead of a few 27" displays but not quite all of them.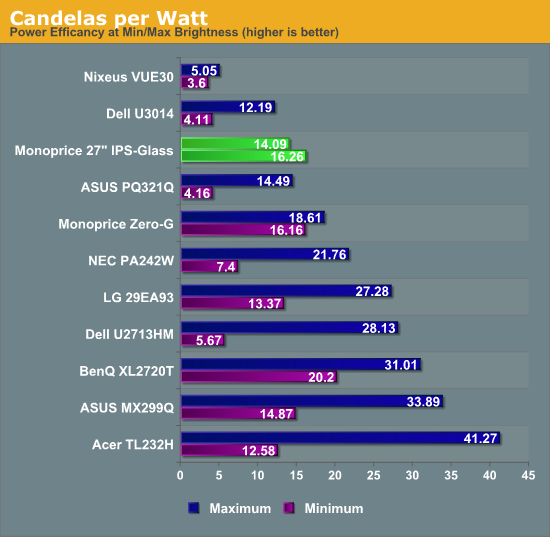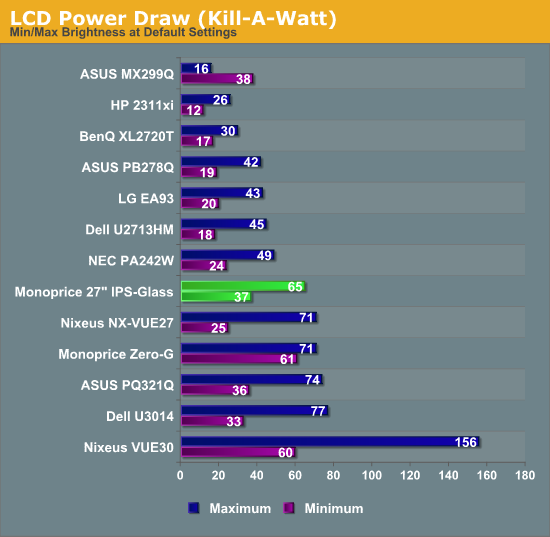 The Monoprice gamut comprises almost 77% of the AdobeRGB gamut, which should allow for full sRGB coverage. As all the 100% saturation points measured by CalMAN are just slightly over-saturated, the Monoprice has no issue with the full sRGB gamut.