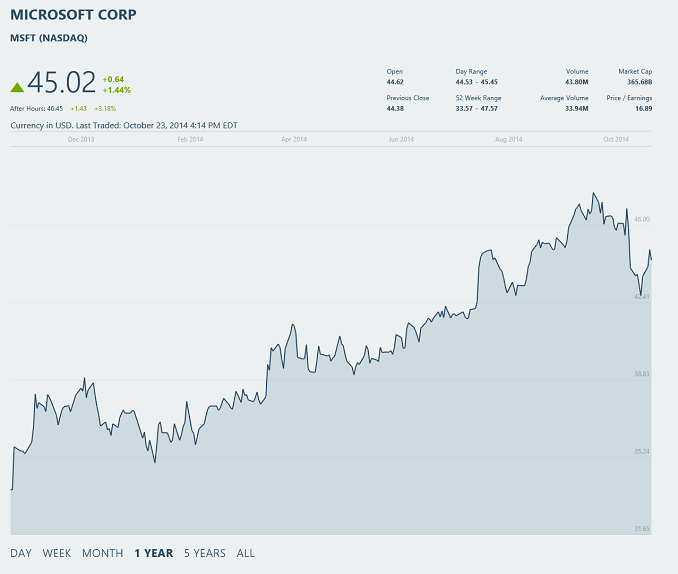 This afternoon, Microsoft announced record first quarter revenue for its fiscal year 2015 which ended September 30. Revenue was up 25% year-over-year, and came in at $23.2 billion. Gross margin was up 12% year-over-year at $14.9 billion. As a percentage, Gross Margin was down however, which resulted in a lower operating income of $5.8 billion, which is down 8% from last year. Net income came in at $4.5 billion, which is down 13% from 2013. Because of this, earnings per share also slipped to $0.55 per share, down from $0.63 a year ago.
Microsoft Q1 2015 Financial Results (GAAP)
Q1'2015
Q4'2014
Q1'2014
Revenue (in Billions USD)
$23.201
$23.382
$18.529
Operating Income (in Billions USD)
$5.844
$6.482
$6.334
Gross Margin (in Billions USD)
$14.928
$15.787
$13.384
Net Income (in Billions USD)
$4.540
$4.612
$5.244
Margins
64.3%
67.5%
72.2%
Basic Earnings per Share (in USD)
$0.55
$0.55
$0.63
Microsoft breaks their product and services into two divisions. Devices and Consumer focuses on end user products such as Xbox, Surface, Lumia phones, and the related consumer focused software options. Commercial focuses on enterprise which means Server, System Center, SQL, volume licensing, and other enterprise software and services.
Devices and Consumer (D&C) revenue grew 47% to $10.96 billion, as compared to Q1 2014. On the D&C Licensing segment, Windows OEM revenue was down 2%, however there was growth in the number of licenses sold. Microsoft changed the licensing fairly substantially during their 2014 fiscal year, which results in Windows being no cost for a lot of the lower cost devices. Windows OEM Pro licensing was down 4%, which the company feels is in-line with normal business PC replacement cycles. This would also not cover any businesses which utilize volume licensing, with that revenue falling under the Commercial branch. Continuing with licensing, Office Consumer revenue was down 5% for the quarter, with that loss being expected with the move to Office 365 for consumers. Windows Phone licensing revenue was down 46%, which is not unexpected when the operating system license fee was removed. The Gross Margin for D&C Licensing declined 3%, which Microsoft accounts for due to the end of the Nokia commercial license agreement with Nokia's phone business being purchased last fiscal year. Overall, D&C Licensing revenue was down 9% to $4.09 billion.
The next D&C segment is Computing and Gaming Hardware, which is a look at the Surface and Xbox platforms. Surface enjoyed a strong quarter with revenue coming in at $908 million. Surface Pro 3 interest is strong, with Microsoft seeing good sales to students, professionals, and enterprise adoption of their latest tablet. Xbox sales were also up, with 2.4 million consoles sold in Q1. There was no break down of Xbox One vs 360 numbers provided. I'm sure Microsoft is hoping for better Xbox One sales, with the new console launching in 28 additional markets last quarter. This segment had a good quarter, with revenue up 74% to $2.45 billion, and Gross Margin was up 134% to $480 million.
Phone Hardware, which technically did not exist as part of Microsoft a year ago, had a solid quarter as well. Microsoft sold 9.3 million Lumias in Q1, which was a modest gain year-over-year. They are seeing better sales in Europe, and especially with the lower priced phones. It seems to be that this is where the Lumia brand is focused, with the majority of the product launches this year being lower cost devices. The former Nokia feature phone line "performed in line with the market for feature phones" and there was no additional information here. The Phone Hardware segment came in at $2.61 billion in revenue and had $480 million in Gross Margin, although the margin gain was partially from non-recurring items which means those gains will not carry forward for Q2.
The final consumer segment is D&C Other, which is the consumer cloud offerings from Microsoft. Office 365 Consumer (Personal and Home versions) is now up to 7 million active subscribers. This is a 25% gain from the previous quarter. This helps explain the traditional D&C Licensing drop for Office, with Microsoft seeing good success in the subscription model for Office. Search revenue was up 23% due to higher revenue per search in addition to search volume. Bing search share in the US was up 140 basis points to 19.4%. Worldwide figures were not given. Gross margin for the cloud offerings was down due to investments in online infrastructure, and clocked in at $310 million. Overall revenue was up 16% to $1.81 billion.
Commercial revenue is the bigger piece of the pie for Microsoft, and this side of the house had a revenue gain of 10%, with $12.28 billion in Q1. Gross margin for Commercial gained was up 9% to $9.91 billion. Breaking down the segment, Licensing was up 3% to $9.87 billion, with Server product revenue up 11% which was due to double-digit growth for SQL Server, System Center, and Windows Server. Windows Volume Licensing was up 10%, and Office Commercial products declined 7% due to the transition of customers to Office 365.
Commercial Other had a 50% revenue gain, with a Q1 revenue of $2.41 billion. This gain was heavily assisted by a 128% increase in Commercial Cloud revenue and the adoption of Office 365, and especially the higher priced SKUs. Customers are also purchasing additional cloud features such as Enterprise Mobility Suite and Azure Active Directory.
Microsoft Q1 2014 Segment Overview (in Billions USD)
Q1'2015
Q4'2014
Q1'2014
Percentage for quarter
D&C Licensing Revenue
$4.09
$4.90
$4.48
17.6%
D&C Licensing Gross Margin
$3.82
$4.52
$3.92
25.6%
D&C Computing and Gaming Hardware Revenue
$2.45
$1.34
$1.41
10.6%
D&C Computing and Gaming Hardware Gross Margin
$0.48
$0.02
$0.21
3.2%
D&C Other Revenue
$1.81
$1.76
$1.55
7.8%
D&C Other Gross Margin
$0.31
$0.29
$0.32
2.1%
Phone Hardware Revenue
$2.61
$1.99
N/A
11.2%
Phone Hardware Gross Margin
$0.48
$0.054
N/A
3.2%
Commercial Licensing Revenue
$9.87
$11.22
$9.58
42.5%
Commercial Other Revenue
$2.41
$2.26
$1.60
10.3%
Commercial Overall Gross Margin
$9.91
$10.99
$9.08
66.3%
Fiscal Year 2015 has had a solid start for Microsoft, with record revenue for Q1. A little bit less impressive is the decline in net income. With a PC industry that has pretty much leveled off, the traditional businesses of Windows and Office are losing some of their luster. With Microsoft moving Windows to a no cost licensing model for lower cost PCs and smaller devices, we can expect Windows revenue to continue to drop over the next while. Low cost is generally higher volume, so this could mean a substantial decrease in revenue from the Windows team. However there are some good signs as well in the Consumer segment. Surface sales are almost at $1 billion for the quarter, but more importantly Surface is also making money. Anyone who follows Microsoft earnings will likely never forget the massive write down for the initial Surface lines, so it is promising to see the Surface team having some success. Also, as the traditional licensing method of Windows and Office has seen decreases, Microsoft's cloud offerings are gaining a lot of traction and continue to see large gains in users and revenue.
On the Commercial side, it is interesting to see the strong gains because not only is the on-premise infrastructure seeing strong gains, with > 10% grown for Server, SQL, and System Center, the cloud based infrastructure, which at one point was thought to be a replacement for on-premise servers, also saw a 128% increase in revenue for the quarter. As companies move to the cloud for their computing needs, Microsoft has a strong offering here due to being able to provide both on-premise and cloud products that work together. It is fascinating to see double digit growth in a product like System Center, when someone looking in would assume a legacy product such as System Center, which is used to primarily manage desktops, would be replaced by a cloud solution like Microsoft Intune. Clearly businesses are seeing a need to expand into the cloud, but keep some or all of their existing infrastructure as well.
Unfortunately the Microsoft press release did not have any forward looking statements, as they were saved for the webcast which should be available by the end of Thursday. I will try and update this article with that information when it is released.
Source: Microsoft Investor Relations